Production Year 2009
Beautiful Japanese Mountains – Mt.Fuji –
DC210928

週刊 日本の名峰 富士山 [NHK]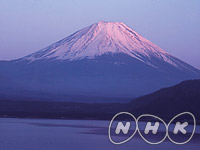 |Length : 20min. |Year : 2009 |
Mt. Fuji is Japan's highest mountain. Its current shape with its distinctively conical skirts is the result of thousands of years of eruptions. This program takes you on an exciting journey to the highest peak in Japan. You will see a forest that grows on top of lava, the Hoei Crater, formed after an eruption during the Edo Period, and many more unique characteristics of the mountain. The view from the summit is breathtaking. An awe-inspiring sunrise, shadow-Fuji, the mountain's enormous crater ... These spectacular sights can only be seen from the top of Mt. Fuji. Join us as we travel through the seasons and reveal the true face of Japan's holy mountain.
What the Sea Turtles Teach Us
DC220916

ウミガメが教えてくれること [MBC]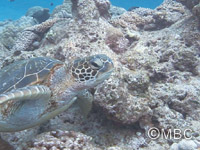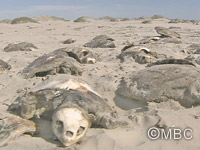 |Length : 72min. |Year : 2009 |
Sea turtles have lived on this planet for some 200 million years. A symbol of longevity and fertility, in Japan they appear in traditional folktales and are worshipped and admired. Research regarding sea turtles has revealed surprising results. Loggerhead sea turtles, born on Japan's beaches, travel to Mexico and after growing to maturity there, they return to Japan to lay their eggs. In the course of a lifetime, they travel roundtrip across the vastPacific Ocean.
In recent years, the number of sea turtles has declined to the point that they now near extinction, and on many beaches where they once laid their eggs, they can no longer be seen.
Making use of underwater, aerial and other footage of the abundant natural environment, this program documents the current status of the environment in which sea turtles live, and shows people who are making every effort to live side by side with sea turtles.
Japanese Figures – Plastic Idols, Fanboy Dreams –
DC240936

新しい文化「フィギュア」の出現 プラモデルから美少女へ [NHK]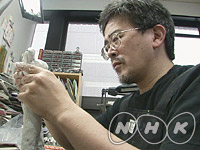 |Length : 89min. |Year : 2009 |
Japan is acquiring a global reputation for sculpted plastic figures based on fantasy characters and items found in the pages of manga and on screen in anime. One leading sculptor of so-called "bishojo" figures -- statuettes that depict fan-favorite fictional beauties -- has made himself a legend in the field with his extraordinary mastery of this craft. He goes by the name Bome. This program takes you inside Bome's studio and explores the secrets of bishojo figure modeling. Host Toshio Okada, himself prominent in the figure subculture, guides viewers through the history of the medium from its origins in plastic kit models through its emergence as a flagship of Japanese pop culture's global onslaught. Interviews with artists and intellectuals including Takashi Murakami, Hiroshi Aramata, Goro Yamada and Noriyuki Ueda help illuminate this unique medium that juxtaposes fandom, craft, and art, within the larger context of Japanese culture.
New York Wave : Girls' Comics
DC240937

ニューヨークウェーブ ~少女漫画のカリスマ!~ [NHK]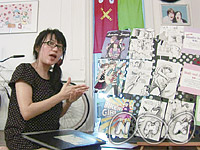 |Length : 20min. |Year : 2009 |
A Japanese girls' comic artist is gaining attention in New York City. Misako Takashima a.k.a Misako Rocks! has released three comic series through a major publisher. The secret to her popularity is that she writes her comics in English and most of her characters are American. In order to depict a realistic portrayal of American high school life, Misako interviews many local students. She has never worked as a professional comic artist in Japan. With her characteristic vigor and unwavering dedication, Misako has seized her chance to succeed in the United States. This program delves into Misako's private life and professional career as she continues to fight for recognition.
Even with the Loss of His Voice – His heart contains a symphony –
DC250924

声は消えても ~心で奏でるシンフォニー~ [RKB]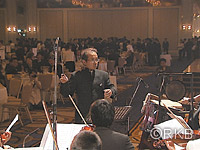 |Length : 25min. |Year : 2009 |
Mr. TAHARA lost his tongue and vocal chord because of the operation of lingual cancer. Although his career as a professional hornist was closed, he was put in charge of the conductor for a university orchestra.
The members of orchestra is trying to follow his letters on a whiteboard, the expressive facial expressions, and big gestures...the lesson is always full of excitements.