Production Year 2020
Experiencing Japan's Ancient Mountains
DC212030

ローカル魂 朝日連峰大縦走 原始の山を行く [TUY]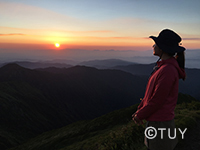 |Length : 46min |Year : 2020 |
Located in the northern part of central Japan, the Asahi Mountain Range straddles Yamagata and Niigata prefectures.
With an elevation of 1,870 meters at its highest point, the mountain range's numerous peaks have seen little development, preserving their ancient landscape. For this very reason, hikers must shoulder their own food and equipment and climb from trailhead to summit, relying on their own strength.
Departing from town, they drive 15 kilometers across steep mountain roads before arriving at a solitary mountain hut amidst a thick forest of beech trees: The Naturalist House. Here, the Asahi Mineral Spa gushes forth, a little-known medicinal spring from times long past. Roughly 40 years ago, owner Nobuo Nishizawa moved from western Japan and re-opened the once-shuttered medicinal spring, attracting hikers from all over Japan, their gazes fixed on the Asahi Mountain Range.
According to Mr. Nishizawa, "To fully appreciate the Asahi Mountain Range's nature, you must traverse its ridge."
Local TV announcer Haruka Koyama of TV-U Yamagata accompanies him. Together they attempt a 3-day, 30-kilometer-long hike.
Through her journey with Mr. Nishizawa, Ms. Koyama encounters breathtaking views and discovers the allure and profoundness of these ancient mountains.
Small Journeys The Umbrellas of Gifu -The Essence of Craftsmanship-
DC242062

小さな旅 骨とろくろと雨の花~岐阜和傘 [NHK]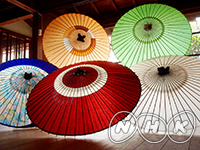 |Length : 24min |Year : 2020 |
The Small Journeys series focuses on the regions of Japan and the lives local people. In this episode we look at the umbrellas of Gifu; traditional craft products that are painstakingly and skillfully made from bamboo and washi paper.

The area surrounding Gifu City has been Japan's premier umbrella-producing region ever since the Edo Period (1603-1868). After WW2, however, output shrank to a mere fraction of the peak as Western-style umbrellas became popular, and today the traditions are under threat.

Nevertheless, a few individuals continue to sustain Gifu's craft heritage. One is a 70-year-old man who produces "runners," the complex wheel-shaped parts connecting spokes to the shaft. He is the only runner artisan in Japan. Another is a woman who specializes in umbrella assembly. Captivated by the beauty of Gifu's umbrellas, she spent 10 years perfecting her craft while overcoming opposition from traditionalists. She hopes to keep the tradition alive, to pass on to her young son's generation and beyond. The Umbrellas of Gifu is a moving story of superlative craftsmanship and deep pride in local traditions.

Prominent Artisans of Kyoto Techniques and Artistic Spirits
DC272036

京職人手帖第7話 京職人 ~受け継がれる技と想い~ [KBS]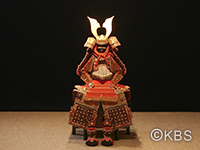 |Length : 20min |Year : 2020 |
Kyoto was the Imperial capital of Japan for over 1000 years until the mid-19th century. Most of Japan's great traditions and culture grew and were nurtured in Kyoto by dedicated artisans. This program introduces some of the finest crafts people who have perfected their techniques and artistic spirits over many years.
KYOTO KACCHU or decorative armor is exhibited during the Boys' Festival in May. It exudes a graceful character in its valiancy. Saji Takeo is a craftsman of Kyoto Armor and produces various pieces including helmets, armguards, and leg guards and assembles all the pieces to make finished products by hand.
Kyoto Knot-tassels were used as decorations for furnishings in the 9th century. And in the 17th century, knot-tassels were used for Buddhist altar fittings as well as monks' Buddhist stoles. Kagitani Kyozo is a craftsman making Kyoto Knot-tassels. He knots and combines various types of traditional knots to make decorative knot-tassels.
Gion Festival 1150th Anniversary -The Essence of Japanese Culture and the Spirit of the Townspeople
DC272037

祇園祭~創始1150年!時代の波を乗り越えて~ [ABC]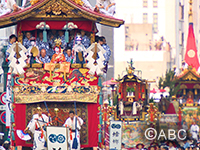 |Length : 61min |Year : 2020 |
This program follows the Gion Festival as it celebrates its 1150th anniversary and provides an exclusive in-depth look at some of its lesser-known rituals and the floats whose decorative artworks from around the world have earned them the nickname "moving art museums." It also highlights the dedication of the people who put on the festival and explores the essence of Japanese culture.
Summer in Kyoto is synonymous with the magnificent Gion Festival that attracts more than a million visitors each year. Born from a desire to quell disasters following a devastating plague and earthquake in 869, the festival has continued uninterrupted for 1150 years despite numerous wars and natural disasters because of the indomitable spirit of the people of Kyoto. Today, the Gion Festival features 34 splendiferous floats featuring artworks from abroad and craftsmanship by top Japanese artisans.

A Passionate Challenger | ~Climb Down Alive! Japan`s First Mountain Medicine Specialist~
DC282076

情熱大陸 | 山岳医 大城和恵 [MBS]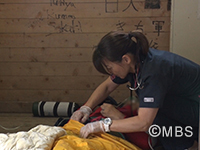 |Length : 25min |Year : 2020 |
Japan's mountain-climbing boom has not only led to more climbers of all ages, but an increase in climbers getting lost and injured.

As the nation's first Doctor of Mountain Medicine, Kazue Ohshiro mans the 24-hour First-Aid Center at Mt. Fuji's Eighth Station where she treats the myriad of ailments that can plague climbers; with little medical equipment. An experienced alpinist who honed her expertise by climbing the world's most dangerous mountains, she passionately believes that prevention and education are key to raising the low success rate of mountain rescues.

Treating patients in the one-man clinic, she wastes no opportunity to give advice on how not to get lost and to prevent the three main causes of death in the mountains—external injury, heart attack and hypothermia.

It is a passionate summer for this mountain doctor who is doing everything she can to save the lives of climbers.