Production Year 1997
Spring and Chaos – The Life Story of Kenji Miyazawa –
AN019701

イーハトーブ幻想 KENJIの春 [TVI]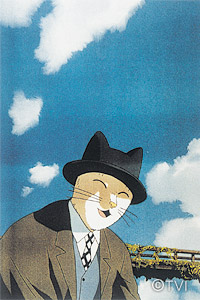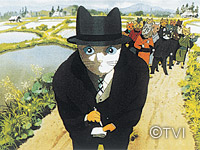 |Length : 58min. |Year : 1997 |
The spirituality behind Japan's most famous poet

Kenji Miyazawa, Japan's one of the most famous modern poet, used animals to portray the characters in many of his works. This animation film adopts the same technique as it re-enacts Miyazawa's dreamland Ihatov, following his life as an agricultural teacher, farmer and poet in the northern village of Hanamaki. It was not until after his death at the young age of 37 in 1933, that Miyazawa's talent as a vivid storyteller was truly appreciated.
CH049740

あつまれじゃんけんぽん [NHK]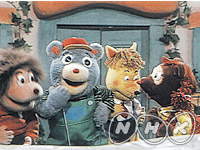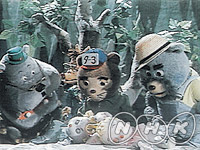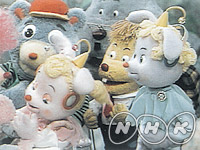 |Length : 15min. x20 |Year : 1997 |
Learning tolerance through daily experience

Twin aliens start a new life in Cheerful Village after becoming separated from their spaceship and landing on Earth. Over the years, the twins overcome language difficulties and bridge cultures which are a universe apart, making friends with children in the village. Designed for children up to second grade, the goal of this puppet show is to instill in children a cherishing and caring nature, and a concern for others.


1. They Came from Outer Space
2. The New Teacher
3. The Search for the Sparkling Plant
4. Can Dad be Mum ?
5. I Have a Dream Too
6. I Hate My Sister
7. Who's Scared Now ?
8. Andy's Being Bad
9. Don't Be Picky
10. Parents Don't Understand Us
11. Being Mayor Isn't Easy
12. Do Your Best, It's Sports Day
13. Birds Fly South
14. Contact with Outer Space
15. I Don't Want to Say Goodbye
16. The Sparkling Plant Crisis
17. Voluntary Work
18. Andy vs. Nicci.
19. A Farewell Picnic
20. Rainbow Coloured Peppers
CH059700

つくってあそぼ [NHK]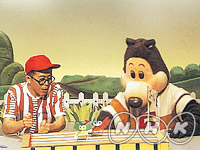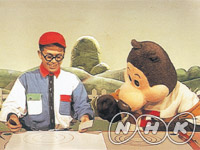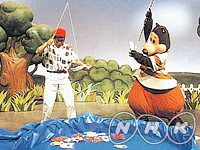 |Length : 15min. x20 |Year : 1997 |
Daily items reborn as toys

Nigel and his friend Graham, a 5-year-old bear, have great fun playing with toys which they have made from materials that are commonly found around the house, such as magnets, paper plates, drink cans and tape. In each of the 10 shows, Nigel uses his imagination to create a new, colorful plaything that other 4 and 5 years olds can make just as easily at home or at school. These programs are fun to watch and sure to inspire creative activities among pre-schoolers.


1. Stage Magic with a Magnet
2. Pull the String
3. Magical Artwork
4. What Does It Look Like ?
5. Budang Tape
6. Rolling Ball
7. Making Juice
8. Paper Plate
9. Flower Shop
10. The Tower of Drinks Cans
11. Paper Rings
12. Thrilling Sport
13. Claphands Kid
14. Merrily Camping
15. Paper Tubes
16. Let's Disguise
17. Sweet Pets
18. Catapult
19. Welcome to New Home
20. Pop Theater
Japan in Focus | Buzzing in a Bountiful Forest
DC039717

新日本探訪 | 恵みの森に飛べ 会津・ミツバチ飼い [NHK]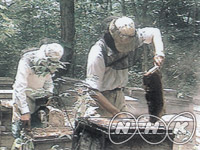 |Length : 24min. |Year : 1997 |
Beekeepers in Japan transverse the country in search of blossoms for their bees. But the Aizu forest in Fukushima Prefecture is so rich, the beekeepers here don't have to move. Yuho Matsumoto, who has been keeping bees for 45 years, and his nephew struggle to preserve their jobs in the face of human progress and technology.
DC039718

新日本探訪 | 誇り熱き鉄に 鋳物の街・埼玉川口 [NHK]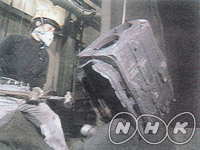 |Length : 24min. |Year : 1997 |
From a once burgeoning foundry town bordering Tokyo, Kawaguchi City has been transformed into a bedroom community. The number of small factories that covered the city has been reduced to only 200. This show focuses on one of the few foundries still standing and the hardships both owner and employees face in these difficult times.