TV Station OBS
The Dragon on Monkey Mountain
DC219206

ボスザルドラゴンの高崎山日記 [OBS]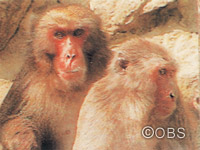 |Length : 12min. |Year : 1992 |
At the Takasaki Natural Zoo in Oita Prefecture, monkeys run free. "The Dragon on Monkey Mountain" is a humorous but informative look at the daily activities of the monkeys through the eyes of "Dragon," a "boss monkey" who leads one of the zoo's three monkey troops. Dragon's lively narration guides viewers through the documentary, which shows how the monkeys interact with each other - and with the human visitors to the zoo.
Silent Jump Shot
DC259207

音のないドリブル [OBS]


|Length : 27min. |Year : 1992 |
Masataka Nishi, a high-school student, lost much of his hearing because of an ear disease when he was four years old. But, having been very fond of sports since he was a little child, he is now captain of the basketball team at his high school, and also a star player. He wants to go on to college to become a coach, but in many cases, doors are not open for the hearing-impaired. Even so, Masataka keeps going without becoming discouraged, just as he has always coped with a soundless world of basketball.
A Chinese Boy in Japan
DC289202

家君は外国人 [OBS]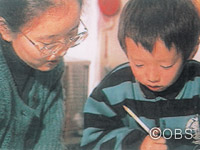 |Length : 27min. |Year : 1992 |
Guo Jia is the only son of Qun Ying, a Chinese-language teacher in Japan. She majored in the Japanese language at a university in Beijing, and they came to Japan two years ago. Jia did not take long to get used to life in a Japanese kindergarten, and was enjoying himself in Japan. But Qun Ying worried about how she should educate Jia, who is about to reach school age. Her contract to work as a Chinese teacher has not yet expired. Finally, she decides to live in Japan with her husband and son for the time being, and to send Jia to a Japanese school.