TV Station RKK
Welcome Home, Mom and Dad!
DC239205

今年も帰ってきたよ! [RKK]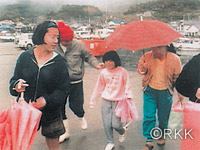 |Length : 12min. |Year : 1992 |
In the town of Kuratake, the children of fishing families live at a dormitory while their parents are away at sea.
"Welcome Home, Mom and Dad" looks at three of those children, the Ikeda sisters. The girls are only able to see their parents part of the year - and one of those time is the New Year's holidays. The documentary conveys the girls' impatience as they wait for their parents to return, and their joy at finally being able to welcome mom and dad home.
A Record of Life in Minamata
DC281765

命の記録~写真家・桑原史成の水俣~ [RKK]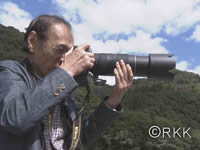 |Length : 24 |Year : 2017 |
Shisei Kuwabara, a photographer in Tokyo, organized a group photoshoot in the city of Minamata in 2016. The subjects of this shoot are Minamata disease patients and their families, around 40 in all. Mr. Kuwabara has photographed them continuously for the past fifty years and beyond.
Minamata disease is a central nervous system disorder caused by methylmercury poisoning via seafood contaminated by factory wastewater. Its victims were families of fishermen: the adults, their children, even their unborn children. In 2016, some of these fetal Minamata disease patients turned 60 alongside the 60th anniversary of the official recognition of Minamata disease. Some of the patients and families Mr. Kuwabara knew had passed away, or were bedridden.
Mr. Kuwabara wished to express 60 years of the Minamata incident in a photograph. To this end, he prepared past photographs of the patients and their families. Held by the group photo participants, each image harkens back to the effects of the incident and the emotions of its victims.
For the 80-year-old Mr. Kuwabara, this may be his final "shutter chance" in Minamata. How will he frame his subjects with their complex, often bitter circumstances? The present reality of Minamata comes to light through Mr. Kuwabara's interactions with surviving victims and in his photograph.