TV Station RKK
Welcome Home, Mom and Dad!
DC239205

今年も帰ってきたよ! [RKK]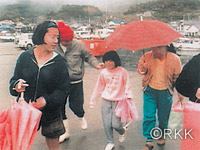 |Length : 12min. |Year : 1992 |
In the town of Kuratake, the children of fishing families live at a dormitory while their parents are away at sea.
"Welcome Home, Mom and Dad" looks at three of those children, the Ikeda sisters. The girls are only able to see their parents part of the year - and one of those time is the New Year's holidays. The documentary conveys the girls' impatience as they wait for their parents to return, and their joy at finally being able to welcome mom and dad home.