Documentary : Country Life

The Children of the River
DC239411

北上川とカッパたち [IBC]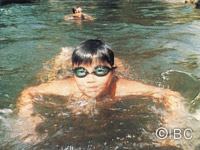 |Length : 46min. |Year : 1994 |
Many of Japan's rural towns and villages are dying as young people migrate to the bright lights of the big cities. "The Children of the River" follows third-grader, Teppei Sasaki as he attends school and plays with his friends, swimming in the local pond, fishing and generally enjoying a way of life that city kids never have a chance to experience. Here on the banks of the great Kitakami River in the northwestern prefecture of Iwate, life is simpler and relationships are warmer.
Fuko's Lunch
DC239310

ふうちゃんのお弁当 [ABS]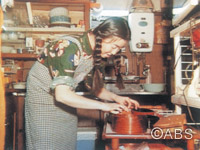 |Length : 27min. |Year : 1993 |
Not all Japanese families fit the traditional mold. Fuko's family is a good example of a modern trend. Tenth-grader Fuko's mother works outside of the home and all members of the family, including the two daughters and their father, share the housework. The girls are being raised to be independent; they go on trips by themselves and are paid for each chore they do, which in Fuko's case means preparing lunches for her mother and sister everyday. It's a busy - but happy - family.
The little School on the Island
DC239309

あっくんの島の学校 [KRY]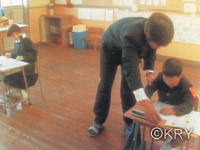 |Length : 27min. |Year : 1993 |
What's it like to be the only kid in Grade Three? Just two hundred people live on the island of Ushima off Yamaguchi, and when this program was taped, there were only two children of elementary school age: Akihiro Nakamura and his sister Yumiko. The children's relationship with their teacher Mr.Uchiyama is naturally a special one. One can imagine how they feel when the time comes for their teacher to leave. It's a heartwarming story about a life that is fast disappearing.
Drawing Nature's Water – A Father and Daughter's Story –
DC239208

清水の里の井戸掘り父娘 富山県黒部市 [NHK]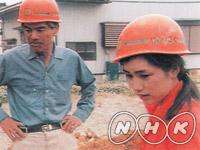 |Length : 28min. |Year : 1992 |
Kurobe, a city facing the Japan Sea in Toyama Prefecture, contains a district called Ikuji where the air is filled with the gurgling sound of pure spring water rising from the earth. The spring water has played an important role in everyday life here since ancient times. The program explores the ways in which the sea and spring water have nurtured the people of Ikuji over the years, and it focuses in particular on the activities of a man and his daughter who sink wells for a living.
Bathing with Friends
DC239207

愉快村はだか通り [RKB]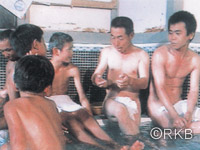 |Length : 12min. |Year : 1992 |
The public bath in the village of Sakasedani is a symbol of the village's old-style togetherness. From tending the boiler to scrubbing the bathtubs, the villagers work together to keep the bath going. "Bathing with Friends" highlights the traditional importance of the public bath as a community gathering place and also provides a glimpse of the type of rural culture that has virtually disappeared from modern Japan.