Program
Turning Marine Trash into Treasure -One Man's Glistening Future-
DC222222

日本のチカラ 海のごみを"宝物"に! ~キラリ輝く男の未来~ [NBN]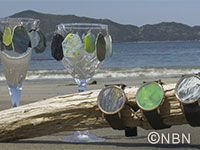 |Length : 26min |Year : 2022 |
There is a man whose eyes light up when he finds marine trash, because for him it is treasure -- former navigation officer Tadasuke Mase (29), whose work is to transform marine plastic trash into attractive products and sell them. The products are diverse, and include earrings, lamps, tables, and more. Mase's goal is to transform the notion of plastic trash. He aims to give added value to plastic waste that till now has been treated as trash.
In December 2020, Mase and his family moved from Nagoya to the city of Toba in Mie Prefecture. This region features a long ria coastline and flourishing oyster and pearl aquaculture. The relocation was occasioned by the existence of Daisuke Asao (43), who farms oysters. Mase hit it off immediately with Asao when they met, and decided that very day to move. Through an introduction by Asao, Mase leased a factory in Toba and established a company called Remare. At present, the firm conducts coastal cleanup activities together with local fishing-industry workers. Oyster farmers also ask the company to take fishing equipment made unusable by disaster or accident. Fishing-industry rope is actually made of plastic, and so Remare recycles it.
When he first came to Toba, Mase supported his family by helping with oyster farming. Thereafter he acquired equipment through subsidies and bank financing, and a year later finally achieved full-fledged product manufacturing. Product orders come from the fashion industry and tourism industry throughout the country.
Dealings with upscale brands have also already begun. Young people who admire what Mase is doing and want to help with the work are flocking to him from around Japan.
We followed Mase's day-to-day doings as he tries, together with local residents and young people, to change the sense of values regarding trash.