Program
Growing Old in Rural Japan ~Time with 5 Elderly Friends~
DC231832

どーんと鹿児島 お日さまに照らされて~私とふるさとの先輩たち~ [MBC]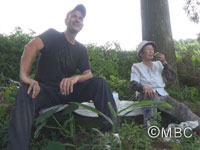 |Length : 45 |Year : 2018 |
As younger people move to nearby cities, the population of rural Japan continues to shrink and age rapidly. This documentary takes a close look at the lives of 5 elderly people (ages 84 to 94) who are living in rural Japan, on the southern island of Kyushu. It follows them in their daily lives as they grow vegetables, ride the local bus, do rehabilitation work, socialize with their friends and share their feelings about aging and dying.
The following five individuals are the main focus of this program:
Yoshi (94) lives alone, farms, and takes the bus to the hospital. Her son visits every weekend to help with his mother's farm. Chikayoshi (90) is a retired plasterer who is forever making or growing something and shares his philosophy – his wisdom – about life and death. Himo (91) lives alone. She farms and socializes with the many friends who stop by her house. She doesn't want to grow old. Toshio (84) is in the hospital after suffering a stroke. He wants to regain his strength so he can return to his home and die there. Aya (90) lives alone. Her husband died 50 years ago and she raised her kids on her own. She gardens, cares for her cedar trees and continues to drive wherever she goes.