Documentary

Discover Asia

アジア発見 [NHK]

The Ins and Outs of an Up and Coming Land Economic "dragons" and newly liberalized economies. Age-old traditions and cutting-edge modernity. Contrasts abound in the Asia of today, a land assuming increasing importance on the world stage. Discover where Asia is today, and where it's going.
Growing Food in a Dry Land – Ulan Bator, Mongolia –
DC050008

アジア発見 | 乾いた大地に糧を求めて モンゴル・ウランバートル [NHK]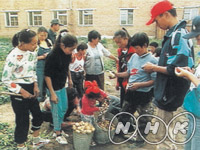 |Length : 24min. |Year : 2000 |
Mongolia suffers from serious food shortages. At a school on the outskirts of the country's capital, Ulan Bator, a farm was established in spring, 1999. Teachers, students and parents transformed a one-hectare former garbage dump into the school farm. The crops harvested on the farm are given to poor families and sold at the market. The profit from these sales is used to buy teaching materials for the school. This program demonstrates how the Mongolian people are responding to a new form of food aid.
The Heavenly Taste of Street Stalls – Kuala Lumpur, Malaysia –
DC059607

アジア発見 | 屋台料理は夢の味 マレーシア・クアラルンプール [NHK]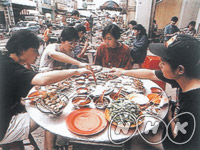 |Length : 24min. |Year : 1996 |
Facing heavy competition and forced to adapt to modern management styles, street stall operators still dream of sweet success. Meet several of these determined entrepreneurs and learn the creative ways they find to survive and thrive.
A City Where Trucks Are Built by Hand – Bangladesh –
DC059606

アジア発見 | 手作りトラックが生まれる街 バングラデシュ・ダッカ [NHK]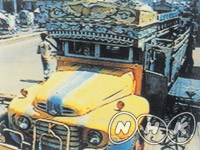 |Length : 24min. |Year : 1996 |
Truck transport is the lifeblood of commerce, but the lack of new vehicles has given rise to inventive handling of used parts. See this resourcefulness in action as apprentice mechanic Milon attempts to build a truck entirely from used parts.
To Become the Pearl King of the Pacific – Aru Island, Indonesia –
DC059605

アジア発見 | めざすは南洋真珠王 インドネシア・アルー島 [NHK]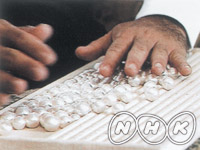 |Length : 24min. |Year : 1996 |
Pearl farming is a relatively new pursuit in these islands, and budding moguls must first master specialized techniques. Meet several of these ambitious pearl farmers and learn the obstacles they face.
I Want to Be a Teacher in Our Village – Vang Khi Village, Laos –
DC059604

アジア発見 | 村の先生になりたい ラオス・ワンキー村 [NHK]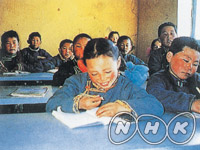 |Length : 24min. |Year : 1996 |
Believing the future lies in education rather than farming, villagers encourage a young man who plans to be a teacher. Follow Thum, the young man in question, as he sets out on his new path.
Departing Bangkok for Home – North Bus Terminal, Bangkok, Thailand –
DC059603

アジア発見 | バンコク発ふるさと行き タイ・バンコク [NHK]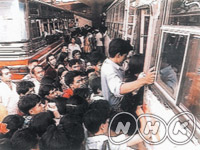 |Length : 24min. |Year : 1996 |
The demographic shift from rural to urban areas takes on a human face as we meet migrant workers and learn their dreams. Among them is Thongsuk, a farmer's wife who must leave her child behind to work and save money in Bangkok for six months every year.
The Spring Cashmere Trade of the Plateaus – Bayankhongor, Mongolia –
DC059602

アジア発見 | 春・草原にカシミヤが動く モンゴル・バンヤンホンゴル [NHK]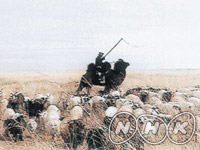 |Length : 24min. |Year : 1996 |
With Mongolia having converted to a free market economy, nomadic tribes raising cashmere goats must adapt to the times. Follow the highs and lows of one goat-raising family trying to make it in a new world.
Bike Street, the Street of Dreams – Ho Chi Minh City, Vietnam –
DC059601

アジア発見 | "夢"駆けぬけるバイク通り ベトナム・ホーチミン [NHK]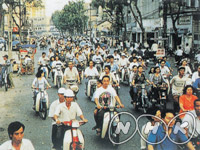 |Length : 24min. |Year : 1996 |
The motor bike is the most sought-after possession in this bustling city. Learn the role it plays in two men's lives: boutique employee Viet enjoys the status his motor bike brings, while bicycle repairman Minh eventually finds his beyond his means.