Documentary

Special Lessons

課外授業 ようこそ先輩 [NHK]

In this series, today's successful men and women in their respective fields visit the schools they attended in their youths to enthusiastically talk to today's children about the roads they took to become what they are today.
Chimpanzees Have Become Our Teachers?!
DC110013

課外授業 ようこそ先輩 | チンパンジーが先生になった!? [NHK]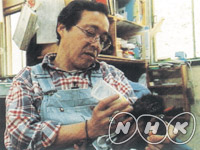 |Length : 42min. |Year : 2000 |
Koichiro Yoshihara is a chimpanzee breeder. At the Chimpanzee Village at Tama Zoological Park, a total of 21 chimpanzees live there under the leadership of a boss. Mr. Yoshihara invites the children to the Chimpanzee Village and has them observe actual chimpanzee behavior. By observing rowdy chimps, mischievous chimps, flattering chimps and bullied chimps, the children learn that chimpanzees have individual personalities. On this day, what the children learn from the chimpanzees is "an attitude of respect" for other beings.
Feeling the Color of the Island
DC110012

課外授業 ようこそ先輩 | 体で感じる島の色 [NHK]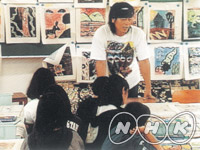 |Length : 42min. |Year : 2000 |
Bokunen Naka is a woodblock artist who depicts the spirit of Okinawa. Despite being born on lush island, the children have had little opportunity to come into contact with nature, and so Bokunen takes the children to a forest to play. His aim is that they will create woodblocks with the images they have felt with their bodies and hearts, by touching soil, rocks and plants and smelling smells. The worlds inside the children's hearts become reflected in the woodblocks in vivid colors and designs.
Kata Make People Laugh in Kyogen
DC110011

課外授業 ようこそ先輩 | 狂言の笑いは「型」でござる! [NHK]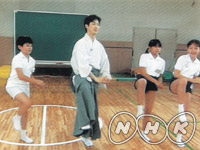 |Length : 42min. |Year : 2000 |
Mansai Nomura is a "Kyogen" actor. In Kyogen comedy, thinks Mansai, each performance of feelings of joy and anger have a characteristic form of expression called "kata." He holds a workshop for the children to experience "Kyogen". To the traditional "kata," the children create the "Kyogen" production "Momotaro" while adding their own original inventions. The children are fascinated by the enjoyment of using their whole bodies to perform.
Da Vinci's Art Anatomy Classroom
DC110010

課外授業 ようこそ先輩 | ダ・ヴィンチ先生の美術解剖学教室 [NHK]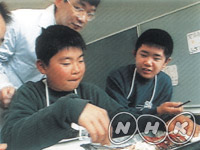 |Length : 42min. |Year : 2000 |
Hideto Fuse is an art critic known for his novel art critiques using materials such as anatomical charts and death masks. As he introduces the children to the anatomical charts of Leonardo Da Vinci, Mr. Fuse relates that the reason why Da Vinci was able to create numerous masterpieces was because in addition to his genius as a great painter he also had the eyes of an anatomist. The children practice dissecting a fish, and experience the miracle of the structure of living beings.
Photos That Connect You to Me
DC119909

課外授業 ようこそ先輩 | 写真がつなぐ あなたと私 [NHK]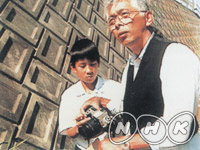 |Length : 42min. |Year : 1999 |
Mr. George Hashiguchi is a photographer who studies society and the times. The children bring in favorite footwear and articles of clothing according to homework assigned by Mr. Hashiguchi to look into one's favorite, for example, who produced it and where it is produced. Next, the children take portraits of all their classmates excluding themselves and produce their own individual memorial graduation albums. They communicate with each other by observing and interacting through the camera.
Light Has Arrived at the School
DC119908

課外授業 ようこそ先輩 | 光が学校へやってきた [NHK]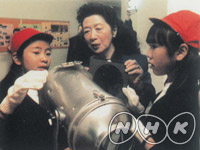 |Length : 42min. |Year : 1999 |
The illumination designer, Ms. Motoko Ishii was in charge of lighting up such characteristic Japanese edifices as Tokyo Tower and Tokyo Station.
The children set out to light up commonplace areas, being divided into four teams. A unique performance - "The Sound of Water and the Lion God" for the pond, "Youth and Passion" for the gymnasium, "Devastated Library" for the library and "The Toilet where the Spirits Reside" for the toilet - is presented by the children.
Exploring Fascinating Sounds of Gagaku
DC119907

課外授業 ようこそ先輩 | 不思議な音色 雅楽に挑戦! [NHK]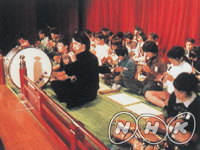 |Length : 42min. |Year : 1999 |
Exploring Fascinating Sounds of "Gagaku" Mr. Hideki Togi is an artist who inherited the tradition of "Gagaku", the ancient court music of Japan, and who has ushered in a new phase in the world of music with his fusion of "Gagaku" and synthesizer. He introduces the tone colors of "Gagaku"'s characteristic musical instruments, and explains that "Gagaku" is originated from ancient people's views of nature and the cosmos. The children try to express through improvisation the sounds they have felt.
The Roundworm Doctor's Parasites Are Our Friends
DC119906

課外授業 ようこそ先輩 | カイチュウ博士の寄生虫はおともだち!? [NHK]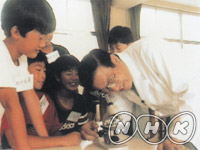 |Length : 42min. |Year : 1999 |
Prof. Koichiro Fujita is known for his unique way of describing the ecology of parasites. He takes specimens of parasites into the classroom, and teaches in an easy fashion by relating his own humorous experiences. The children get all excited when they experiment dissecting mackerel and find Anisakis in the fish's internal organs. Prof. Fujita pointedly maintains that a fixation on cleanliness through the excessive prejudical elimination of parasites has resulted in the spread of modern diseases such as atopy.
Microorganisms, Macro Power!
DC119905

課外授業 ようこそ先輩 | 微生物は超能力者だ [NHK]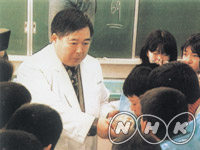 |Length : 42min. |Year : 1999 |
Prof. Takeo Koizumi is a Japan's pre-eminent fermentologist. Prof. Koizumi encourages the children to overcome any initial revulsion and enjoy the wonders of the fermentation process, explaining that microorganisms are responsible for this and such traditional Japanese delicacies as kusaya (smelly fish) and fermented mackerel. Together, he and the children make natto (fermented soy beans), yogurt, and ama-zake (a form of sweet sake). Ultimately, they ponder new ways in which microorganisms may serve people in the future.
The Secret of Delicious Cooking
DC119904

課外授業 ようこそ先輩 | うまさの秘密はおもいやり [NHK]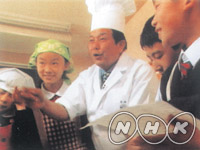 |Length : 42min. |Year : 1999 |
Mr. Kenichi Chen is a famous chef of Chinese cuisine, who has pursued original tastes using the traditional Sichuan cuisine as a basis.
He provides a cooking lesson, teaching the children how to prepare shrimp in chili sauce. They experience the joys of cooking and eating together from the same dish, sharing with others. Mr. Chen holds strong beliefs that this brings out a new sense of the deliciousness of food, resulting in closer ties between everyone.
Create Your Own Sound
DC119903

課外授業 ようこそ先輩 | 探せ!たたけ!自分の音を [NHK]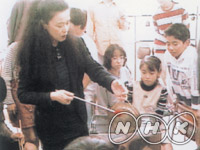 |Length : 42min. |Year : 1999 |
Ms. Sumire Yoshihara is a percussionist known for creating her own world of music, using not only percussion instruments from around the world, but also using everyday objects as instruments. After the lesson in hitting percussion instruments freely, she assigns a task to the children, to "find the sound that makes you feel the best". The children look for that sound and make hand-made instruments. In the final lesson, everybody takes part in a concert, using their hand-made instruments.
Making Invisible Things Visible
DC119902

課外授業 ようこそ先輩 | 見えないものが見えてきた [NHK]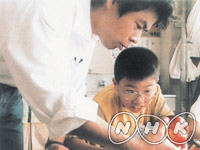 |Length : 42min. |Year : 1999 |
Mr. Katsuhiro Hibino is a famous Japanese pop artist who characteristically uses cardboard material in his work. Mr. Hibino first teaches the importance of "observation". The next task he presents the children with is expressing "invisible" emotions, such as "excitement", "irritation" and "gentleness", in a shape or form by using objects found around them. Enchanted by the improvised novel art displayed by Mr. Hibino, the children devote themselves to making objects using balls, basketball shoes, and newspapers.
Flipbooks Become Art
DC119901

課外授業 ようこそ先輩 | パラパラ漫画がアートになった! [NHK]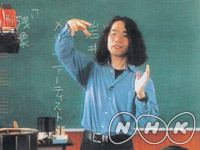 |Length : 42min. |Year : 1999 |
Mr. Toshio Iwai is a media artist, who is receiving the most attention today for his collaboration performances combining images with music, such as with his unique imagery pieces using computer graphics. The children learn the theories and history behind images using visual tools, and make 8-frame animation. A moving image is finally created by drawing pictures and adding voices all according to one's own original story. The children quickly change from viewers to makers of image media.