Modern Living

Jewels of the Seto Sea

瀬戸内宝石箱 [NHK]
Seasonal Colors of the Geiyo Islands
DC241961

芸予諸島 四季の色 [NHK]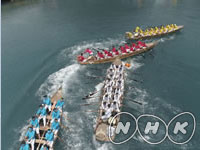 |Length : 29 |Year : 2019 |
colors mark each of the four seasons in the Geiyo Islands, in Japan's Seto Inland Sea. In winter, white mist blankets the sea. Between dawn to sunrise, the mist turns purple, then blue, and finally, gold. In spring, delicate pink cherry blossoms burst into bloom on Iwagi Island, with its 3,000 trees planted by the islanders themselves. In summer, Osakikamijima Island is the stage for a fierce and brightly-colored battle. Teams of men in red, yellow, blue, and white take part in a rowing race that dates back to medieval times. In autumn, milky-white oysters are ready. They are harvested from the oyster racks that flank the coast of Kurahashijima Island in Hiroshima Prefecture, Japan's top oyster producing region. And then, when winter returns, Kone Island is dotted with deep orange, the color of ripe satsuma oranges. The Geiyo Islands are truly a land of vibrant color, culture, and tradition.
Nature's Palette、Man's Palette
DC241960

うみの色 しまの色 [NHK]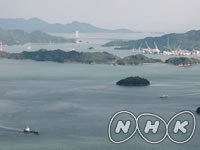 |Length : 29 |Year : 2019 |
The Seto Inland Sea region in western Japan has been dubbed the "jewel of the world" for its scenic beauty, but its remarkable colors are not limited to the deep blue waters and green forests that cover its many islands. This episode explores the palette of colors, both manmade and natural, that make this region so unique, including the prized silvery sheen of sardines carefully caught and quickly processed to preserve their freshness; the pure white island that is a major salt depository; the red, green, and white lights illuminating an industrial complex that operates around the clock, as fiery bursts from flare stacks scorch the night sky; and a deep red soy sauce made by combining crystal-clear water from the forests with a traditional brewing method involving natural bacteria and wooden barrels. Unlock the secrets of the colors created by nature and the people living near the Seto Inland Sea.