People and History

A Passionate Challenger

情熱大陸 [MBS]
Confections of Unrivaled Beauty -An Innovative Wagashi Creator:Shiho Sakamoto
DC282288

和菓子作家 坂本紫穂 [MBS]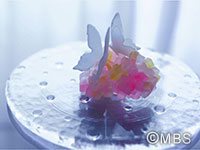 |Length : 25min |Year : 2022 |
Starting about ten years ago, Shiho Sakamoto took on the title of "Wagashi Creator." She runs no shops, publishes no recipes, and works mainly from her home kitchen to create Japanese wagashi sweets. Yet, she continues to create unique, breathtaking works. Her motifs include a butterfly perched on a flower, a single raindrop, the moonlight, crashing waves, footprints in snow. She draws upon a variety of everyday images and occurrences for inspiration. Her portfolio of over 400 creations has captivated women who exclaim that her wagashi are "too pretty to eat."
Sakamoto's career path is as unconventional as her confections. She got a job at an IT firm after college but was forced to take a leave of absence after falling ill from overwork. Just when she was rethinking her life, a dream she saw of wagashi served as a sign for her to pursue her true calling. Ever since, she has forged her own path as a mostly self-taught Wagashi Creator with no formal training at any notable wagashi shops.
This program follows Sakamoto's project with a major wagashi maker and another with a small shop in the countryside to witness the birth of new wagashi, and in doing so, we discover a surprising treasure of hers. Although wagashi has been taking a back seat to Western confections recently, and the distinction is often blurred, Sakamoto insists on differentiating wagashi from its Western counterparts. Just what is the "Japanese spirit" that lies within these tiny treats? We search for the answer in Sakamoto's creative process during a time when summer fades into autumn.
Breathing life into ink -A rising Calligrapher:Bisen Aoyagi
DC282287

書道家・アーティスト 青柳美扇 [MBS]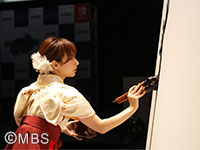 |Length : 25min |Year : 2022 |
For the opening ceremony of the Emperor's Cup football game, calligrapher Bisen Aoyagi put on a calligraphy performance for tens of thousands of people on New Year's Day 2020. This was not her first time performing with a large brush to paint on a giant folding screen; she has carried out this performance to great acclaim in over ten countries. Aoyagi's calligraphy, which captivates people around the world, is marked by its dynamic power. Her writing dances across the paper as if it has taken on a life of its own. She says a truly great work has an alluring empty space and letters that rise from the paper.
When Aoyagi is not performing, she practices tirelessly in her studio. Our cameras capture her diligent work that goes on behind the scenes of her flashy performances. Although her life revolves around calligraphy, Aoyagi immerses herself in nature once a year to enjoy some fishing or surfing. This respite can sometimes lead to surprising new ideas.
The calligrapher is currently absorbed in preparing for her fifth exhibit. She exclaims it will be something people have never seen before and puts forth a revolutionary idea of expressing three-dimensional objects through calligraphy. In order to make this happen, she visits a small factory and uses a forming press to cut out metal sheets in the shape of her writing. Come witness this up-and-coming artist's challenge of transforming 2D into 3D.
Sakuramori Guardians of Sakura Cherry Blossoms
DC282181

吉野山桜守 伊藤将司・山口公佑・奥西信介 [MBS]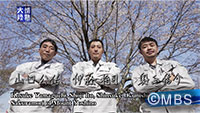 |Length : 25min |Year : 2021 |
Standing proudly in the heart of Nara Prefecture is Mount Yoshino, a World Heritage Site and one of Japan's top three sakura cherry blossom sites. The view of 30,000 cherry trees blossoming over 50 hectares of the mountainside in spring is simply breathtaking.
People who care for cherry trees are known as "sakuramori" or "sakura guardians." At Mt. Yoshino, three men are in charge of this responsibility: the captain Ito, a native of the Yoshino area; Okunishi, a former landscaper; and the always cheerful Yamaguchi.
Sakuramori have a wide range of duties, including picking cherry tree seeds, planting them, growing saplings, planting trees, cultivating soil, weeding, and at times, treating trees that have fallen ill from getting damaged by wild deer. If cherry trees are children, then sakuramori are everything from parents to doctors.

The sakura are in full bloom for a mere week, and the sakuramori devote an entire year all for these seven or so days. Captain Ito says, "The more work we put in, the sakura answer to us and bloom beautifully."
Every year, Mt. Yoshino is flooded with tourists during sakura season, but last year was an exception due to the State of Emergency. Even Ito, born and raised by the mountain, had never seen the area so empty. "We're hoping that this year, people will get to see the sakura that we care for, and perhaps bring a bit of joy to this gloomy world" say the three cherry tree guardians. Come witness the story of the sakuramori.

~Don't Stop the Music Tokyo Philharmonic Orchestra~
DC282077

情熱大陸 | 東京フィルハーモニー交響楽団 [MBS]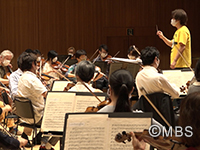 |Length : 25min |Year : 2020 |
The new corona virus is running rampant and many in the entertainment industry are faced with a difficult situation. As musical bands cancel their live gigs one after another, classical music concerts are no exception since despite its size, a concert hall is still a closed space.

When the state of emergency was lifted temporarily and some normalcy returned, Japan's oldest orchestra, the Tokyo Philharmonic Orchestra, welcomed the audience back to their hall. It was an arduous road with a major hurdle being how to attain safe distancing for the performers as well as the concert-goers.

Despite the easing of restrictions, professional sports play games without spectators. So what drove classical musicians to risk their own health to perform a concert? Dealing with the huge obstacles before them, dedication and a passionate love of music guide these music professionals as they prepare for their first concert in months.


~Climb Down Alive! Japan`s First Mountain Medicine Specialist~
DC282076

情熱大陸 | 山岳医 大城和恵 [MBS]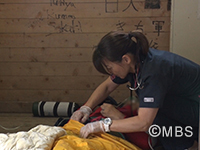 |Length : 25min |Year : 2020 |
Japan's mountain-climbing boom has not only led to more climbers of all ages, but an increase in climbers getting lost and injured.

As the nation's first Doctor of Mountain Medicine, Kazue Ohshiro mans the 24-hour First-Aid Center at Mt. Fuji's Eighth Station where she treats the myriad of ailments that can plague climbers; with little medical equipment. An experienced alpinist who honed her expertise by climbing the world's most dangerous mountains, she passionately believes that prevention and education are key to raising the low success rate of mountain rescues.

Treating patients in the one-man clinic, she wastes no opportunity to give advice on how not to get lost and to prevent the three main causes of death in the mountains—external injury, heart attack and hypothermia.

It is a passionate summer for this mountain doctor who is doing everything she can to save the lives of climbers.
The Joy of Independent Watchmaking
DC281974

独立時計師 菊野昌宏 [MBS]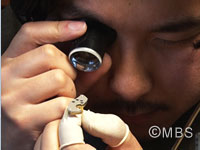 |Length : 25 |Year : 2019 |
In a world of mass-production, the "independent watchmaker" creates a watch from scratch - from original design to crafting every, single mechanical piece and putting them together. There are only 31 of them who have been officially certified by the Horological Academy of Independent Creators. Masahiro Kikuno became fascinated in his twenties by a Swiss independent watchmaker, and when he was 30, he became the first Japanese, and youngest ever in the world, to be certified. His creations which feature uniquely Japanesque designs and elaborate precision mechanisms, attract orders from around the world, commanding prices ranging from 45,000 to 160,000 dollars. He makes only two watches a year, hand-making screws as little as 0.001 millimeters. Our cameras follow Kikuno for eight months as he creates a one-of-a-kind timepiece for an overseas client, and delve into why he persists in making something commonly mass-produced with his own hands.
Medical Innovator Revolutionizing Medicine with Virtual Reality
DC281867

医療イノベーター外科医・杉本真樹 [MBS]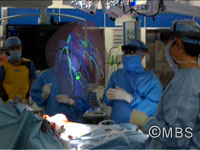 |Length : 25 |Year : 2018 |
Like a scene out of a SF movie, surgeons wearing head sets study 3D images of organs that hover above the patient on the operating table. Then with precision accuracy, the lead surgeon removes the lesion. A futuristic world has opened up in the medical field with VR technology that was pioneered in games and entertainment. Naoki Sugimoto has applied it to develop a system that can be used in surgery. Named one of the winners of Apple's Mac 30 – Thirty Years of Innovation in 2014, this medical doctor is in high demand throughout Japan, providing support as a surgical navigator in complicated cases, and also travels widely as a lecturer and advisor. Despite the challenges of making inroads in the medical field, especially in surgery, this medical innovator is fervent in his belief that "Japan is a breeding ground for VR medicine" and passionately continues his quest.
Master Chef of Fermentation Refining the Taste of Tradition
DC281866

発酵料理人・徳山浩明 [MBS]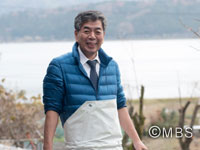 |Length : 25 |Year : 2018 |
Near Lake Yogo in Shiga Prefecture, there is a little treasure of a restaurant named Tokuyamasushi where its owner-chef Hiroaki Tokuyama has devoted his life to the ancient method of "narezushi" - salted fish packed with rice and fermented to produce a uniquely delicious aroma and taste. Tokuyama is the guardian of the traditional local cuisine that dates back a thousand years, but he is also a pioneer, adapting a myriad of ingredients into innovative dishes, raising the art of fermentation to a whole new level. Connoisseurs from around the world seek out the hidden restaurant where reservations must be made months in advance.
For nearly a year, our cameras followed Tokuyama who thrives amidst the seasonal bounties of the woodlands. Using the delicacies from the lake and the mountains, Tokuyama has honed his technique and knowledge. Enjoy the wonders of "fermentation" which preserves and creates such exquisite tastes, and revel in the scenery of Japan's yet-unspoiled nature.
Weaving the Tradition in a Tropical Forest
DC281759

情熱大陸 | テキスタイル・デザイナー・森本喜久男 [MBS]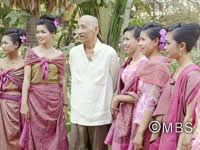 |Length : 25 |Year : 2017 |
Near Siem Reap in Cambodia, known for the famous ruins of Angkor, is "a weaving village" uncommon even in this world. Using the abundant natural resources available in the area, and traditional Cambodian weaving techniques, textiles of high artistic quality are produced here that have garnered worldwide acclaim. Fourteen years ago, this area was a wasteland. Today, the villagers create handwoven silk fabric from start to finish - from raising silkworms, to creating dyes to weaving. And the man who made this possible is a former Yuzen silk artisan, Kikuo Morimoto, from Kyoto. When he was in his thirties, Morimoto volunteered at a refugee camp in Cambodia and came upon a single piece of traditional Cambodian textile. Due to years of internal conflicts, the Khmer silk culture was fading into oblivion. Inspired by its beauty, this man from Japan set down his roots in a country foreign to him, and dedicated half his adult life to restoring the ancient technique, and almost single-handedly, pulled off a miracle. However, he was diagnosed with cancer and given five years to live. This is the fifth year, and it is also the season for the "silkworm festival" which is held annually in the village. It was begun by Morimoto in reverence of the silkworms who, in death, leave behind their beautiful threads. The festival is a venue to introduce newly woven textiles as well as to put the village on the map and help it prosper. Realizing that this could very well be his last festival, Morimoto reflects on the legacy he hopes to leave behind -- his fervent wish that the village will continue to thrive, and pass down the beautiful traditional silk-weaving culture to future generations. How will the festival turn out? Our cameras follow Morimoto and the villagers through this important and hectic period.
Treasure Hunter in Tropical Rivers
DC281659

情熱大陸 | 淡水魚研究家 佐藤智之 [MBS]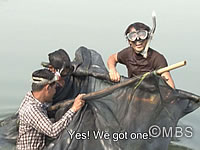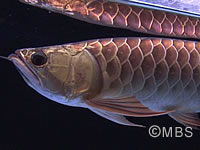 |Length : 24min |Year : 2016 |
Cambodia boasts nearly 500 species of freshwater fish. More research on freshwater fish needs to be done on a wider scale because so little is known even about the types of fishes that exist there. In his quest to encounter every fish that exists in Cambodia, Tomoyuki Sato, an avid aquarist, has been cataloguing the freshwater fishes of Cambodia with great zeal. At the same time, the Cambodian arowana conservation project has hired him to study the Asian arowana which has been declared an endangered species. We take a fascinating look at this man, Tomoyuki Sato, and his simple and honest desire to "encounter every fish that exists."
A Little Make-up Goes a Long Way: A Japanese Woman's Efforts to Win Smiles
DC281556

情熱大陸 | 社会企業家・向田麻衣 [MBS]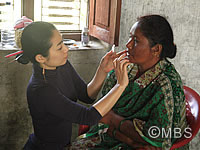 |Length : 24min |Year : 2015 |
Nepal is one of the most underprivileged nations in the world. Here, where women live in dire conditions, a lone Japanese woman strives to render aid through "facial make-up." She is social entrepreneur Mai Mukaida.
In 2009, Mukaida began the Coffret Project which sought to bring smiles and hope to women victimized by prostitution and rape. The idea was to support these women through make-up; to instill confidence in them to get through life.
One day Mukaida journeys to an impoverished village and encounters young women who were once a type of indentured slavery. After talking to them, she gently applies make-up on them. What the camera lens captures is...
A Japanese Woman's Hunt for the Elusive White Cacao
DC281555

情熱大陸 | カカオハンター・小方真弓 [MBS]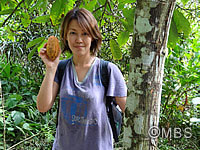 |Length : 24min |Year : 2015 |
Mayumi Ogata is a Japanese woman with an unusual profession known as "cacao hunter." She searches for cacao while keeping an eye on market trends as well as the cacao-growing industry's future.
Ogata started out at a chocolate ingredients supplier, but she developed a keen interest in cacao itself and left the firm in 2003. Subsequently, she traveled to cacao-growing nations, researching each region's cacao industry. With the experience she has gained, she now works on improving the quality of cacao beans and trees and developing new chocolate products.
One day Ogata finds the mysterious cacao, but all she brings back is a small cutting. She reasons that by planting it and protecting the variety, it could one day provide a living to people in the area. She believes that hunters must not plunder.
Biologist Unlocks the Secret Life of Marine Animals
DC281454

情熱大陸 | 海洋生物学者 渡辺佑基 [MBS]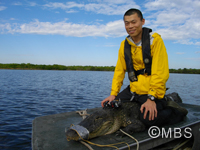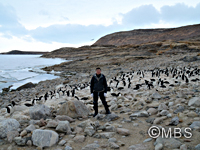 |Length : 24min. |Year : 2014 |
The behavior of marine animals still remains a mystery. A world-renowned biologist, Yuki Watanabe, researches and records their behavior using a method called bio logging. By attaching a motion recorder called logger and a miniature camera to the animal, the secret lives of these animals become clearer through captured footage. It is the most advanced field of research that has rapidly developed over the last 20 years in the biology field.
Watanabe's biggest accomplishment is the invention of logger retrieval system. Until now, bio logging was limited to animals that returned to their nest since that was the only way the logger could be retrieved. But Watanabe solved this problem by utilizing IT equipment and intelligence which instantly broadened the field of research. Joint research offers flocked to Watanabe from around the world and he became known as the "Indy Jones of the biological world."
When Watanabe went to Antarctica as a member of the Antarctic expedition team, he captured footage of the Adelie penguin by attaching a camera to the penguin. That footage has garnered a lot of attention as it is the first time anyone has clearly seen a penguin eating its prey in its natural setting. It has been assumed that tuna swim at a high speed at almost 80 km/hour. But based on Watanabe's research, they swim at about 3 – 8 km/hour. Even in emergency situations, they only reach speeds of up to 30 km/hour. In this way, Watanabe works to clarify the behavior and habits of marine animals which are often shrouded in mystery.
The program follows Mr. Watanabe for three years. It introduces a joint research project he did with Australia's Tasmania University on the broadnose sevengill shark. It also presents a lot of the world premier footages, captured by cameras attached to marine animals.
Doc Fights for the Future of a Tsunami-Hit City
DC281453

情熱大陸 | 医師・川島実 [MBS]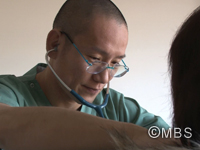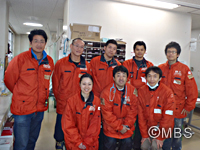 |Length : 24min. |Year : 2014 |
Kesennuma City in Miyagi Prefecture was devastated by the tsunami of the Great East Japan Earthquake. In 2013, two years after the earthquake, the region's only medical institution, Motoyoshi Hospital, finally began admitting patients.
The man who rebuilt this hospital is Dr. Minoru Kawashima. In 2011, the tsunami destroyed the first floor of Motoyoshi hospital and doctors left one after another. Kawashima couldn't turn his back on the hospital shutdown, so he began commuting to Motoyoshi every weekend to lend aid and support as a volunteer doctor. Half a year after the earthquake, he was appointed as the hospital director and took on the task of restoring the hospital services.
Immediately, Kawashima was confronted with a critical shortage of doctors specializing in obstetrics and pediatrics. Hoping to make Motoyoshi a place where mothers can give birth to their children at ease, he personally receives training once a week at another hospital to open an OB-GYN ward at his Hospital. Kawashima envisions a hospital that offers "comprehensive medical care" including internal medicine, pediatrics, surgery and obstetrics-gynecology.
There is another challenge that Kawashima faces in community medicine - "home care." Motoyoshi has many senior citizens for whom even a visit to the hospital is a difficult ordeal. To Kawashima, to die means to "live until the very last breath." He wants the practice of "home care" to take root, so that one's end of life can come at home, surrounded by family and loved ones. Presently, he has 70 patients who receive medical care at home.
Kawashima's life has taken unusual and diverse turns. As a graduate of an ultra-elite university, he first became a professional boxer and then farmer. He now hopes to "knock out" the region's medical problems.
The Queen of Lighting
DC281351

情熱大陸 | 照明デザイナー 石井幹子 [MBS]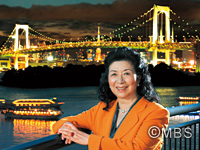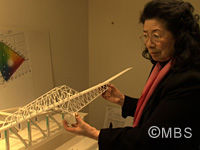 |Length : 24min. |Year : 2013 |
Motoko Ishii has been leading the lighting design industry nearly over half a century. Her innovative designs have earned her the well-deserved reputation as "Japan's Queen of Lighting." In addition to the illumination of the landmark Tokyo Tower and the Osaka Expo '70, Ishii has worked her magic with lights on world stage in architecture and the arts, in projects like Shanghai's World Financial Center, a hotel in Singapore, and light performance events in Germany and Paris. What drives her to always be at the forefront is the desire to "do something new." In that pursuit, she is always on the go, traveling to international illumination trade fairs in Europe, or collaborating with her daughter, Akari-Lisa, who is a lighting designer in her own right.
This program goes behind-the-scenes and follows her work on illuminating the Tokyo Gate Bridge which opened in February 2012. The project had two very strict regulatory limitations on light positioning and brightness. It was an arduous effort that took eight years from planning to fruition and we see Ishii, the consummate lighting designer, passionately and completely in her element.
Creating a New World: The Maverick of the IT World
DC281250

情熱大陸 | デジタルクリエーター猪子寿之 [MBS]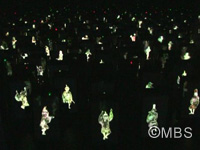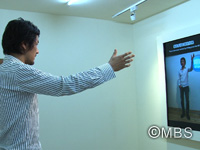 |Length : 24min. |Year : 2012 |
Japan's "soft power" is more than just anime and video games. There is still an enormous amount of cultural resources that remain undeveloped. A pioneer digital creator, Toshiyuki Inoko is brilliantly tapping into these resources. Many call him "Japan's Steve Jobs."
Inoko thinks out of the box and his unique concepts have stirred the curiosity of people from all walks of life. With Japan as his springboard into a new world…he is our guide into the uncharted and limitless digital world. His eyes can already see the shape of the future.
Inoko established an IT venture company, teamLab, in 2001 with friends from college. He conceives various ideas with his exceptional talents. Should they be classified as art or technology? There are no boundaries to his creative style. Take the idea of Japanese letters that turn into 3D images… This one brought home an international award. Other projects include the interior design of a retail store that makes you feel as though you've stepped into a virtual world of video games, and innovative hangers for clothing stores that are the first of its kind. In every genre, Inoko's powerful creations generate excitement and enthusiasm. For Inoko's indispensible team, it is a daily struggle to turn his incredible concepts into tangible works, but each one is dedicated to producing things that are "fun and interesting."
In addition to being a digital creator, Inoko often participates in seminars as a panelist and sometimes gives lectures to university students.. His straightforward manner makes a strong impression on young people. With his unpretentious, unique way of talking, he declares, "I'm just like a fourth-grader." And because he is a grown-up who is still a child at heart, Inoko continues in pursuit of a "joyful world." Here is an intimate look at the uber-cyber creator who challenges the world, armed only with innovative ideas.