Science and Technology

Masterly Skills

技~極める [NHK]
Chair-Making from the Heart
DC290326

技~極める | 人に優しい椅子を作りたい [NHK]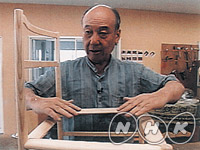 |Length : 24min. |Year : 2003 |
Shigeki Miyamoto lives according to his motto, "I am fulfilled by making comfortable chairs", and has succeeded in making various types of chairs. He is well-known as an expert, having proven his skill in the observation car of an express train and in the drawing room in the Crown Prince's Palace. As Miyamoto accepts any particular order, people come to think that Miyamoto can manage any kind of request about chairs.
The Sound Magician
DC290325

技~極める | 音の蘇生師 管楽器修理職人 [NHK]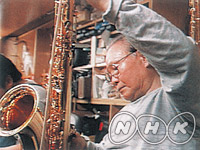 |Length : 24min. |Year : 2003 |
A wind instrument repair technician whose name is Ishimori enjoys the world reputation of the number one saxophone tuner and repairman, because he can give a subtle adjustment and maintenance perfectly to the instrument of each customer. His experienced skill is indispensable for the wind instrument musicians in the way of tuning as well as well as repair work.
The Lustre of Edo-Kiriko
DC290324

技~極める | 光彩を彫る 江戸切子職人・小林英夫 [NHK]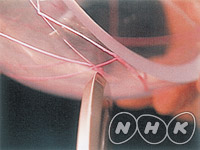 |Length : 24min. |Year : 2003 |
The skill of Japanese traditional style of cut-glass 'Edo-Kiriko', originated in Edo period, has been handed down to some craftsmen today. Kobayashi, aged 79, is one of them, having dedicated his energy to this work for over fifty years. He has a super skill to give a dazzling brightness to his creation by controlling the way of cutting. His work has a warm, refined, but sharp feel, that is a brilliant glass art with reflected light, which attracts many craftsmen in this field.
Hand-Made Fountain Pens
DC290323

技~極める | 手作り万年筆 ミクロの技人・植原榮一 [NHK]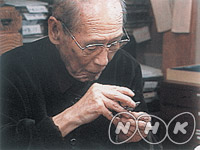 |Length : 24min. |Year : 2003 |
Today, there are only a small number of craftsmen who make fountain pens all hand-made. Uehara, aged 82, has been engaged in this work since he was 19. He makes special fountain pens that fit perfectly in the hand of each customer, taking each person's particular handwriting into consideration. His skill of adjusting the pen point, using a loupe, is remarkable, because a difference of 0.01 millimeters does affect the smoothness of writing.
Brother Blacksmiths
DC290322

技~極める | 総火造りの兄弟鍛冶 裁ち鋏職人 大河原辰雄・享幸 [NHK]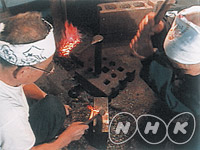 |Length : 24min. |Year : 2003 |
The Ohkawara brothers are master blacksmiths. They make hand-made scissors, using their skill of the comprehensive forging method originated as a technique to create Japanese swords handed down through generations. In their scissor-making method, a piece of iron is heated red-hot and hammered into shape to form the handle and the blade at a time. They read each other's breathing, measuring everything by sight, and hammer with perfect timing, as they know when and how to hammer the metal through long experience.
The Giant Carving Knife : Tempering Flexibly
DC290321

技~極める | 巨大包丁 しなやかに鍛える [NHK]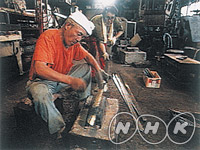 |Length : 24min. |Year : 2003 |
The tuna-filleting knife to carve large tuna with the weight of 200 kilograms, used in the Tsukiji fish market in Tokyo, has a blade length of 1.5 meters. Masaji Shimizu, a craftsman who lives in Takefu in Fkui prefecture, makes this kind of giant knives. The giant knife looks like a huge Japanese sword, but actually it has a tremendous flexibility. It has to curve flexibly along the spine of huge tuna and straighten again, according to the force applied to it.
Chiming in the Wind
DC290320

技~極める | 火箸が奏でる究極の音色 [NHK]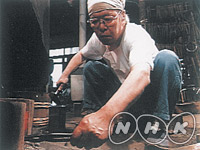 |Length : 24min. |Year : 2003 |
Munemichi Myochin is the 52nd generation master of the Myochin family, which had enjoyed great status since the 8th century because of its armour-making skills. Today he is the only person in Japan who specializes in making iron tongs. His tongs are not only used for tea ceremony but also for a wind chime that tinkles beautifully in the breeze. Tongs do not produce clear sound if there is even one millimetre of difference both in length and thickness.
Dream through the Bird's-Eye View
DC290319

技~極める | 鳥の眼で描く街 [NHK]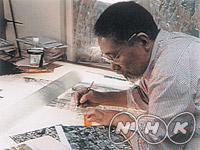 |Length : 24min. |Year : 2003 |
Tadashi Ishihara is a bird's-eye view artist, well-known in Japan for his presentation citymaps. His first work, 'World Expo Japan Aerial Map 1970', created a sensation among people. With preparation of thousands of aerial photos and street level shots, he draws almost everything in his maps exactly as it is down to the number of trees, floors and windows of the buildings, the patterns of white-lines in the parking lot.
The World of Miniature Models
DC290318

技~極める | 10センチの風景 模型自動車制作 早川松芳 [NHK]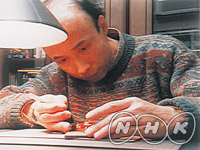 |Length : 24min. |Year : 2003 |
Matsuyoshi Hayakawa is a professional model builder. Today quite a few people make miniature models for pleasure. There are hundreds of varieties of model car kits sold by European makers. Hayakawa starts with such a kit, but he never uses parts without giving them some adjustment and makes most of the parts by himself to create his original car models. He wants those parts to be more precisely. People are fascinated by his artistic sense of the work.
Kaleidoscopes Reflect the Universe
DC290317

技~極める | 宇宙を映す万華鏡 [NHK]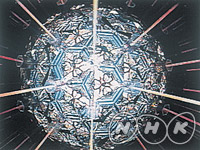 |Length : 24min. |Year : 2003 |
We remember, in our childhood, we were fascinated with the unexpected beauty we find the moment we looked into the kaleidoscopes. Today, kaleidoscopes are recognized as an art from in many countries, and particularly in the United States, they are often used for medical instruments for healing people. Koji Yamami, a professional kaleidoscope maker, won the Grand Prix at the kaleidoscope convention held in the US in 2001.
Rock Dust Makes Paper Last
DC290316

技~極める | 千年繊維・泥和紙を漉く 手漉き和紙職人・谷野武信 [NHK]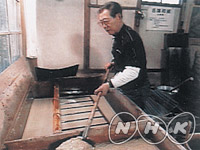 |Length : 24min. |Year : 2003 |
Takenobu Tanino is a papermaker with 50 years' experience, living in Najio Village, Western Japan, Hyogo prefecture. The materials he uses for papermaking are the bark of 'Ganpi tree' and the rock dust. Tanino's paper is used for restoration of 'fusuma' Japanese sliding paper doors in Nijo Castle in Kyoto that is registered as a National Treasure. Today Tanino is the only person who can do all the process of this traditional method properly.
Super-hands for Super-fast Elevators
DC290215

技~極める | 超高速エレベーターを支える腕 [NHK]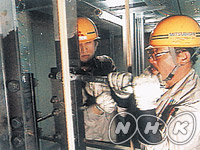 |Length : 24min. |Year : 2002 |
The elevators, with the height of 279 meters, ascend to the 69th floor observation deck in 40 seconds. With the increase in the number of super high-rise buildings, manufacturers have indulged in cutthroat competition to develop state-of-the-art technology for safe, comfortable and high-speed elevators. To turn such new technological innovations into a reality, a group of world's top-level experts are applying their skills to the fullest in installing elevators.
The Race to Ship 4000 Cars
DC290214

技~極める | 積み込め 自動車4000台 [NHK]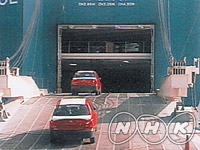 |Length : 24min. |Year : 2002 |
The largest number of cars is shipped through the port of Tahara, located in Aichi Prefecture, in Japan,a leading car manufacturer. There are special drivers who move a number of cars to car-transport vessels with remarkable teamwork. They can park cars inside the vessel, while maintaining a 30 centimeter space between them, and a 10 centimeter space on both sides of the car. Car-transport vessels usually anchor at the port only a few days. Drivers must load a total of 4000 cars in 2 days into a vessel, with a 12-storey structure.