Traditional Culture

The Mark of Beauty

美の壷 [NHK]

The Mark of Beauty is an art program like no other, as it presents the array of beauties hidden in everyday life. From furniture, kimono, culinary art, to even architecture—the program casts light on a wide variety of beautiful items that have embellished people's lives. The Japanese people's unique wisdom and particularity seen in everyday items are sure to enrich viewers. The introduction of several "Marks" in each episode gives viewers a clear understanding of the essence in choosing and fully appreciating the featured items.
Mount Fuji
DC331321

美の壺 | 私の富士山 [NHK]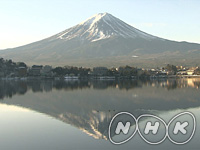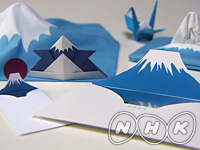 |Length : 29min. |Year : 2013 |
Mount Fuji has recently been named a UNESCO World Heritage site. The mountain has long been engrained in the Japanese soul as an object of worship and as the source of countless pieces of art. This episode takes a look into the deep relationship Fuji shares with water, which is indispensable to the view of the mountain. It also explores the reason why many Japanese people share the image of the mountain as having a summit with three peaks. From the Middle Ages to the present day, Mount Fuji has been the theme for many pieces of art produced by countless painters and creators, and as such, has been admired by the people in everyday life. We delve into the deep beauty of the mountain through the keywords of "water", "worship", and "design".
Sakura
DC331320

美の壺 | 桜 [NHK]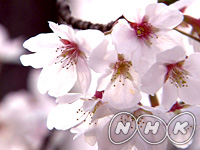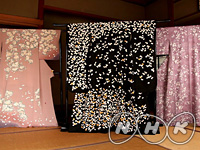 |Length : 29min. |Year : 2013 |
In Japan, the sakura cherry blossom is synonymous with spring. The people of Japan have long adored the sight of how the sakura blossoms bloom proudly at once, before soon dropping their petals ever so elegantly. Such beauty of the sakura has given birth to countless beautiful handicraft pieces. The sakura kanzashi hairpin, which features realistic, faint-colored sakura petals, is popular among young women. The delicate hue of the dyed fabric called sakurazome is produced using the color that dwells inside the trunk of sakura trees. We also introduce the mystical beauty the sakura reveals when it is viewed at night; it almost looks like the flowers are emitting light. Furthermore, we look at how the famous writer Chiyo Uno was so intrigued by the sight of falling sakura petals that she produced countless elegant kimonos of that theme. We thoroughly savor the beauty of the sakura, which never ceases to enthrall the people of Japan.
The Donabe Pot
DC331319

美の壺 | 土鍋 [NHK]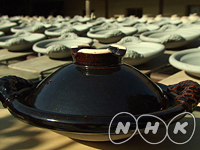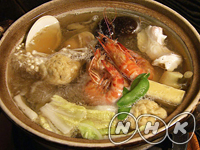 |Length : 29min. |Year : 2013 |
Winter in Japan exists together with hot pot dishes, and the main character of such delicious dishes is the donabe earthenware pot. While it is a cooking utensil, the donabe is at the same time a serving dish ensconced at the center of the dining table, and adored by everyone. That is why the donabe has needed to have the beauty to adorn the dining table, besides the practical features to tolerate heat, retain heat, and not break. This episode features the soft-shelled turtle hot pot that is served at an established Japanese restaurant; the beauty in donabe pots of Iga City, loved by many prominent individuals; and other unique earthenware pots from around the world. We dive into the unknown world of beauty that lies in the simple and warm donabe earthenware pot.
Confectionary of Kanazawa
DC331318

美の壺 | 金沢の和菓子 [NHK]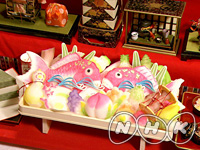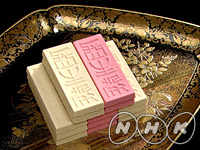 |Length : 29min. |Year : 2013 |
Kanazawa is one of Japan's top three confectionary cities. This former castle town with more than 400 years of history is bustling with beautiful Japanese confectionaries that owe their origin to the snowy Kanazawa scenery. The city offers a myriad of Japanese sweets: from candy adorned with vivid colors that stand out in the snow; rakugan, the confectionary of supreme elegance that was loved by samurais; to cakes that add color to a tea ceremony. As Kanazawa is a city with a tradition of handicraft production, the episode also introduces local wares to serve confectionary on. In addition, we follow a confectioner as he goes through trial and error to produce confectionary to best match a Kanazawa-made ware. We take a close look at the former castle town's sweets during winter, when Kanazawa is at the prime of its beauty.
Hasami Ware
DC331317

美の壺 | 波佐見焼 [NHK]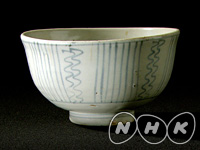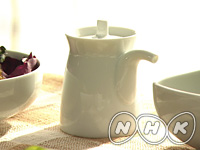 |Length : 29min. |Year : 2013 |
The Hasami ware, baked over a period of 400 years, in Hasami Town, Nagasaki, has a deep, hidden history. We examine a piece acclaimed by connoisseurs as the ultimate example of wabi-sabi, or "simple elegance"; an exotic bottle loved by the great writer Leo Tolstoy; and many more. Join us as we delve into the deep world of beauty that lies in the Hasami, which has travelled back and forth between practicality and beauty over its long history.
Sashimi
DC331216

美の壺 | 刺身 [NHK]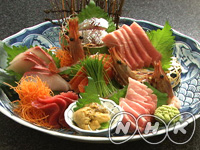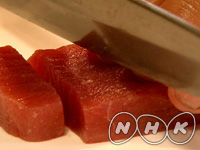 |Length : 29min. |Year : 2012 |
One of the dishes that the Japanese are most acquainted with is the sashimi. To say that sashimi is "just cutting raw fish" would be ignorant. Since its birth in the Heian Period roughly 1,000 years ago, it has been passed down through generations of chefs, with the technique being refined to an art form. We will take a look at the superb knife skills of a master and the secret to plate selection in creating awe-inspiring presentation. We will also take a look at sashimi specific to different regions in order to fully understand and appreciate its simplistic beauty.
The Bento
DC331215

美の壺 | 弁当 [NHK]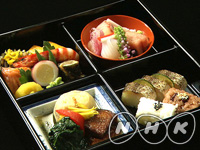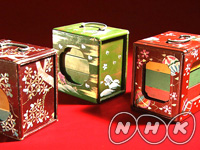 |Length : 29min. |Year : 2012 |
The gentle autumn season is perfect for picnics and excursions, and what better way to compliment the splendor of the season than a nice boxed bento meal? The wide array of colorful side dishes carefully arranged in the small box is a beauty unique to Japan. We will get a close look at the presentation techniques of Kyoto's made-to-order "Shidashi Bento", the origins of the "Shokado Bento" which are rooted in the Japanese tea ceremony, and a behind the scenes look at the preparation of the "Makunouchi Bento" which have been enjoyed at Japanese Kabuki plays for decades. Loaded with bento fun-facts and imagery that are sure to whet your appetite, we will try to get a better understanding of the Japanese aesthetics that are packed into the bento box.
Nebuta of Aomori
DC331214

美の壺 | 青森のねぶた [NHK]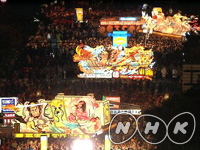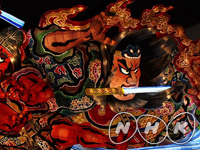 |Length : 29min. |Year : 2012 |
The Nebuta Festival colors the streets of summer in the northeastern Tohoku region of Japan. What draws the attention of all is the brilliant and enormous "Nebuta" with its fierce warrior face, giving it a lively, forceful presence. This power is the secret behind the fascination of Nebuta. Its origins trace back over 300 years, when it started out as a custom to exorcise bad luck by setting a small lantern adrift on a river or ocean. Taking in influences from other parts of the country during a time of land development in the Edo Period (1603-1868), the Nebuta grew to be dazzling and gigantic. We will enjoy three marks of beauty the Nebuta Festival has to offer: three dimensional shaping, black sumi ink, and red of passion.
Okinawan Houses
DC331213

美の壺 | 沖縄の民家 [NHK]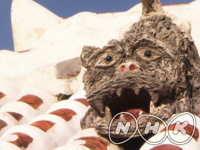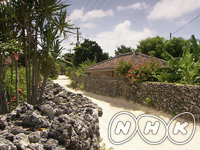 |Length : 29min. |Year : 2012 |
Okinawa. A tropical land abounding with colors and nature. The characteristic scenery comprised of red roof tiles and coral walls of the Okinawan houses is a beauty unique to the land, which never ceases to attract travelers. This breathtaking view was born out of Okinawa's own history which prospered in its location between Japan and China, and its struggle against the harsh climate of heat and typhoons. We will take a detailed look at the red tiled-roofs, eaves, and walls to get a better understanding of the Okinawan aesthetics.
Summer Kimono
DC331212

美の壺 | 夏の着物 [NHK]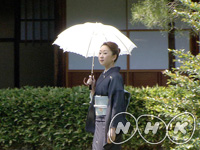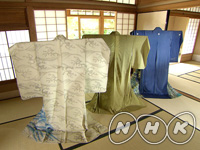 |Length : 29min. |Year : 2012 |
A hot summer day in Japan. A female figure in a kimono holding a parasol in her hand, walking along in a cool, refreshing manner displays a dignified beauty. Because it is a country with such contrasting seasons, there are ways to enjoy the kimono through fabrics, patterns, and accessories that are unique to summer. One of Japan's foremost kimono stylists, Nobuko Ookubo, states of the kimono's appeal, "I see it as the presence of a slender figure, swimming inside a thin garment. It projects elegance and sensuality." Along with avid kimono-lover, actress Riho Makise, we will learn the art of wearing the summer kimono in a stylish manner.
Kominka – Old Japanese Houses
DC331111

美の壷 | 東北の古民家 [NHK]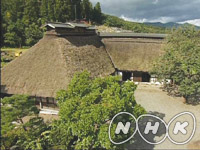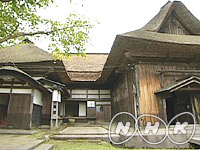 |Length : 29min. |Year : 2011 |
Many kominka or old Japanese houses remain in northeastern Japan, imbued with the climate and the history of the region. Their distinctive roofs, which look like samurai helmets, give the houses their compelling presence, and their richly rustic columns, some adorned with the masks of gods, give the rooms an almost mystical air. The program shows how a carpenter from the Kesen region is helping people to repair the damage to kominka caused by the March 2011 tsunami. And it introduces three key points about these kominka of northeastern Japan: unique roofs shaped by the climate, a striking column is the centerpiece of the Doma, and Kesen daiku Houses are Dynamic and Durable.
Basket Bags
DC331110

美の壷 | かごバッグ [NHK]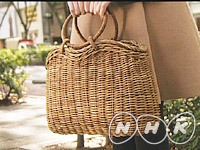 |Length : 29min. |Year : 2011 |
Basket bags are woven from plants. Many women love them because basket bags are not only charming but they can match any fashion style. In Japan these bags started out as implements for daily use, but they evolved in their own distinctive way. Deftly using the qualities of natural materials like the Akebia vine, grapevines, walnut tree bark, and so on, skilled craftsmen create bags with a rich expressiveness. And the more a basket bag is used, the more lustrous its surface becomes. We uncover the unique allure of these elegant bags of high craftsmanship.
Oya Stone
DC331109

美の壷 | 大谷石 [NHK]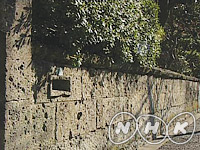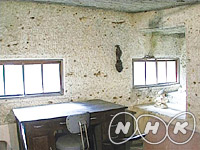 |Length : 24min. |Year : 2011 |
Oya stone is known for its uniquely beautiful texture. In the past, Oya stone was used without a second thought for daily life settings like stone walls. But recently it has captured attention for its use in fashionable interiors. The greatest allure of Oya stone is its varicolored and uneven surface. These features create its distinctively "warm" surface. Utilized for this texture, which other rocks do not have, Oya stone has been used in a variety of famous architectural showcases, and we will see how and why in this program.
Stone Pavement
DC331108

美の壷 | 石畳 [NHK]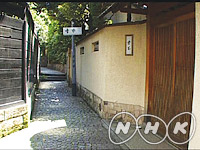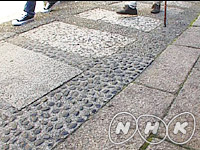 |Length : 29min. |Year : 2011 |
Stone pavement in Japan began with the paving of approaches to shrines and temples, and it has since added emotional contours to various aspects of daily life in Japan. Stone pavement has received attention in recent years as part of the guise of the city, with rectangle-patterned pavement being particularly popular. We look closely at the allure of Japanese stone pavement, including the rarely known principles of the beauty of stone pavement used in Japanese-style houses and the tasteful expressiveness shown in the stone pavement of old streets.
Yosegi-Zaiku Marquetry
DC331107

美の壷 | 寄木細工 [NHK]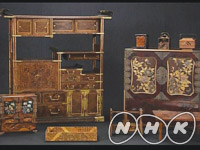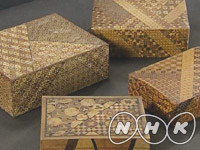 |Length : 29min. |Year : 2011 |
One of Japan's traditional wood crafts, Yosegi-zaiku marquetry combines wood pieces of a wide range of colors and shapes to produce gorgeous designs to decorate desks and boxes. This art spread throughout Japan in the 18th century. For puzzle boxes, many unique pictures are hidden in the patterns, and the boxes themselves are fitted with fascinating mechanisms.Japanese marquetry attracted Western people from the latter half of the 19th century, and marquetry craftsmen, combining the wood pieces with sprinkled picture, produced exquisite gems of art.
Tops
DC330906

美の壷 | 独楽 [NHK]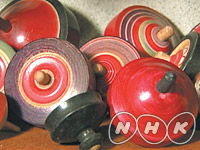 |Length : 25min. |Year : 2009 |
Tops: standing straight up, they spin in an orderly manner. Although tops are one of the many old familiar toys children used to play with 50 years ago, they have also been regarded as lucky charms and used in dramatic performances since ancient times. And with their bright colors, some can also be considered works of art that go beyond the realm of toys. They are the result of the finest skills of craftsmen who infuse these precious toys with local flavor and beauty. This episode delves into the fascinating world of tops.
Clockwork Dolls
DC330905

美の壷 | からくり人形 [NHK]


|Length : 25min. |Year : 2009 |
Robots existed since the Edo period (1603-1867), or so to speak. They are clockwork dolls. Displaying sophisticated movements and realistic facial features, they are unique dolls which artisans of the Edo period created using the latest technologies of the time. Some carry tea, while others can skillfully use an ink brush. Based on an elaborate mechanism, these dolls are as real as real can be. This episode introduces clockwork dolls that fully reveal the genius ideas of master artisans.
Folding Fans
DC330904

美の壷 | 扇子 [NHK]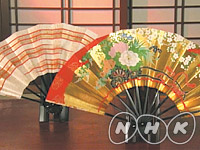 |Length : 25min. |Year : 2009 |
Folding fans have long been used as a tool to keep cool but also as a fine piece of ornament. First introduced around 1,200 years ago in the ancient capital of Kyoto, the original folding fans were said to have been created by binding thin strips of Japanese cypress. The surface, its most important aspect, was embellished with beautiful and elegant paintings produced by artists of the time. These were used by aristocrats in ritual ceremonies and were highly valued ornaments. Japanese folding fans were also extremely popular among European aristocrats in the 18th century.
Wagashi (Japanese-style sweets)
DC330803

美の壷 | 和菓子 [NHK]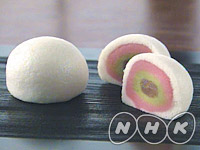 |Length : 25min. |Year : 2008 |
"Wagashi", or Japanese-style sweets appeared frequently in old Japanese literature.
Various types of wagashi were created, symbolizing each season, and each sweet told a variety of stories. Wagashi gained popularity in the 17th century, during the Edo Period. Each wagashi was given a name and elaborately crafted with a design worthy of its name. This trend expanded the world of wagashi.
This program introduces viewers about the true way of enjoying a wagashi, that is, to enjoy not only its taste, but also the intention of the maker and the hospitality of the person serving it.
Chopsticks
DC330802

美の壷 | 箸 [NHK]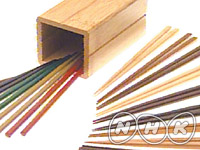 |Length : 25min. |Year : 2008 |
In Japan, chopsticks are said to have been first used for eating hot dishes.
The beginning of today's widely distributed lacquered chopsticks dates back to around 1660, when the Obama clan was presented with these as gifts. The clan lord liked the chopsticks made by painting lacquer on plain wood and called it "wakasa-nuri". Chopsticks are used to carry food to the mouth, but they also perform various functions including cutting, dividing, picking and scooping. As a tool, chopsticks have a few secrets in their design that don't compromise their beauty. Even the tree used as material carry special meanings and hopes. This program introduces the meanings and functional beauty of chopsticks, an item essential in daily life for all Japanese.