TV Station IBC
Mama, I Can Hear Your Smile – 22 Years of a Hearing Handcapped person –
DC250422

ママ、えがおがきこえるよ [IBC]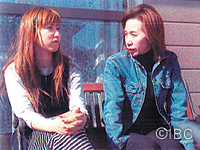 |Length : 54min. |Year : 2004 |
Juri Kikuchi, 22years old, was born in Morioka City, Iwate Prefecture. She has been deaf since birth. When her mother learned that her child had a congenital hearing disability, she decided to devote all her time to her daughter. After graduating from high school, Juri enrolled at Tsukuba College of Technology. She has experienced both worlds, dreams of building bridges between the two. Juri now lives with a man she met in college who also has a hearing disability. The young couple, hoping to obtain permission to marry, visit Juri's parents' home. Juri's mother receives a letter from her darling little girl who is about to "leave her nest".
The Children of the River
DC239411

北上川とカッパたち [IBC]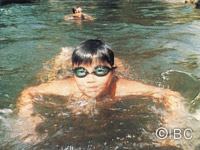 |Length : 46min. |Year : 1994 |
Many of Japan's rural towns and villages are dying as young people migrate to the bright lights of the big cities. "The Children of the River" follows third-grader, Teppei Sasaki as he attends school and plays with his friends, swimming in the local pond, fishing and generally enjoying a way of life that city kids never have a chance to experience. Here on the banks of the great Kitakami River in the northwestern prefecture of Iwate, life is simpler and relationships are warmer.
The Mountains Are Dying
DC229506

山の声届かず [IBC]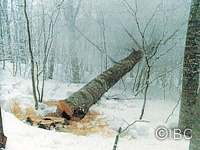 |Length : 28min. |Year : 1995 |
Deforestation is destroying the beauty of Iwate Prefecture, which is home to some of northern Japan's most breathtaking scenery. In fact, mountain logging is having a disastrous effect on the whole ecosystem: bare of trees, the mountains are unable to hold water, leading to flooding and drought and massive soil erosion. As is so often the case in Japan, the culprit is the bureaucracy - the Forestry Agency, which mandates continued logging despite low demand for timber.
Village of Dog's Tooth Violets – The Four Seasons of Sawauchi, Iwate Prefecture –
DC219820

カタクリの里 岩手県沢内村の四季 [IBC]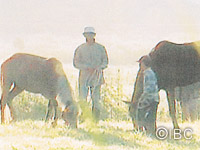 |Length : 52min. |Year : 1998 |
Urban Life can be a turn-off for some people. Mr. Sakamoto, who had been employed by the Maritime Safety Agency, chose to move to the village of Sawauchi where he and his family could live a life more suited to them. Sawauchi is known as the "Village of Dog's Tooth Violets," for the pretty purplish-pink flowers that flourish there. Here in this village they learn not only how to choose and care for horses, but also how to grow and harvest rice. They also meet a man who has spent years traversing the mountains in search of signs of the ancient matagi, or bear-hunters of the area.