TV Station ITC
Love Letter to Japan – Those loved by Fosco –
DC280537

日本へのラブレター ~フォスコの愛した人たち~ [ITC]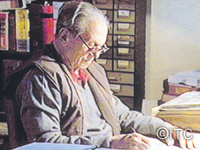 |Length : 51min. |Year : 2005 |
Fifty years ago, an Italian man visited Hegura Island off of the Noto Peninsula, to research women divers, 'Ama'. His name was Fosco Maraini, a cultural anthropologist, photographer, and world-class alpinist. Why did he love Japan? Including his interviewsv, his writings from Meeting with Japan, and The Diving Girl's island, and highlighting his photographs of Japanese people 50 years earlier, this program introduces forgotten images from a Japan half a century ago. Through the eyes of Fosco Maraini and other foreigners enchanted by Japan, we discover however that Japanese views of religion, nature, and the spiritual world have essentially remained unchanged over time.
The Mountain Where the Tengu Dwells
DC239717

天狗のすむ山 [ITC]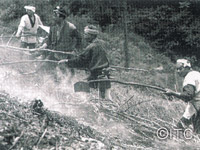 |Length : 60min. |Year : 1997 |
Living in concert with nature

After his village was submerged when the Dainichi River Dam was built in 1969, Tsunejiro Ito refused to leave his old life behind. He recreated the traditional lifestyle of his ancestors and currently lives by burning fields and collecting wild plants, nuts and berries in the mountains of Ohara-machi at the foot of Mt. Hakusan, together with his grandson Shuji. The interconnection between the natural environment, civilization and our daily lives, and Ito's interaction with the tengu mountain god unfold during the course of the show.