TV Station NHK
Japan in Focus | Under the Acacia Flowers – Three Generations of Beekeepers –
DC039407

新日本探訪 | アカシアの花の下で 北海道・養蜂家三代 [NHK]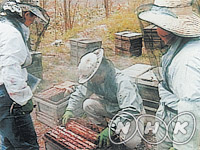 |Length : 24min. |Year : 1994 |
Although most of us - especially those who live in big cities - have to some degree lost touch with the cycles of nature, Junichi Takami is very much an exception. Takami is a beekeeper from the northern island, Hokkaido. He and his bees winter in the Goto Retto Islands in the south and return to the north in May when the acacia blossoms bloom and the fields are covered with fresh clover. The rhythms of this man's life - and that of his family - resonate with the changing seasons.
DC039508

新日本探訪 | 羽音よふたたび 千葉・行徳保護区の25年 [NHK]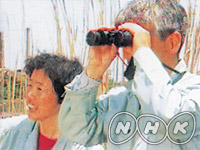 |Length : 24min. |Year : 1995 |
Land reclamation projects have gradually destroyed the vast wetlands around Tokyo Bay that were once a paradise for wild birds. In response to public pressure, however, some reclaimed land next to the Imperial Household's duck farm has been designated as a sanctuary and two environmental activists, Mrs. Sumiko Hasuo and her husband, have been appointed as keepers. The program documents the activities of the Hasuo's as they attempt to revive the birds' natural habitat.
Japan in Focus | Will It Be Sunny Tomorrow, Sir?
DC039509

新日本探訪 | 先生あした晴れっぺ 福島 熱塩加納村 [NHK]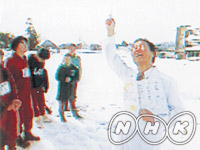 |Length : 24min. |Year : 1995 |
Osamu Nagano is more than just a teacher at a small village school in the mountains of Fukushima - he is a certified weather forecaster too. Since the winter blizzards that strike can endanger his students as they return home, Mr. Nagano has taken it upon himself to study weather forecasting. During the winter he examines the snow at lunch time religiously to make sure it is safe for his charges to go home later.
DC039510

新日本探訪 | 翔べタンチョウ 岡山・"鶴のお父さん"の挑戦 [NHK]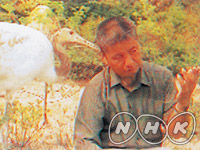 |Length : 24min. |Year : 1995 |
Mr. Inoguchi is working to bring back the great flocks of cranes once so common in Japanese skies - no easy task since these splendid creatures are now an endangered species. Inoguchi not only breeds cranes at the Okayama Prefectural Conservation Center, he must act as a surrogate parent teaching his charges to fly. While aware of the difficulties, Inoguchi is determined that the crane, so important in Japanese culture, will survive for the next generation to marvel at.
DC039611

新日本探訪 | 海においでよ 鹿児島 佐多岬 [NHK]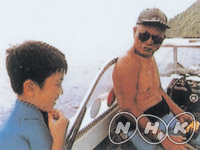 |Length : 24min. |Year : 1996 |
As these programs demonstrate, Japan is changing with the times. The changes are sometimes difficult, but the spirit with which they are met is never less than inspiring. Retired schoolteacher Kazunari Katsumoto, an avid diver in his 60s, establishes a seafront school for children who refuse to go to regular schools. Witness how Katsumoto eventually gets these "problem" children to open up by following his relationship with one particular boy.