TV Station NTV
The Backstreet Cats of Tokyo
DC219309

ノラ猫タローと仲間達 涙と笑いの渋谷裏路地大冒険 [NTV]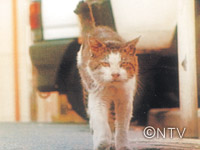 |Length : 29min. |Year : 1993 |
In this wise and witty documentary about the cat-eat-rat world of Tokyo's backstreets, the cats do the talking! First, Taro, the fourteen-year old leader of the gang, explains how his little band of six wives and an expanding brood of kittens has managed to survive day-in and day-out. Then, when the wily old tom disappears, it's his senior wife, Sumi, who takes up the tale, along with leadership, until a younger male can be found. A fascinating program for animal lovers.
The Challenge of the Deep
DC239101

厳冬の津軽海峡にサメを追え! [NTV]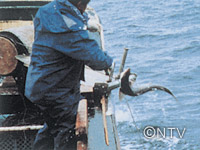 |Length : 28min. |Year : 1991 |
This is a documentary of the lives of two dogfish catchers who, although father and son, are the fiercest of rivals. Fishing for spiny dogfish on the freezing winter seas off Aomori in the north of Japan is not only dangerous and lonely but highly competitive work.
The father, Fujiemon, is considered the undisputed master dogfish catcher of the village, but his son Daisuke is fighting hard to take his place.
This documentary reveals the true love and respect between the father and son, despite their on-going feud and fierce rivalry.
Diving with Dad – Life in the Northern Winter –
DC239102

冬・知床 亜紀11才の潜水日記 [NTV]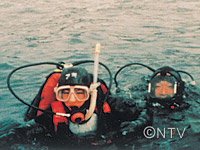 |Length : 30min. |Year : 1991 |
Along with the coming of drift ice to Hokkaido every year, there also come various wildlife species such as seals, sea lions, and sea eagles. This program depicts the natural world of the Shiretoko Peninsula through the eyes of a father-and-daughter diving team. Wataru Kizawa has been diving in the sea off the peninsula for many years to get in touch with such wildlife, while his second daughter Aki began mid-winter diving for the first time this year.
The Diamonds of the Sea – The Life of the Tuna Fortune-Seekers –
DC230123

一獲千金・津軽海峡 最高級マグロを追え [NTV]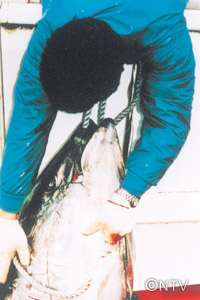 |Length : 30min. |Year : 2001 |
This exciting documentary takes us right into the thick of the tuna-catching action. We follow the efforts of Mitsuyoshi Takeuchi, a stubborn fisherman who is delighted to be joined by his 17-year-old son Ryoji. Very few young men today choose the hardships of tuna fishing over a cosy office job, but Ryoji, with his pierced ears and dyed hair, is determined to follow in his father's footsteps and continue the family tradition. We observe the thrilling moment when Mitsuyoshi can at last cut off the dorsal fin of a huge tuna to present to his son, the latest victor in the eternal battle between men and the "diamonds of the sea."
It's a Dog's Life!
DC249101

幸せは雲に乗って ぼくらは銀座の野良犬だーい [NTV]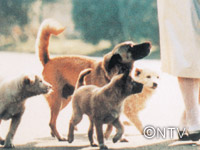 |Length : 27min. |Year : 1991 |
Tokyo's famous Ginza district is the home of a number of stray dogs, all cruelly deserted by their owners. This documentary follows a small group of people "of no fixed address" who are kindly taking care of the forlorn dogs. While portraying the bonds between the people and the dogs, this program considers what important things people tend to forget in a competitive and materialistic modern society.