TV Station NTV
Challenging the Great Outdoors – Sky High on the Alpine Route –
DC280330

立山・黒部の四季物語 大自然と闘う男たち [NTV]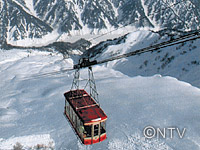 |Length : 46min. |Year : 2003 |
A quiet blanket of snow in the spring, greenery in summer, and beautiful autumn colors, make the Tateyama-Kurobe Alpine region a marvel of nature.
At the Ohtani Snow corridor, a famous sight-seeing spot on the Murodo-daira Plateau, 20-meter-high snow walls allure travelers along the Tateyam-Kurobe Alpine Route. This program explores the magnificent nature of the Tateyama-Kurobe region and introduces the first workers in 33 years to brave the elements and install new cables along the Tateyama ropeway.
Picture Book of Hope – A Little Girl's Wish Comes True –
DC280228

少女は絵本を残した 命を見つめた100日間 [NTV]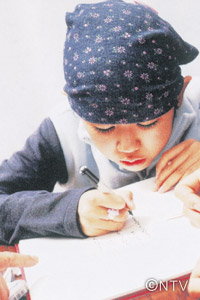 |Length : 46min. |Year : 2002 |
This is the story of Mio Shimizu, a brave 12-year-old girl with terminal cancer. Mio had a dream to create a picture book with a message for the children of the world. Mio wrote: I hope sick kids who are sad and lonely, will cheer up when they read my book. Maybe it will make eveyone realize how precious good friends are. On June 3, 2002, Mio's picture book "The Most Important Thing," was published. Sadly, she had passed away the day before. Mio's picture book tells an original story that she wrote. It is rapidly capturing the imaginations of children all over the country.
This program documents the last 100 days of Mio's short life, while she strives to make her dream come true. We watch Mio's parents do their best to support her dream and struggle with sadness as they wach the cancer slowly take the life of their beloved child.
Guardians at the Gate – 800 Years Revisited –
DC279407

甦る仁王 – 800年目の解体修理終る [NTV]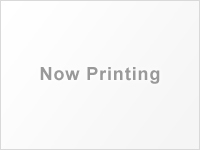 |Length : 30min. |Year : 1994 |
The two huge 800-year-old wood statues that guard the gate of the 1200-year-old Todaiji Temple are among Japan's most cherished national treasures. This program details a five-year restoration project in which master craftsmen restored the statues to their original splendor, painstakingly hand-making replacement nails and making some surprising discoveries including a scroll more than a thousand years old and inscriptions by the original artisans.
The Danjiri Festival – Seeing is Believing –
DC279203

激走!激突!ド迫力 だんじり祭りの男と女 [NTV]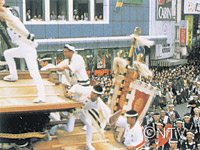 |Length : 29min. |Year : 1992 |
Even with its amazing modernization, Japan is still a country of traditional festivals. One of these, The DANJIRI FESTIVAL, is probably one of the most dangerous of its kind in the world. Hundreds of participants race through narrow streets of a town carrying giant floats, risking injury to both themselves and the 500,000 spectators sharing their course. If you've ever thought the Japanese are shy, this program will change your mind!
A Dedicated Follower of Salmon
DC269102

日本一の塩ザケは刺し身がいちばん!! [NTV]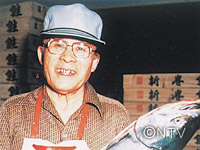 |Length : 27min. |Year : 1991 |
After pursuing the delicious taste of salmon for 60 years, Kametaro Unuma, owner of the shop "Marugame" specializing in salt-preserved salmon, has reached the conclusion that salmon is best when eaten raw. This program shows how he works as a "salmon specialist" while introducing various kinds of salmon dishes, a history of salt-preserved salmon, and salmon-fishing in the Shiretoko Peninsula of Hokkaido.