TV Station NTV
The Innovative Kyoto Chef
DC269101

古都・祇園に生きる 情熱の料理人 [NTV]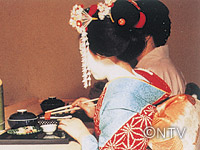 |Length : 28min. |Year : 1991 |
Nowhere are the ancient traditions of Japan more carefully preserved than in the Gion district of Kyoto. Chef Yoshio Maruyama chose the Gion for his restaurant "Maruyama" because he believes it offers the perfect setting in which to develop a genuine Kyoto cuisine. Glimpse the true heart of traditional Kyoto through the exquisite dishes and hospitality of this truly innovative chef.
A Song for Life
DC259919

わが人生に歌あり!盲目のテナー新垣勉 [NTV]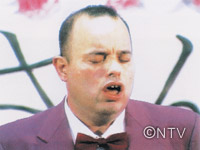 |Length : 53min. |Year : 1999 |
Blind from birth, Tsutomu Aragaki's early years were long and lonely, and included one suicide attempt. Luckily, a caring family took him in as one of their own. Aragaki went on to become a minister and a skilled singer who brings a message of hope to the younger generation. He sings at schools throughout Japan, embracing audiences with simple yet powerful lyrics that inspire troubled and lonely youth. His songs represent the beauty of forgiveness and the value of living life to the fullest.
Mika's Miracle
DC259106

ひとみをありがとう 未歌ちゃん12歳の出発 [NTV]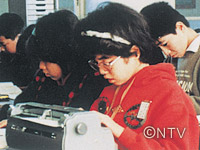 |Length : 27min. |Year : 1991 |
More than 300,000 visually-impaired people in Japan are waiting for cornea transplant operations, but very few people have registered at eye banks as cornea donors. However, Mika Ogawa, a schoolgirl in Osaka, is one of the lucky ones. She becomes able to see for the first time in her life thanks to the good-will of unknown people and a doctor's determination. This is a heartwarming documentary on Mika, her family, and her doctor.
The Neighbours Have Paws – Tracking Tokyo's Stray Cats –
DC249917

大新宿ノラ猫物語 小さな子猫の大冒険 [NTV]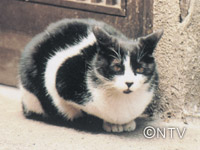 |Length : 30min. |Year : 1999 |
This documentary captures the interaction between human beings and stray cats in the concrete jungle of Kabukicho. Using hidden cameras, this is a fascinating record of a stray cat society that lives out its rituals virtually unnoticed by the teeming crowds of human pleasure-seekers in the streets just a few yards away, and the people who work there and care for these animals. It is a story of perilous journeys from roof to roof in search joys and sorrows, and, above all, the struggle for survival.
A Hotel is Born – The Path to Perfect Service –
DC249205

超一流巨大ホテルの出来るまで [NTV]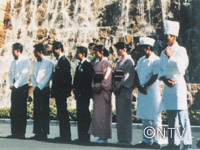 |Length : 27min. |Year : 1992 |
In June, 1989, the Hotel Okura chain opened up a new hotel in the Japanese port city of Kobe. This chain bears the reputation of including some of the finest hotels in the world. This documentary shows how the huge new hotel started business, including a behind-the-scenes look at the strict training of its newly-recruited staff.