TV Station NTV
A Song for Life
DC259919

わが人生に歌あり!盲目のテナー新垣勉 [NTV]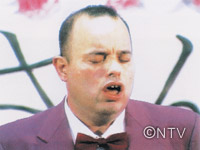 |Length : 53min. |Year : 1999 |
Blind from birth, Tsutomu Aragaki's early years were long and lonely, and included one suicide attempt. Luckily, a caring family took him in as one of their own. Aragaki went on to become a minister and a skilled singer who brings a message of hope to the younger generation. He sings at schools throughout Japan, embracing audiences with simple yet powerful lyrics that inspire troubled and lonely youth. His songs represent the beauty of forgiveness and the value of living life to the fullest.
The Innovative Kyoto Chef
DC269101

古都・祇園に生きる 情熱の料理人 [NTV]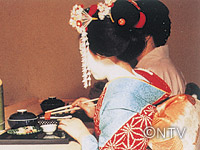 |Length : 28min. |Year : 1991 |
Nowhere are the ancient traditions of Japan more carefully preserved than in the Gion district of Kyoto. Chef Yoshio Maruyama chose the Gion for his restaurant "Maruyama" because he believes it offers the perfect setting in which to develop a genuine Kyoto cuisine. Glimpse the true heart of traditional Kyoto through the exquisite dishes and hospitality of this truly innovative chef.
A Dedicated Follower of Salmon
DC269102

日本一の塩ザケは刺し身がいちばん!! [NTV]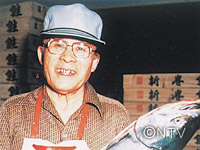 |Length : 27min. |Year : 1991 |
After pursuing the delicious taste of salmon for 60 years, Kametaro Unuma, owner of the shop "Marugame" specializing in salt-preserved salmon, has reached the conclusion that salmon is best when eaten raw. This program shows how he works as a "salmon specialist" while introducing various kinds of salmon dishes, a history of salt-preserved salmon, and salmon-fishing in the Shiretoko Peninsula of Hokkaido.
The Danjiri Festival – Seeing is Believing –
DC279203

激走!激突!ド迫力 だんじり祭りの男と女 [NTV]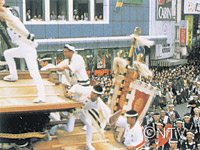 |Length : 29min. |Year : 1992 |
Even with its amazing modernization, Japan is still a country of traditional festivals. One of these, The DANJIRI FESTIVAL, is probably one of the most dangerous of its kind in the world. Hundreds of participants race through narrow streets of a town carrying giant floats, risking injury to both themselves and the 500,000 spectators sharing their course. If you've ever thought the Japanese are shy, this program will change your mind!
Guardians at the Gate – 800 Years Revisited –
DC279407

甦る仁王 – 800年目の解体修理終る [NTV]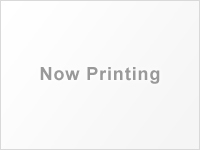 |Length : 30min. |Year : 1994 |
The two huge 800-year-old wood statues that guard the gate of the 1200-year-old Todaiji Temple are among Japan's most cherished national treasures. This program details a five-year restoration project in which master craftsmen restored the statues to their original splendor, painstakingly hand-making replacement nails and making some surprising discoveries including a scroll more than a thousand years old and inscriptions by the original artisans.