TV Station RNB
The Sea Bream of the Inland Sea – The Splendid Cuisine of the King of Fish –
DC260004

瀬戸内海鯛物語 海の王・華麗なる"食"の世界 [RNB]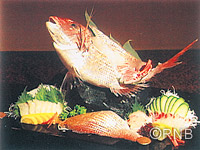 |Length : 30min. |Year : 2000 |
The sea bream has long been an essential part of many different kinds of celebratory occasions in Japan, including festivals and marriage parties. Indeed, it is often referred to as 'the king of fish'. In this documentary, we see fishermen rod-fishing in the Inland Sea, men cultivating top-quality fish, a master chef of a high-class restaurant in Tokyo creating various mouth-watering dishes, and a chef at a hot-spring inn on Shikoku Island attempting to recreate several 18th century sea bream recipes.
I Can Feel the World in My Heart
DC289305

心に地球が見えてきた よしつぐの3日間 [RNB]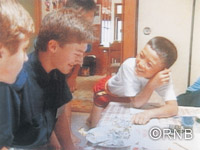 |Length : 27min. |Year : 1993 |
When Ivan and Alexei arrive to stay with his family for three days as part of a visiting Russian junior baseball team, fifth grade student Yoshitsugu suddenly comes face to face with a most contemporary problem: how to communicate with people who speak a completely different language and come from a much different culture with unfamiliar values. How Yoshitsugu learns to bridge the culture gap is the theme of very interesting program with relevance for everyone.
Kamaboko Board Art – 30,000 lives on tiny pieces of wood –
DC280331

かまぼこ板の絵 ~3万枚のメッセージ~ [RNB]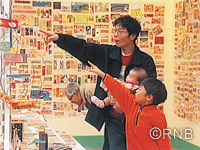 |Length : 25min. |Year : 2003 |
Kamaboko is a Japanese delicacy, which has long been a popular appetizer in Japan. It is type of fish pate, served on a little wooden board which maintains the proper moisture content of the Kamaboko itself. A Kamaboko board is 5 centimeters in length, and 14 centimeters in width. For many, it is just a piece wood which is meant to be thrown away. However, a small municipal museum in a remote mountainous town began asking the public to paint their own art on Kamaboko Boards instead of just wasting them.
Sometimes Clouds, Sometimes Sun
DC280433

くもり ときどき、晴れ [RNB]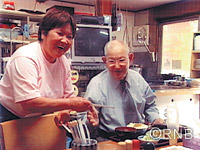 |Length : 55min. |Year : 2004 |
Ehime Prefecture, in Western Japan, there is a tiny fishing village with a population of just 800, called Ohama. This story of neighborhood life, unfolds in a small Okonomiyaki restaurant. Owned by Mizuho Higaki, a powerful woman, the restaurant serves as a "third place"for those who live in the community. Everyday, people from all walks of life. drop in for a chat with Mizuho. Although each has his or her own problems, they nestle in close to the lives of each other, and go through both the good times as well as the bad times together. This is a life style which, until recently, was seen all over Japan; yet is quickly vanishing in these modern times.
The High School Aquarium that Brought a Town Back to Life
DC281764

高校生水族館 竜宮城があった町 [RNB]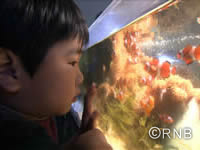 |Length : 25 |Year : 2017 |
The town of Nagahama was once home to the first aquarium in all of Shikoku, one of Japan's four main islands. Now it is home to an aquarium run entirely by high school students. The public high school's small aquarium opens up for public viewing once a month. With roughly 2000 aquatic animals from both the sea and rivers, the public openings always draw a big and lively crowd. The animals are cared for by the aquarium club, a rare club for Japanese schools. As the club members care for the animals, they learn many new things, and in 2015, the club placed fourth in the world's largest student science contest. Hearing this news brought back old memories and brought a new life to the townspeople, who began holding events and collecting signatures to revive the original aquarium. The town was transformed by the young high school students and set out to revive the original aquarium.