TV Station TVA
Karakuri – A Technology from the Past –
DC299707

からくり いにしえのテクノロジー [TVA]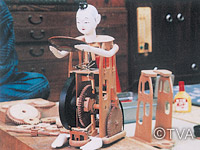 |Length : 30min. |Year : 1997 |
Long before robotics, mechanical dolls served the people

The technology used by Sakichi Toyoda to develop the automatic loom and eventually auto plant robotics dates back to the Edo period when mechanical dolls (karakuri dolls), powered by springs, performed a variety of tasks, from serving tea to adorning festival floats. This show focuses on a family which has carried the art of karakuri making through to the present era. The goal of Shobei Tamaya, ninth in his family of karakuri craftsmen, is to mesh the technology of the past with today's computer-generated works and line city streets with mechanical doll clocks.
Pilgrimage of the Soul – Author Paulo Coelho Walks in Kumano –
DC280123

魂の巡礼 作家コエーリョ・熊野を歩く [TVA]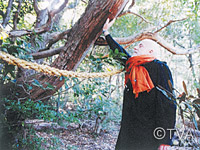 |Length : 47min. |Year : 2001 |
In February 2000, Paulo Coelho, the Brazilian known for such worldwide best-sellers as The Pilgrimage and The Alchemist, came to Japan. He had been in Japan many times before, but this time he came with a special purpose: to walk the "Kumano Ancient Road," with its history of over one thousand years. The path of the pilgrim held great meaning for Paulo, who had discovered himself and become a writer by walking Spain's Santiago Pilgrimage.
Goro Suzuki, The World of Oribe Ware – Clay, Resolution at the Age of 20 –
DC270016

鈴木五郎 織部の世界 土… 20歳に決めたこと [TVA]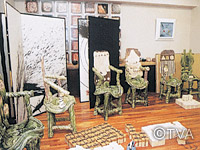 |Length : 25min. |Year : 2000 |
Aichi, Gifu and Mie Prefectures are treasuries of traditional ceramic arts, and since ancient times have given birth to a succession of talented ceramic artists. Artist Goro Suzuki was born in Toyota City, Aichi Prefecture in 1941 and graduated from a ceramic training school. He has since produced a wide variety of works making full use of masterly techniques of Kiseto, Setoguro, Shino and Yakishime as well as his main style: Oribe.