Production Year 1991
Mika's Miracle
DC259106

ひとみをありがとう 未歌ちゃん12歳の出発 [NTV]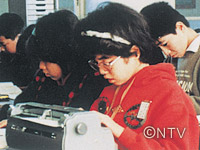 |Length : 27min. |Year : 1991 |
More than 300,000 visually-impaired people in Japan are waiting for cornea transplant operations, but very few people have registered at eye banks as cornea donors. However, Mika Ogawa, a schoolgirl in Osaka, is one of the lucky ones. She becomes able to see for the first time in her life thanks to the good-will of unknown people and a doctor's determination. This is a heartwarming documentary on Mika, her family, and her doctor.
The Innovative Kyoto Chef
DC269101

古都・祇園に生きる 情熱の料理人 [NTV]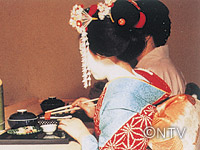 |Length : 28min. |Year : 1991 |
Nowhere are the ancient traditions of Japan more carefully preserved than in the Gion district of Kyoto. Chef Yoshio Maruyama chose the Gion for his restaurant "Maruyama" because he believes it offers the perfect setting in which to develop a genuine Kyoto cuisine. Glimpse the true heart of traditional Kyoto through the exquisite dishes and hospitality of this truly innovative chef.
A Dedicated Follower of Salmon
DC269102

日本一の塩ザケは刺し身がいちばん!! [NTV]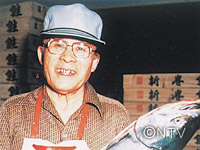 |Length : 27min. |Year : 1991 |
After pursuing the delicious taste of salmon for 60 years, Kametaro Unuma, owner of the shop "Marugame" specializing in salt-preserved salmon, has reached the conclusion that salmon is best when eaten raw. This program shows how he works as a "salmon specialist" while introducing various kinds of salmon dishes, a history of salt-preserved salmon, and salmon-fishing in the Shiretoko Peninsula of Hokkaido.
Going After the Stomachs of 300,000 People – Lunch War in Shinjuku –
DC269103

30万人の胃袋を狙え!西新宿・弁当戦争 [NHK]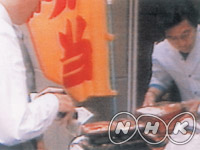 |Length : 44min. |Year : 1991 |
A number of high rise building towers into the sky in Nishi Shinjuku, Tokyo. A severe lunch war unfolds in this modern city, over the demands for lunch from business men and women in this area. The program introduces a rice store owner who lives in the suburbs of Tokyo, who challenges the lunch war with a unique hand-made lunch, and a major department store which prepares 300 kinds of lunch and tries to sell 15,000 portions a day.
Japanese Craftsmen with a Difference – Shiko Ito – The Melody of the Wind onto Paper –
DC279101

工房探訪 つくる 画家 伊藤紫虹 風の旋律を描く [NHK]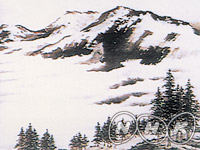 |Length : 25min. |Year : 1991 |
Shiko Ito is an artist preoccupied with the theme "cities". She started her own career with sumi or Chinese ink drawing; then went on to learn Western-style painting and sculpture; and finally developed her own, unique style of sumi. Three years ago, she set up a studio near Mt. Hiei. The program shows her at work.