Production Year 1992
Feeling Higher than the Sky – Choosing Night School –
DC249204

空よりも高く 定時制高校を選んだ理由 [RNC]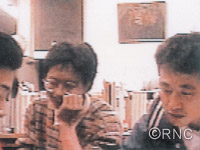 |Length : 27min. |Year : 1992 |
At the Takamatsu Polytechnic Night-Time High School, the 186 students include a variety of young men and women: those who left full-time high schools, those who made a new start here to earn their high school degrees, and students who did not pass the entrance exams for full-time high schools. But almost all of them are cheerful and energetic. This program tries to look into what they really think, while portraying their daily lives inside and outside of school.
A Hotel is Born – The Path to Perfect Service –
DC249205

超一流巨大ホテルの出来るまで [NTV]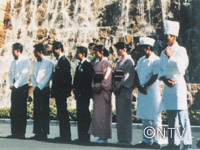 |Length : 27min. |Year : 1992 |
In June, 1989, the Hotel Okura chain opened up a new hotel in the Japanese port city of Kobe. This chain bears the reputation of including some of the finest hotels in the world. This documentary shows how the huge new hotel started business, including a behind-the-scenes look at the strict training of its newly-recruited staff.
Department Store for a Day
DC249206

大盛況!ハイスクールデパート [MBC]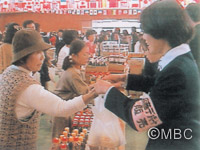 |Length : 12min. |Year : 1992 |
In 1991, the seniors at the Ibusuku High School of Commerce headed a project that would turn their school into a "Department store for a day" This documentary highlights the work that went into the students' project - initial planning, sales training, creation of a budget, buying of stock, advertising, sales. The documentary follows the students through the preparatory stages to the grand opening of the high school department store and its sucessful one day of operation.
Silent Jump Shot
DC259207

音のないドリブル [OBS]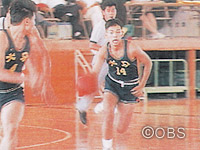 |Length : 27min. |Year : 1992 |
Masataka Nishi, a high-school student, lost much of his hearing because of an ear disease when he was four years old. But, having been very fond of sports since he was a little child, he is now captain of the basketball team at his high school, and also a star player. He wants to go on to college to become a coach, but in many cases, doors are not open for the hearing-impaired. Even so, Masataka keeps going without becoming discouraged, just as he has always coped with a soundless world of basketball.
I Love Yu
DC259208

あい・ラブ・優ちゃん [RKB]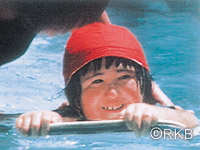 |Length : 48min. |Year : 1992 |
In "I Love Yu," acclaimed Japanese documentarist Eibun Kimura offers viewers a moving yet unsentimental portrait of his mentally retarded daughter, Yu. Kimura's chronological approach traces Yu's life from her birth to her pre-adolescent years. As director and narrator, Kimura shows - and tells - how much his daughter has achieved, despite her handicap. He also speaks matter-of-factly about the pain felt by the parents of mentally retarded children.