Production Year 1992
Realizing Potential with Computers
DC259209

諫早パソコンストーリー [NBC]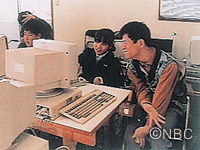 |Length : 12min. |Year : 1992 |
Disabled people have abilities, too. That's the message of this documentary, which takes as its subject disabled Japanese people who have become computer experts. In the documentary the disabled people talk about what it's like to teach "normal" people. There are interviews with their adult students as well. The computer teachers are also shown teaching a weekly computer class especially for children. "Realizing Potential with Computers" demonstrates that one of the best ways to deal with physical "disabilities" is to concentrate not on what can't be done - but on what can be done.
The Danjiri Festival – Seeing is Believing –
DC279203

激走!激突!ド迫力 だんじり祭りの男と女 [NTV]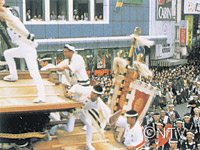 |Length : 29min. |Year : 1992 |
Even with its amazing modernization, Japan is still a country of traditional festivals. One of these, The DANJIRI FESTIVAL, is probably one of the most dangerous of its kind in the world. Hundreds of participants race through narrow streets of a town carrying giant floats, risking injury to both themselves and the 500,000 spectators sharing their course. If you've ever thought the Japanese are shy, this program will change your mind!
Morning Glory – A Helping Hand for Newcomers to Japan –
DC289201

私の味方は日本の母 [MRO]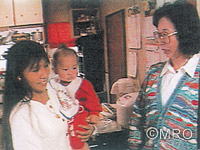 |Length : 27min. |Year : 1992 |
This documentary focuses on Myra Okamoto, a young Filipino woman who is married to a Japanese. Her husband, a craftsman, has to be away from home from time to time. When she was pregnant and feeling lonely, some Japanese mothers in her neighborhood gave her a helping hand, began to teach her the Japanese language, and finally organized a volunteer group of mothers. And now they are working energetically to help many residents from around the world.
A Chinese Boy in Japan
DC289202

家君は外国人 [OBS]


|Length : 27min. |Year : 1992 |
Guo Jia is the only son of Qun Ying, a Chinese-language teacher in Japan. She majored in the Japanese language at a university in Beijing, and they came to Japan two years ago. Jia did not take long to get used to life in a Japanese kindergarten, and was enjoying himself in Japan. But Qun Ying worried about how she should educate Jia, who is about to reach school age. Her contract to work as a Chinese teacher has not yet expired. Finally, she decides to live in Japan with her husband and son for the time being, and to send Jia to a Japanese school.
A Bean Tree From Siberia
DC289203

シベリア豆の木 [TYS]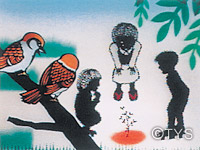 |Length : 24min. |Year : 1992 |
This program is a montage lyrically composed from the diary and works of Yasuo Kazuki, a Japanese painter who passed away after completing the "Siberian Series." Shortly after graduating from an institute of the arts, Kazuki was drafted into the army, and when the war ended, he was sent to a prison camp in Siberia. Later, he took home the seeds of San Juan which he had collected amidst intense cold and hunger. One grew in the garden of the Kazuki family into a big tree. Through this program, viewers can consider problems of human life through the wartime episodes described by Kazuki and shown in his works.