Production Year 1992
Pacific War Headlines – Newspapers in Japan and the United States, 1941-1945
DC289204

記者それぞれの夏 [RKB]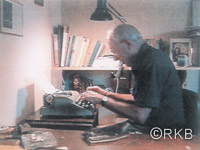 |Length : 82min. |Year : 1992 |
On September 2, 1945, representatives of the Japanese government signed the terms of surrender on board the battle-ship Missouri. An A.P. reporter witnessed everything happening on that historic day. He was deeply moved to see that Japan seemed so isolated and without a friend anywhere. This documentary looks into the roles of wartime journalism, especially the newspapers in Japan and the United States.
Load and Master of 40 Square Meters
DC299201

12坪工場の主人たち [NHK]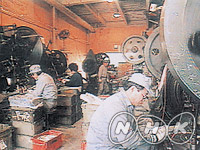 |Length : 44min. |Year : 1992 |
Higashi-Osaka City is full of small factories known as "garage factories." As subcontractors, such factories have played a major role in supporting Japanese industries which have established global confidence. However, they are now disappearing, without anybody praising their efforts in the past. While depicting the thoughts and feelings of the factory owners, this program asks what it means to make things in modern Japan, which has lost much humanity amid its prosperity.
DR029200

新十津川物語 [NHK]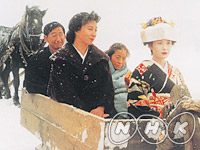 |Length : 90min. x6 |Year : 1992 |
This drama is originally based on a novel written by Takeshi Kawamura.It tells a story of a woman who lived in Hokkaido as an early settler through a century spanning the Meiji, Taisho, and Showa eras.
In August, 1889, Totsukawa village in Nara Prefecture suffered from a record-breaking flood. The villagers left together in search of a new start, and headed for Hokkaido, where a wilderness awaited them. Among them was 9-year-old Fuki, the heroine of this drama, who had lost her parents in the disaster.
Fuki's childhood was not an easy one, but she married and worked hard with her husband to cultivate the wasteland.
However, their happy life did not last long, her husband was drafted into the army when the Russo-Japanese War broke out.....

Episode 1: The Journey North
Episode 2: Mother Earth in the North
Episode 3: Mother and Daughter
Episode 4: Women in Bare Feet
Episode 5: Women's Fight for Survival
Episode 6: Beyond Time
DR039200

腕におぼえあり [NHK]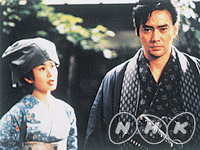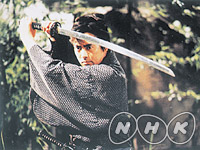 |Length : 67min. x1, 44min. x11 |Year : 1992 |
The story is set at the beginning of the 18th century in feudal Japan.Having become embroiled in a feud in his home domain, a young swordsman named Matahachiro leaves for the city of Edo (now Tokyo). There he embarks on a new and eventful career as a yojin-bo, or bodyguard.
Matahachiro happened to hear about a conspiracy for the assassination of his lord, and his fiancee's father was part of the plot. Matahachiro was forced to kill him in self-defense.
In Edo, an embittered Matahachiro works with his counterpart Gendayu Hosoya. As he faces various incidents, he even crosses paths with the famous "47 ronin", a group of samurai who are plotting to revenge the death of their master, the Lord of Ako.

Episode 1: Guardsman
Episode 2: The Fugitive
Episode 3: Shadow of Conspiracy
Episode 4: Death of a Night Flower
Episode 5: Mysterious Encounters
Episode 6: The Lady's Secret
Episode 7: Love Once Again
Episode 8: The Instructor
Episode 9: Lady Assassin
Episode 10: The Revenge Raiders
Episode 11: The Man who Stayed Behind
Episode 12: The Last Mission

(Episode 1: 67 min. Episodes 2-12: 44 min. each)
ED029200

はてなにタックル [NHK]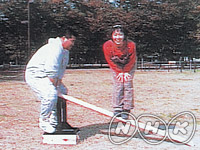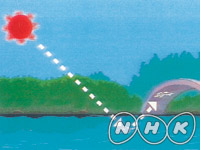 |Length : 15min. X7 |Year : 1992 |
This series of fifteen-minute science programs is a production of NHK. It has been prepared for children of ten years old with the goal of developing their familiarity with and cultivating in them a greater interest in science. Each program features a lively young woman named Mari who sets about tackling scientific problems serving as the children's eyes and ears.
The scientific phenomena addressed are varied and include the lever principle, the properties of light, air and combustion.
In each episode, an off-screen voice representing Mari's young brother Jiro helps Mari in solving problems and carrying out experiments and serves as a device to ask questions or express doubts that the young viewers can not raise.


1. How a Lever Works
2. How Levers Balance
3. Levers in our Dailly Lives
4. Light
5. Reflection of Light
6. Bending Light
7. Fire and Air