Production Year 1996
Japan Sketches | Just the Two of Us – Memoirs Written in the Blink of an Eye –
DC049602

にっぽん点描 | ただ二人 まばたきでつづる手記 [NHK]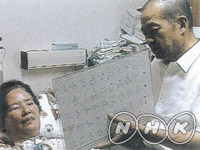 |Length : 44min. |Year : 1996 |
A debilitating illness gradually left Kikuko Doi virtually unable to move. Using a special word processor that responds to blinking, she corresponds with others suffering from the same disease. Her courage, and that of her caretaker husband, is truly inspiring.
Discover Asia | Bike Street, the Street of Dreams – Ho Chi Minh City, Vietnam –
DC059601

アジア発見 | "夢"駆けぬけるバイク通り ベトナム・ホーチミン [NHK]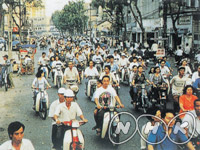 |Length : 24min. |Year : 1996 |
The motor bike is the most sought-after possession in this bustling city. Learn the role it plays in two men's lives: boutique employee Viet enjoys the status his motor bike brings, while bicycle repairman Minh eventually finds his beyond his means.
Discover Asia | The Spring Cashmere Trade of the Plateaus – Bayankhongor, Mongolia –
DC059602

アジア発見 | 春・草原にカシミヤが動く モンゴル・バンヤンホンゴル [NHK]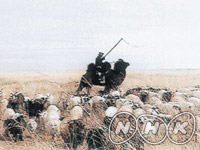 |Length : 24min. |Year : 1996 |
With Mongolia having converted to a free market economy, nomadic tribes raising cashmere goats must adapt to the times. Follow the highs and lows of one goat-raising family trying to make it in a new world.
Discover Asia | Departing Bangkok for Home – North Bus Terminal, Bangkok, Thailand –
DC059603

アジア発見 | バンコク発ふるさと行き タイ・バンコク [NHK]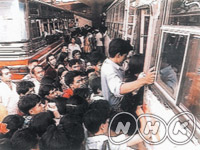 |Length : 24min. |Year : 1996 |
The demographic shift from rural to urban areas takes on a human face as we meet migrant workers and learn their dreams. Among them is Thongsuk, a farmer's wife who must leave her child behind to work and save money in Bangkok for six months every year.
Discover Asia | I Want to Be a Teacher in Our Village – Vang Khi Village, Laos –
DC059604

アジア発見 | 村の先生になりたい ラオス・ワンキー村 [NHK]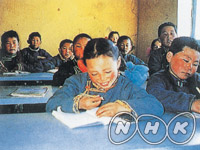 |Length : 24min. |Year : 1996 |
Believing the future lies in education rather than farming, villagers encourage a young man who plans to be a teacher. Follow Thum, the young man in question, as he sets out on his new path.