Production Year 1997
Learning How to Teach
DC249714

教師誕生 新採用教員の一年 [NHK]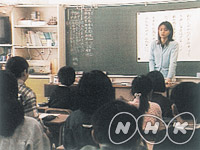 |Length : 59min. |Year : 1997 |
Amateur teachers are molded into professionals

Every April, 17,000 new public school teachers are sent out into the school system. Most are new university graduates and have little experience in how to communicate with and hold the attention of young people. Others have worked as part-time substitute teachers for ill or pregnant teachers before realizing their dream of becoming a full-time educator. This documentary follows the day-to-day activities of four new teachers in Aomori Prefecture in northern Japan as they attempt to instruct elementary and junior high school children.
Senile in the Prime of Life
DC249718

ボケと闘う 働き盛りの脳が眠るとき [NHK]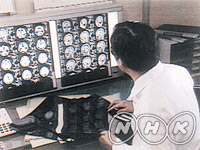 |Length : 49min. |Year : 1997 |
Physician and patient combat a debilitating disease

Contrary to popular belief, senility strikes not just those in their golden years, but also many in the prime of their life. As Dr. Takashi Tsukiyama reviews the case histories of his patients, he is startled to discover that 20 percent of the people he has treated for senility over the past three years were between the ages of 45 to 65. This documentary traces the case of a 55-year-old executive as he struggles against the loss of his mental facilities, examines the apparent causes of this illness, and the results of a promising new treatment.
Sitting in Judgment on Nuclear Weapons
DC249719

核兵器はこうして裁かれた 攻防・国際司法裁判所 [NHK]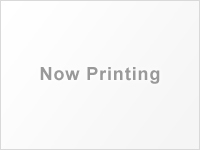 |Length : 59min. |Year : 1997 |
The threat of another war involving nuclear weapons - this time possibly ending in the extinction of the human race - is with us daily. The end of the Cold War has not brought the once hoped for peace, but has resulted in a renewed competition between nations to become nuclear powers. This documentary, containing both historical and contemporary footage, looks at the "nuclear-free world" movement in New Zealand, and takes up the concerns of the peoples of Hiroshima and Nagasaki. It also follows the deliberations of the International Court of Justice as they debate the legality of nuclear weapons.
Dad Wants to Get Well Again
DC259715

とうさんのこいのぼり [ABS]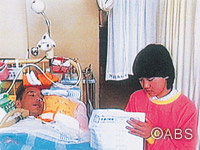 |Length : 45min. |Year : 1997 |
Can love overcome a degenerative disease?

Shortly after being stricken with amyotrophic lateral sclerosis, a degenerative disease affecting the spinal cord, Kosuga Toshikatsu is only able to move his eyelids. Refusing to let this illness keep him from communicating with the world, he enters the Akita City "Encounter Concert" where poems written by physical handicapped people are presented. Using his eyelids to tap out Morse Code, Kosuga composed the poem "Koinobori," which was entered in the concert. With the support of his wife and children, and the national ALS association, Kosuga attempts to come to terms with his illness.
Braille Books across the Ocean
DC259716

海を渡った点字参考書 [NHK]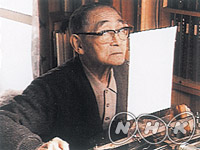 |Length : 28min. |Year : 1997 |
Japan-China ties through braille

Some 8.8 million visually impaired people live in China. Thanks to braille textbooks written by Hikoji Shimozono, a former math teacher, blind students in both Japan and China now have an opportunity to go on to higher learning. Yoko Aoki, who studied with Shimozono's textbooks, opened a Japanese-language school for the blind in Tianjin, China using the same textbooks. As Shimozono arrives in China to see the fruits of his work, Guo Lihua, the school's first graduate, is about to leave for Japan to continue her studies.