Production Year 1997
DR149700

愛情旅行 [NHK]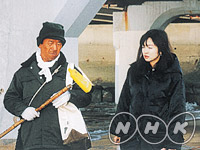 |Length : 18min. x4 |Year : 1997 |
One heart's journey to peace and recovery

This drama revolves around a young woman's attempt to reassert herself following the death of her boyfriend and finding herself trapped in a seemingly no-future job. Akiko's journey takes her to Shinichi's hometown, where she intrudes on the lives of his father and younger brother, who are puzzled that a stranger should take such interest in their personal decisions. It is not until the father finds Akiko's lost chinquapin leaf, given to her by Shinichi, that the hidden story of their relationship and the sadness his death has brought to all unfold.
DR159700

木綿のハンカチ ライトウインズ物語 [NHK]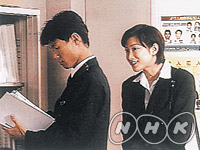 |Length : 18min. x20 |Year : 1997 |
Women cops take on the world

Based on real-life experiences, this series focuses on a female police officer who transfers from the marching band to the "Light Winds." Recovering from a failed romance, Umiko Torii struggles to be taken seriously among her peers and her superiors in this very demanding job. Umiko initially makes every mistake in the book as she attempts to track down burglars, arsonists, rapists and murderers before finally succeeding. Produced in cooperation with the "Light Winds" squad.
DR569700

帰ってきちゃった [NHK]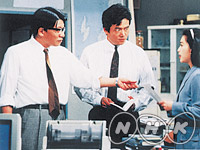 |Length : 20min x16 |Year : 1997 |
La historia de una joven reportera
La reportera Kaori Murata tiene un sueño: escribir artículos que conmuevan a los lectores. La realidad le enseña que, para triunfar en periodismo, no sólo hace falta talento sino también experiencia. El periódico traslada a Kaori a su provincia natal, lo cual le produce una gran frustración, porque ella piensa que ahí nunca ocurre nada.
Pero ella está decidida a conseguir su primer artículo firmado. Es una historia de idealismo y perseverancia que puede llegar a inspirar a mucho jóvenes.
ED059700

たったひとつの地球 [NHK]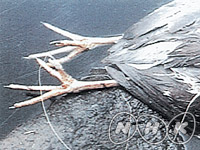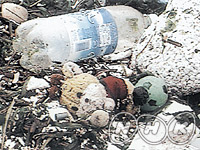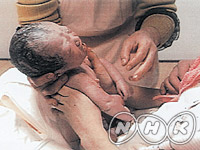 |Length : 20min. x10, 15min. x10 |Year : 1997 |
Placing environment concerns above convenience

In the pursuit for a more comfortable life, humans rarely consider the damage to other living creatures and to the environment. This series questions today's values and lifestyles when measured against the resulting pollutants, waste and blight of natural resources. From an environmental perspective, we are taken on a journey spanning the ocean depths to deep forests and made to re-examine man's impact on nature. Suggestions on how to care for our planet and its finite resources are incorporated into each program, hopefully encouraging us to change our habits and way of life.


1. Creatures that Have Eaten Garbage
2. How Far Can Recycling Go ?
3. The Sleepless City
4. The Ocean's Forests
5. Vegetables for All Seasons
6. The Forest's Secret
7. The Dead Forest
8. A Doctor for Wild Animals
9. A Child is Born!
10. Feeding the Cranes
11. The Water Pouring into the Seas
12. Chase the Litter!
13. Let's Think about Plastic Bottles
14. People and Beech Forest
15. A Story about a Paddy-Field
16. White Stork, Fly Leisurely!
17. Invitation to the 'Dragonfly Kingdom'
18. Making Healthy Soil
19. Hand-made Electric Car, Go!
20. The Food in Japan

Nos.1-10: 20min. each
Nos.11-20: 15min. each