Production Year 2000
DC120008

オトナの試験 | 和菓子製造技能士 [NHK]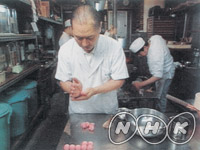 |Length : 10min. |Year : 2000 |
In tea ceremony, which holds hospitality in high regard, the bright accomplishments of the host, coupled with the Japanese confectioneries offered, serve to enhance the tea ceremony experience. Japanese confectioneries are not only savored on the tongue, they are also enjoyed by the eye. Of course flavor is important, but also giving a visual sense of the seasons is a crucial point.
DC130001

世紀を越えて ~地球・豊かさの限界~ | 一頭の牛が食卓を変えた [NHK]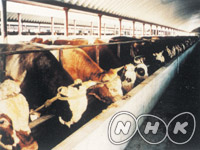 |Length : 59min. |Year : 2000 |
In the past, cows only fed on grass. The circumstances changed with an appearance of Abadeen Angus which was developed in England for steak meat. It requires eight kilograms of corn for an Abadeen Angus to gain one kilogram, and man started to raise more corn to feed these cows. It was the USA that had a vast agricultural area to start a large scaled production of corn. To sell the corn, grain dealers, too, took part in a campaign to increase the consumption of beef, Its target was first Japan, and now China. The beef boom is now sweeping across China. If China decides on a massive import of grain, the international balance of demand would collapse in an instant, and may result in food crises. Grains, which were once man's food, have become livestock feed, and we are now witnessing a new crisis. How did Abadeen Angus change people's eating habit and situation of food in th 20th Century? And how will this affect the 21st Century, when further increase of population is expected?
DC130002

世紀を越えて ~地球・豊かさの限界~ | 大地はどこまで人を養えるか [NHK]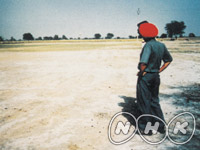 |Length : 59min. |Year : 2000 |
America concentrated all its energies on an increased yield of wheat in the 1930's. In the 20th Century, America established a new form of agriculture as a business, in which one particular crop was produced in large scale. Under an American initiative, India and Pakistan achieved a large increase of production of provisions. The American style agriculture soon reached its peak, but deterioration of soil has become a critical issue in the US once again, resulting in strenuous countermeasures for preservation and maintenance of soil. At the beginning of the century, desertification and draining of water resources are in progress on a global scale. Is it possible to further increase the production of provisions without destroying the environment in the 21st Century? How much longer can soil and water on our planet tolerate the use for increased production, and how much of "business agriculture" will our earth permit?
Memories by Candlelight – Honey Candle Craftsman Ryuji Ando –
DC230021

灯火に思いを寄せて 蜜ろうそく職人 安藤竜二 [YBC]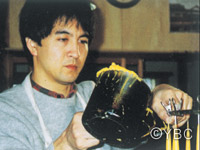 |Length : 25min. |Year : 2000 |
Asahi in Yamagata Prefecture is well known as a town of beekeepers. However, due to the planting of Japanese cedar and other fast-growing trees, the number of horse chestnut trees favored by the bees has been decreasing. But one group of local beekeepers has banded together to plant chestnut trees. Ryuji Ando, along with helping with the planting of trees, also uses the wax secreted by the bees to make candles. In the light of these candles he sees the hope that forests of broad-leaved trees will once again flourish.
The Sea Bream of the Inland Sea – The Splendid Cuisine of the King of Fish –
DC260004

瀬戸内海鯛物語 海の王・華麗なる"食"の世界 [RNB]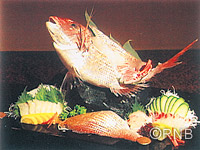 |Length : 30min. |Year : 2000 |
The sea bream has long been an essential part of many different kinds of celebratory occasions in Japan, including festivals and marriage parties. Indeed, it is often referred to as 'the king of fish'. In this documentary, we see fishermen rod-fishing in the Inland Sea, men cultivating top-quality fish, a master chef of a high-class restaurant in Tokyo creating various mouth-watering dishes, and a chef at a hot-spring inn on Shikoku Island attempting to recreate several 18th century sea bream recipes.