Production Year 2001
The Diamonds of the Sea – The Life of the Tuna Fortune-Seekers –
DC230123

一獲千金・津軽海峡 最高級マグロを追え [NTV]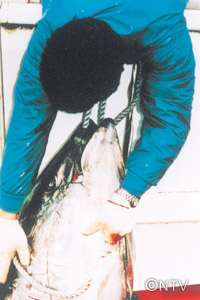 |Length : 30min. |Year : 2001 |
This exciting documentary takes us right into the thick of the tuna-catching action. We follow the efforts of Mitsuyoshi Takeuchi, a stubborn fisherman who is delighted to be joined by his 17-year-old son Ryoji. Very few young men today choose the hardships of tuna fishing over a cosy office job, but Ryoji, with his pierced ears and dyed hair, is determined to follow in his father's footsteps and continue the family tradition. We observe the thrilling moment when Mitsuyoshi can at last cut off the dorsal fin of a huge tuna to present to his son, the latest victor in the eternal battle between men and the "diamonds of the sea."
A Time for Goodbye – A Guide Dog Retires –
DC250120

さよならレザン 盲導犬とテノール歌手 [NHK]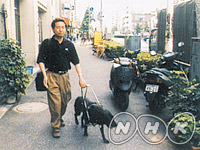 |Length : 43min. |Year : 2001 |
36-year-old tenor Tohru Amano is totally blind. He and his guide dog Rezan have been inseparable since she came into his life five years ago. Tohru travels all over Japan to give concerts. He's even been to Germany for a recording session. Wherever he's been, his guide dog has been with him. Rezan hurt her hind leg about a year ago. It has been decided that she'll retire from her working life as a guide dog in just a few weeks. This program follows Tohru and Rezan for their final two weeks together and shows the strong relationship of trust.
The World Heritage – Shrines and Temples of Nikko –
DC270120

世界遺産 日光の社寺 [TTV]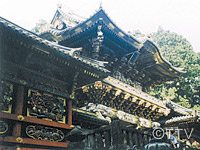 |Length : 30min. |Year : 2001 |
This program shows historical and artifactual value of the shrines and the temples of Nikko registered in the World Heritage.
Nikko Futarasan-Jinja Shrine; Nikko Toshogu Shrine; Nikko-san Rin-noji Temple.
Pilgrimage of the Soul – Author Paulo Coelho Walks in Kumano –
DC280123

魂の巡礼 作家コエーリョ・熊野を歩く [TVA]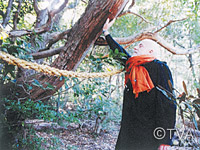 |Length : 47min. |Year : 2001 |
In February 2000, Paulo Coelho, the Brazilian known for such worldwide best-sellers as The Pilgrimage and The Alchemist, came to Japan. He had been in Japan many times before, but this time he came with a special purpose: to walk the "Kumano Ancient Road," with its history of over one thousand years. The path of the pilgrim held great meaning for Paulo, who had discovered himself and become a writer by walking Spain's Santiago Pilgrimage.
Thank you, Inay – A song dedicated by a Filipina daughter to her two mothers –
DC280124

イナイありがとう フィリピーナの母唄 [MMT]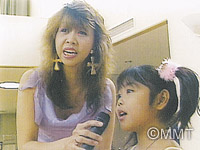 |Length : 25min. |Year : 2001 |
Mariya Kan-no, a singer from the Philippines and her daughter Risa work as a mother and daughter duo to perform charity concerts at retirement homes and other welfare facilities. Last year out of her desire to do something for the children of the Philippines, she single-handedly organized and held a fund-raising concert in Sendai City. She and Risa personally delivered all the proceeds to her native country, distributing presents to impoverished children.