Production Year 2006
Adults are Great ! – A First Look at the World of Work
DC240630

大人ってすごい ~14歳の職場体験~ [NHK]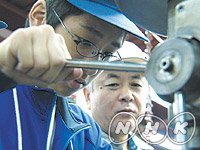 |Length : 43min. |Year : 2006 |
For most Japanese teenagers, the adult world of work is a mystery. So in 2005, a work-experience programme was organized for all second-graders at junior high schools in Machida, a city in the Tokyo metropolis. In this citywide project, 2,800 teenagers spent five days at 800 businesses, learning about the responsibilities of working adults.
A television crew covered the work-experience programme to see how the new challenges were faced not only by the youngsters but also by the working adults, who initially had no idea what jobs they could entrust to the youngsters nor what lessons they could teach them to help them in their future careers.
Embracing Life – Raising Cattle with Naoki and Ikuko
DC240631

いのちだきしめて ~牛飼いナオキと育子さん [NKT]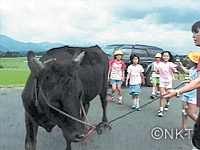 |Length : 25min. |Year : 2006 |
Sekigane-cho, in Tottori Prefecture, is a farming village at the foot of the Chugoku Highlands in Western Japan. Stockbreeder, Mrs. Ikuko Torikai, raises 200 head of beef cattle. Neighborhood schoolchildren come to her farm for hands-on learning. Ikuko had been worried about the tendency for the youth today to disregard the preciousness of life and to act selfishly and even turn to crime. She hit upon the idea of teaching them compassion through work raising cattle, and she invited the school to send their children to her. Among the children, is a young boy who has more than passing interest in raising cattle - Naoki Hosoda. Naoki comes to the cowshed even after school, and on holidays, and takes care of the cows until dusk. Naoki's dream is to one day become a cattle farmer.
A Girt from the Gods
DC250623

神様からの贈りもの [IBC]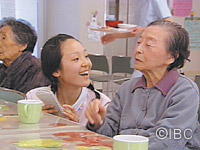 |Length : 44min. |Year : 2006 |
Kanami Yao's wish is simple: "I want to help older people with hearing problems." Now studying at a vocational college to be a care worker, the 20-year-old native of north Japan has a special reason for choosing this path. She herself can hardly hear, having been hearing-impaired since birth.
Stonewalk – Walking for Peace with Hibakusha –
DC280642

ストーンウォーク ~ヒバクシャと歩む道~ [NBC]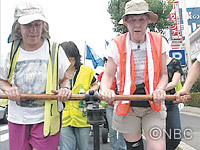 |Length : 53min. |Year : 2006 |
It has been 60 years since the atomic bombs were dropped on Japan.
In 2005, in a memorial to those who perished in those attacks, a peace march called "Stonewalk"was held. Two-ton gravestone was pulled from Nagasaki to Hiroshima-both cities that were destroyed by atomic bombs.
One of the organizers was a woman who had lost her husband in the terrorist attacks on America on September 11, 2001. When she learned that A-Bomb survivors had been giving talks about their experiences and appealing for peace, she decided to turn her pain into strength to fight for peace, and to carry out the Stonewalk.
The families of the victims of the 9.11 attacks and atomic bomb survivors both share "the sorrow of those who have lost a loved one"and a wish to"not allow anyone else to suffer the same painful experiences."
Scientific is ScientiFUN – Denjiro Yonemura, Science Experiment Showman –
DC280643

科学は"科楽"だ ~実験先生・米村でんじろう~ [NHK]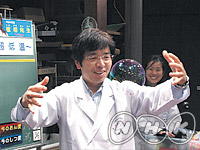 |Length : 43min. |Year : 2006 |
Former high-school physics teacher Denjiro Yonemura is on a mission to get kids excited about science. He uses everyday objects to perform stunning feats such as making soap bubbles dance in the air using "hand power" (actually static electricity) and firing smoke rings dozens of metres through the air from a cardboard-box air cannon.
Denjiro is no comedian, no magician. He calls himself a "science producer". But recently, after 10 years of success, he found himself deeply disheartened because he wasn't able to come up with any new science experiments to perform.
We see Denjiro freshly encouraged by a boy who has become passionately curious about science since seeing one of his shows. Will Denjiro be able to recapture the magic and create new experiments to amaze, entertain, and educate the children who flock to see him turn scientific into scientiFUN?