Documentary : Nature

The Kari's Passage, 4000 Kilos – From a Small Marsh to Siberia –
DC219312

4000キロ雁渡る 小さな沼と、シベリアと [HTB]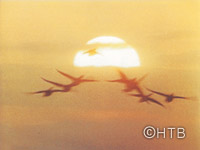 |Length : 60min. |Year : 1993 |
With the destruction of its natural habitat in the Japanese wetlands, the Kari, a kind of wild goose, is becoming increasingly rare. We follow the bird's migration from Izu Marsh to Hokkaido, Sakhalin, Siberia and the Arctic Circle, a 4000 kilometer journey against the backdrop of some of the world's most spectacular scenery. This program underscores the importance of protecting the natural environment and its creatures as a legacy to future generations.
Mountains for All Seasons – Japan's Southern Alps –
DC219411

南アルプス讃歌 日本最大山塊の四季 [SBC]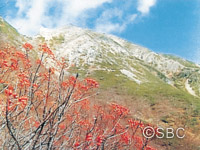 |Length : 46min. |Year : 1994 |
As the seasons change, so too do Japan's picturesque Southern Alps. This documentary explores all aspects of this region - geography, history, geology, flora, and fauna - from the top of the most challenging of peaks down to a remote village at the foot of the mountains, where the Maejima family introduce us to mushroom picking, country kabuki, snow sports, and local cuisine. This is a program for all who love nature and the warmth and humor of the people who live amidst it.
Mountains in My Heart – Japan's Northern Alps –
DC219413

北アルプスの四季 わが心の山讃歌 [SBC]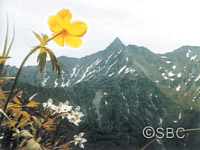 |Length : 46min. |Year : 1994 |
For Japanese alpinists, there is nothing quite like the Northern Alps of Japan. But mountain climbers are not the only ones who love these most spectacular mountains. In this program we meet a young woman from the busy city, a historian who is trying to save an almost extinct plant; a carpenter who measures rain in the woods, and a mountain guide who recovers 4,000 year-old pottery. See also spectacular alpine meadows, a rural fire festival, and some truly ferocious blizzards.
On the Trail of the Snow Goose
DC219514

ハクガンの道100年の空白 アジアの空にはばたけ [TBC]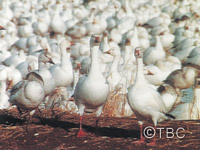 |Length : 45min. |Year : 1995 |
Although the snow goose was once plentiful in East Asia, it has now almost disappeared from the region. The Japanese Association for wild Geese Protection is involved in a joint Japanese, Russian, and American project which is using white-fronted geese to parent snow geese. A family of eight Snow Geese and one wild goose was recently spotted by television cameras. And satellite imagery has revealed for the first time the Snow Goose's migratory pattern in Asia.
The Mystery of Pearls
DC219515

真珠の神秘 [NHK]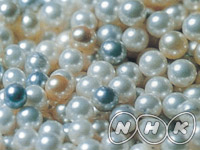 |Length : 20min. |Year : 1995 |
What is the only gem that does not require cutting, grinding or polishing? The pearl, of course, and of the some 100,000 kinds of shellfish, only six can be used to produce these lustrous natural jewels. One of the best known pearl oysters is the Akoya variety which produces smaller pearls of superb shape, color, and luster. This program explains how pearls are produced, why Japanese pearls have that distinctive luster, and why cultivated pearls are superior to natural ones.