Documentary : Welfare

Mama, I Can Hear Your Smile – 22 Years of a Hearing Handcapped person –
DC250422

ママ、えがおがきこえるよ [IBC]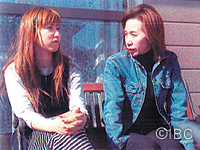 |Length : 54min. |Year : 2004 |
Juri Kikuchi, 22years old, was born in Morioka City, Iwate Prefecture. She has been deaf since birth. When her mother learned that her child had a congenital hearing disability, she decided to devote all her time to her daughter. After graduating from high school, Juri enrolled at Tsukuba College of Technology. She has experienced both worlds, dreams of building bridges between the two. Juri now lives with a man she met in college who also has a hearing disability. The young couple, hoping to obtain permission to marry, visit Juri's parents' home. Juri's mother receives a letter from her darling little girl who is about to "leave her nest".
Tackle! Get out in front! – The Challenges of a Mentally Disabled Students' Rugby Team –
DC250221

ぶつかれ 前へでろ 知的障害者ラグビーチームの挑戦 [NHK]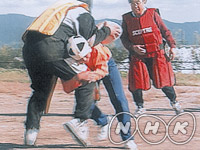 |Length : 49min. |Year : 2002 |
"Tackle! Get out in front!" Even today, principal Fumihiro Hatakeyama's voice echoes over the playing field. "Ryokusei-En", located in Morioka City of Iwate Prefecture, is home to the only rugby team comprised of mentally disabled persons. The students train daily in rugby during their three years in this school, and the results are startling. Over this time, boys who initially feared even falling to the ground show a complete transformation.
A Time for Goodbye – A Guide Dog Retires –
DC250120

さよならレザン 盲導犬とテノール歌手 [NHK]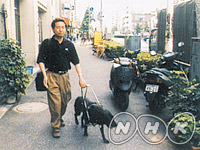 |Length : 43min. |Year : 2001 |
36-year-old tenor Tohru Amano is totally blind. He and his guide dog Rezan have been inseparable since she came into his life five years ago. Tohru travels all over Japan to give concerts. He's even been to Germany for a recording session. Wherever he's been, his guide dog has been with him. Rezan hurt her hind leg about a year ago. It has been decided that she'll retire from her working life as a guide dog in just a few weeks. This program follows Tohru and Rezan for their final two weeks together and shows the strong relationship of trust.
A Song for Life
DC259919

わが人生に歌あり!盲目のテナー新垣勉 [NTV]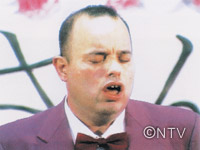 |Length : 53min. |Year : 1999 |
Blind from birth, Tsutomu Aragaki's early years were long and lonely, and included one suicide attempt. Luckily, a caring family took him in as one of their own. Aragaki went on to become a minister and a skilled singer who brings a message of hope to the younger generation. He sings at schools throughout Japan, embracing audiences with simple yet powerful lyrics that inspire troubled and lonely youth. His songs represent the beauty of forgiveness and the value of living life to the fullest.
The Undaunted Man
DC259918

めっちゃ!生きてるで パパは無敵の障害者 [CX]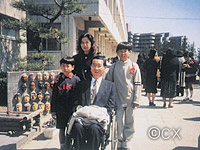 |Length : 46min. |Year : 1999 |
This documentary is about Mr. Haruyama who is 44 years old and has a serious disease, progressive muscular dystrophy. Although he is paralized from the neck down, he is still active and successful as the president of his own company, Handy Network International, which develops and sells personal aid equipment. This program shows how he accepts his life and lives on, and how his wife Yuko and his two sons support him physically and mentally. It's a story of love and care given by the family members to daddy.