Documentary : Welfare

Mika's Miracle
DC259106

ひとみをありがとう 未歌ちゃん12歳の出発 [NTV]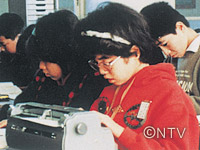 |Length : 27min. |Year : 1991 |
More than 300,000 visually-impaired people in Japan are waiting for cornea transplant operations, but very few people have registered at eye banks as cornea donors. However, Mika Ogawa, a schoolgirl in Osaka, is one of the lucky ones. She becomes able to see for the first time in her life thanks to the good-will of unknown people and a doctor's determination. This is a heartwarming documentary on Mika, her family, and her doctor.
Silent Jump Shot
DC259207

音のないドリブル [OBS]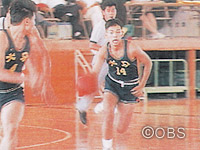 |Length : 27min. |Year : 1992 |
Masataka Nishi, a high-school student, lost much of his hearing because of an ear disease when he was four years old. But, having been very fond of sports since he was a little child, he is now captain of the basketball team at his high school, and also a star player. He wants to go on to college to become a coach, but in many cases, doors are not open for the hearing-impaired. Even so, Masataka keeps going without becoming discouraged, just as he has always coped with a soundless world of basketball.
I Love Yu
DC259208

あい・ラブ・優ちゃん [RKB]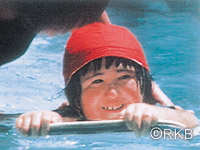 |Length : 48min. |Year : 1992 |
In "I Love Yu," acclaimed Japanese documentarist Eibun Kimura offers viewers a moving yet unsentimental portrait of his mentally retarded daughter, Yu. Kimura's chronological approach traces Yu's life from her birth to her pre-adolescent years. As director and narrator, Kimura shows - and tells - how much his daughter has achieved, despite her handicap. He also speaks matter-of-factly about the pain felt by the parents of mentally retarded children.
Realizing Potential with Computers
DC259209

諫早パソコンストーリー [NBC]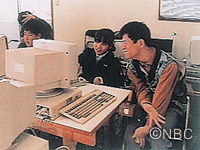 |Length : 12min. |Year : 1992 |
Disabled people have abilities, too. That's the message of this documentary, which takes as its subject disabled Japanese people who have become computer experts. In the documentary the disabled people talk about what it's like to teach "normal" people. There are interviews with their adult students as well. The computer teachers are also shown teaching a weekly computer class especially for children. "Realizing Potential with Computers" demonstrates that one of the best ways to deal with physical "disabilities" is to concentrate not on what can't be done - but on what can be done.
On the Edge of Life
DC259310

いのちの水際をささえて 新生病院の試み [SBC]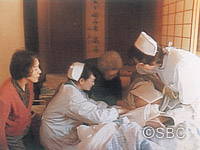 |Length : 45min. |Year : 1993 |
Although most Japanese doctors will not tell cancer patients that they are terminally ill and are firm believers in institutional care, Dr.Toru Uchisaka and his doctor wife, Yumiko are of a different opinion: they believe in a patient's right to know what his or her condition is and that the best place for a terminal cancer patient is usually right at home. This moving documentary tells us as much about the meaning of life as it does about the terrible reality of death.