Documentary : Science and Technology

Master Craftsmen in High Technology | Masterly Skills | Beyond the Naked Eye |
DC299808

ハイテクの職人たち | ミクロの研磨 巨大スクリュー [NHK]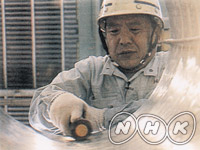 |Length : 10min. |Year : 1998 |
This episode focuses on the process of making giant ship propellers - from the initial stage when the copper alloy is cast into the mold, through the final steps which require manually planning the hole in the propeller where the shaft must be snugly fitted, to the hand polishing of the giant blades. These "human touches" ensure that the ships which transport goods around the world can journey efficiently and safely. To paraphrase Mr. Izutani who has been doing this job for 25 years: "Humans are still superior to machines."
Karakuri – A Technology from the Past –
DC299707

からくり いにしえのテクノロジー [TVA]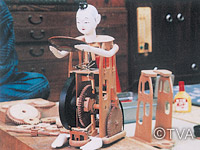 |Length : 30min. |Year : 1997 |
Long before robotics, mechanical dolls served the people

The technology used by Sakichi Toyoda to develop the automatic loom and eventually auto plant robotics dates back to the Edo period when mechanical dolls (karakuri dolls), powered by springs, performed a variety of tasks, from serving tea to adorning festival floats. This show focuses on a family which has carried the art of karakuri making through to the present era. The goal of Shobei Tamaya, ninth in his family of karakuri craftsmen, is to mesh the technology of the past with today's computer-generated works and line city streets with mechanical doll clocks.
Denjiro's Biggest Experiment
DC299606

俺は日本のガリレオだ [NHK]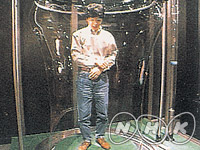 |Length : 44min. |Year : 1996 |
"Mr. Physics" Makes a Show of Science

As a high school teacher, Denjiro Yonemura firmly believed that the best way to teach physics was by showing principles in action. With this aim, he devised a huge repertoire of demonstrations, including a "human-generated tornado" and a "jumbo bubble" large enough for a person to stand in. Yonemura was invited to show his techniques in the U.S. and to produce a display at Tokyo's Science Museum. He now travels to schools and museums full-time in the role of "Mr. Physics."
The Network Founders – High-Tech from Japan's Small Town Factories –
DC299605

職人技が消えていく 町工場が支えたハイテク日本 [NHK]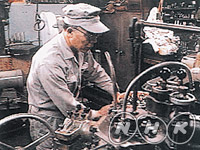 |Length : 49min. |Year : 1996 |
Is Quality Becoming Obsolete ?

With the advent of a "throwaway society," traditional craftsmanship is in danger of dying out. This is true not only of age-old arts, but of relatively recent manufacturing techniques as well. Nowhere is this trend more evident than in the Kojiya district of Tokyo, which was at one time home to more than 1,000 small factories. "High-tech Japan" was largely built by the specialized workers at such factories, but does the modern world still have a place for them?
The Nagoya Triangle – Life in a Workshop –
DC299504

平成名古屋にっぽん製造村奮闘記 [NHK]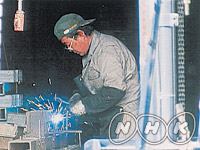 |Length : 44min. |Year : 1995 |
Nagoya, Japan's third largest city, contains an area called the Triangle, which is crowded with more than 650 factories that make everything from parts for cars and jet aircraft to baby clothes - or even Buddhist altars. With most of these factories employing no more than ten people, this industrial area is Japan's major center of small-scale manufacturing and a pillar of the economy. The program looks at the people who work in these factories and their lives.