Program
A Passionate Challenger | ~Climb Down Alive! Japan`s First Mountain Medicine Specialist~
DC282076

情熱大陸 | 山岳医 大城和恵 [MBS]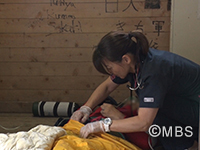 |Length : 25min |Year : 2020 |
Japan's mountain-climbing boom has not only led to more climbers of all ages, but an increase in climbers getting lost and injured.

As the nation's first Doctor of Mountain Medicine, Kazue Ohshiro mans the 24-hour First-Aid Center at Mt. Fuji's Eighth Station where she treats the myriad of ailments that can plague climbers; with little medical equipment. An experienced alpinist who honed her expertise by climbing the world's most dangerous mountains, she passionately believes that prevention and education are key to raising the low success rate of mountain rescues.

Treating patients in the one-man clinic, she wastes no opportunity to give advice on how not to get lost and to prevent the three main causes of death in the mountains—external injury, heart attack and hypothermia.

It is a passionate summer for this mountain doctor who is doing everything she can to save the lives of climbers.