Program
A Passionate Challenger | Breathing life into ink -A rising Calligrapher:Bisen Aoyagi
DC282287

書道家・アーティスト 青柳美扇 [MBS]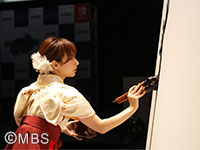 |Length : 25min |Year : 2022 |
For the opening ceremony of the Emperor's Cup football game, calligrapher Bisen Aoyagi put on a calligraphy performance for tens of thousands of people on New Year's Day 2020. This was not her first time performing with a large brush to paint on a giant folding screen; she has carried out this performance to great acclaim in over ten countries. Aoyagi's calligraphy, which captivates people around the world, is marked by its dynamic power. Her writing dances across the paper as if it has taken on a life of its own. She says a truly great work has an alluring empty space and letters that rise from the paper.
When Aoyagi is not performing, she practices tirelessly in her studio. Our cameras capture her diligent work that goes on behind the scenes of her flashy performances. Although her life revolves around calligraphy, Aoyagi immerses herself in nature once a year to enjoy some fishing or surfing. This respite can sometimes lead to surprising new ideas.
The calligrapher is currently absorbed in preparing for her fifth exhibit. She exclaims it will be something people have never seen before and puts forth a revolutionary idea of expressing three-dimensional objects through calligraphy. In order to make this happen, she visits a small factory and uses a forming press to cut out metal sheets in the shape of her writing. Come witness this up-and-coming artist's challenge of transforming 2D into 3D.