Production Year 2000
Special Lessons | Chimpanzees Have Become Our Teachers?!
DC110013

課外授業 ようこそ先輩 | チンパンジーが先生になった!? [NHK]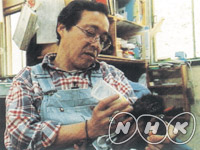 |Length : 42min. |Year : 2000 |
Koichiro Yoshihara is a chimpanzee breeder. At the Chimpanzee Village at Tama Zoological Park, a total of 21 chimpanzees live there under the leadership of a boss. Mr. Yoshihara invites the children to the Chimpanzee Village and has them observe actual chimpanzee behavior. By observing rowdy chimps, mischievous chimps, flattering chimps and bullied chimps, the children learn that chimpanzees have individual personalities. On this day, what the children learn from the chimpanzees is "an attitude of respect" for other beings.
DC120004

オトナの試験 | 美術刀剣刀匠 [NHK]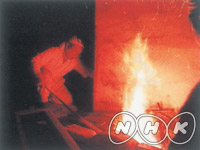 |Length : 10min. |Year : 2000 |
A blacksmith who specializes in creating Japanese swords in called a swordsmith. Japanese swords today are no longer part of the history of weapons, but are referred to as swords as art forms; as objects of steel craftwork that traditional beauty continues to be passed on today. There are approximately 200 swordsmiths in all of Japan. Kunihira Kawachi is Japan's foremost swordsmith. The swordsmiths are not only preserving traditional skills, but are also passing down to future generations the art appreciation, embodied in the Japanese sword, of the Japanese people.
DC120005

オトナの試験 | かわらぶき技能士 [NHK]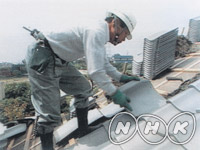 |Length : 10min. |Year : 2000 |
Tiles are resistant to wind and rain, and hold up to the heat. They prevent indoor heat from escaping, and are a superior construction material. On the downside, if they are tiled poorly they can lead to water leakage and can be blown off in windstorms. In the field of roofing tiles, where a high level of skills is expected, a mere one-millimeter gap between tiles is unacceptable. The extraordinary skills of Mr. Imai, with his Tile Roofing Expert Level One certification, are observed together with his young apprentice who is attempting to tile a roof for the first time, under Mr. Imai's direction.
DC120006

オトナの試験 | 造園技能士 [NHK]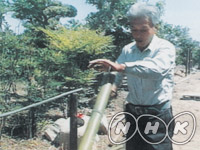 |Length : 10min. |Year : 2000 |
To make trees, stones, water and other natural elements come to life in a stunning manmade sight within residential space, gardeners not only need a great deal of knowledge about plants, but also the ability to design and an imagination. Through Mr. Hayashi, a veteran gardener working in Aichi Prefecture's Inazawa city, one of Japan's leading garden plant producing areas, and Grade Twelve student Nagai, who is trying for his Level 3 exam, we are introduced to one aspect of Japanese beauty; the realm of Japanese gardens.
DC120007

オトナの試験 | 左官技能士 [NHK]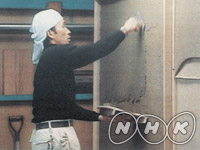 |Length : 10min. |Year : 2000 |
It is the job of the plasterer to build up walls of Japanese buildings using a trowel. At a glance, plastering walls with stucco appears to be a simple job, but it isn't until ten or twenty years after a wall is well constructed that its true value can be appreciated. That is because only then can the differences in the wall's durability or life span become apparent. Using his skills and a trowel given to him by his former supervisor, thirty-year veteran Mr. Asahara restores the walls of many of Kyoto's cultural heritage properties.