Production Year 1995
DC019515

そこが知りたい | 見たぞ!スゴイ金庫の中身 [TBS]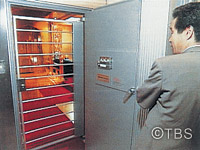 |Length : 46min. |Year : 1995 |
Most safes are repositories for money and valuable documents. But that's not all -- people keep all sorts of interesting things in safes and vaults. What's In That Safe shows the amazing variety of things open - everything from gold bars worth a fortune to paper patterns for Japanese footwear - and what are for one family decidedly bittersweet memories. This documentary also shows you what to look for in a "good" safe.
DC029508

ワザあり!にっぽん | 藍玉を育てる 体にやさしい天然藍染め [CTV]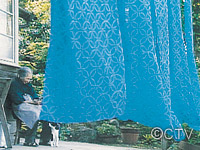 |Length : 27min. |Year : 1995 |
"Japan blue" is a rich indigo blue dye that has been produced by dedicated craftsmen for centuries. Yoshino Chiba is one of those traditional artisans, who, at 85, has devoted more than 60 years to the craft. This fascinating documentary shows the whole process from production of the "indigo balls" to the final dyeing. We also meet other dedicated craftsmen such as Yoshino's daughter-in-law Matsue and pattern engraver Chuji Miura who help keep this ancient art alive.
The Unsung Experts of Japan | The Old Man and the Bees – Natural Honey from the Japan Alps –
DC029509

ワザあり!にっぽん | 南アルプス天然はちみつ 秘伝の古代養蜂 [CTV]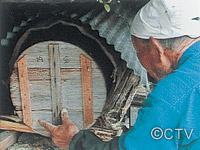 |Length : 27min. |Year : 1995 |
Japanese beekeeping goes back over a millennium, but there are fewer and fewer farmers who are willing to use the technique since western honeybees are regarded as more productive and easier to tend. 84-year-old Yoichiro Uchikura, however, is an exception. Gentle and self-effacing, Yoichiro has been producing honey in his remote village high in the Japan Alps for more than 60 years - a good man who truly lives in harmony with Nature. This is a story with a message.
DC039508

新日本探訪 | 羽音よふたたび 千葉・行徳保護区の25年 [NHK]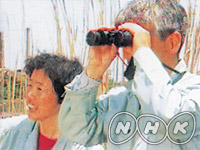 |Length : 24min. |Year : 1995 |
Land reclamation projects have gradually destroyed the vast wetlands around Tokyo Bay that were once a paradise for wild birds. In response to public pressure, however, some reclaimed land next to the Imperial Household's duck farm has been designated as a sanctuary and two environmental activists, Mrs. Sumiko Hasuo and her husband, have been appointed as keepers. The program documents the activities of the Hasuo's as they attempt to revive the birds' natural habitat.
Japan in Focus | Will It Be Sunny Tomorrow, Sir?
DC039509

新日本探訪 | 先生あした晴れっぺ 福島 熱塩加納村 [NHK]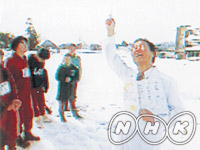 |Length : 24min. |Year : 1995 |
Osamu Nagano is more than just a teacher at a small village school in the mountains of Fukushima - he is a certified weather forecaster too. Since the winter blizzards that strike can endanger his students as they return home, Mr. Nagano has taken it upon himself to study weather forecasting. During the winter he examines the snow at lunch time religiously to make sure it is safe for his charges to go home later.