Documentary

Japan in Focus

新日本探訪 [NHK]

The faces of the Times As these programs demonstrate, Japan is changing with the times. The changes are sometimes difficult, but the spirit with which they are met is never less than inspiring.
A Father, Two Sons & A Factory – Ota, Tokyo –
DC030022

新日本探訪 | 父と子の町工場 東京大田区 [NHK]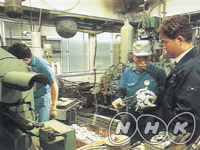 |Length : 24min. |Year : 2000 |
More than 6000 factories crowd the cityscape of Ota in downtown Tokyo. Most of these factories were built at the height of Japan's postwar economic boom, from the mid 1950s to the mid 1960s, and many are still family-run. Today, they are facing difficult times trying to pass on both their skills and their management know-how. This program examines the struggles and challenges facing the factories of downtown Tokyo at a critical time by profiling Masaru Fukunaga, his two sons and his metal parts factory which has been run by him for over 40 years...
Trumpets Echo in the Mountains – Kitakata, Miyazaki –
DC039921

新日本探訪 | 山に響けトランペット 宮崎県北方町 [NHK]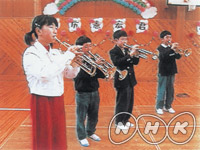 |Length : 24min. |Year : 1999 |
Nestled deep in the mountains of Kyushu is the small community of Shimo-Shishigawa, in the municipality of Kitakata, Miyazaki Prefecture at the southwestern tip of Japan. There are only 10 pupils in the elementary school, three who come from urban areas, but all are members of the school's trumpet band. Local children originally formed the band, and their skills were boosted as city students joined. This heart-warming program portrays children whose friendship grows out of making music together, and the adults who keep a watchful eye over them.
The Streetcars are Still Running – Hiroshima –
DC039920

新日本探訪 | 路面電車走り続けて 広島市 [NHK]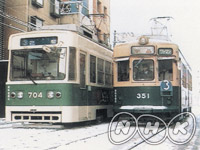 |Length : 24min. |Year : 1999 |
In most parts of the country, as cars have come to dominate the roads, streetcars have become extinct. But in Hiroshima, the old transportation system still survives, carrying 120,000 passengers a day, more than anywhere else in Japan. Cost-cutting measures, including recycling discarded trams, have enabled Hiroshima to keep its 220 streetcars running. This program follows a driver with over 30 years of experience and a young recruit training for the job that will fulfill his childhood dream.
Dreams of a Log Cabin
DC039719

新日本探訪 | 丸太小屋に夢つないで 山梨 白州町 [NHK]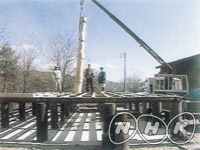 |Length : 24min. |Year : 1997 |
The area surrounding the Japanese Southern Alps has become a haven for city dwellers seeking an escape from the pressures of city life. This influx of new part-time residents encouraged Saburo Shimizu to expand his sawmill business to include assisting others to build log cabins for holiday homes.
Founding a Future
DC039718

新日本探訪 | 誇り熱き鉄に 鋳物の街・埼玉川口 [NHK]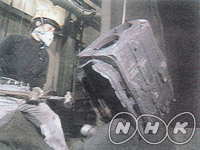 |Length : 24min. |Year : 1997 |
From a once burgeoning foundry town bordering Tokyo, Kawaguchi City has been transformed into a bedroom community. The number of small factories that covered the city has been reduced to only 200. This show focuses on one of the few foundries still standing and the hardships both owner and employees face in these difficult times.
Buzzing in a Bountiful Forest
DC039717

新日本探訪 | 恵みの森に飛べ 会津・ミツバチ飼い [NHK]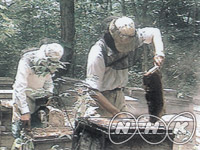 |Length : 24min. |Year : 1997 |
Beekeepers in Japan transverse the country in search of blossoms for their bees. But the Aizu forest in Fukushima Prefecture is so rich, the beekeepers here don't have to move. Yuho Matsumoto, who has been keeping bees for 45 years, and his nephew struggle to preserve their jobs in the face of human progress and technology.
Echoes of a Dream
DC039616

新日本探訪 | ボタ山に夢響くとき 福岡 筑豊 [NHK]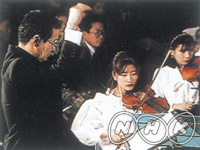 |Length : 24min. |Year : 1996 |
The failing mining city of Iizuka is given new spirit with the formation of an amateur orchestra, the brain child of a native son. This inspiring program provides you the best seat in the house at their first official concert.
Captain of the Islands
DC039615

新日本探訪 | 水俣へ渡り続けて 不知火・海上タクシー老船長 [NHK]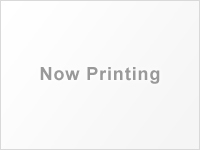 |Length : 24min. |Year : 1996 |
The long battle of the victims of Minamata disease for restitution comes to life daily for the captain of a ferry in the afflicted region. Hear his reminiscences and meet a number of those whose lives were most affected by the disease.
The Last Rakugo Story
DC039614

新日本探訪 | 故郷が笑った 熊本・山里の子ども落語 [NHK]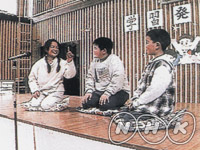 |Length : 24min. |Year : 1996 |
With two of the three pupils at a village's elementary school about to move away, their traditional story-telling performances are coming to an end. Learn what the end of this tradition will mean to the older people of the village.
Days of Weaving Together
DC039613

新日本探訪 | 絆織りなす日 京都 西陣 [NHK]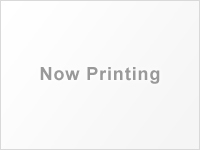 |Length : 24min. |Year : 1996 |
The decline of the kimono has hit Kyoto's Nishijin hard, throwing many talented weavers and related craftsmen out of work. Their plight comes to life in the story of 60-yearold Mitsuo Shibagaki, a master craftsman who is nevertheless forced to search for employment.
Joys of the Circus
DC039612

新日本探訪 | 楽しやサーカス みちのく・道化師の旅 [NHK]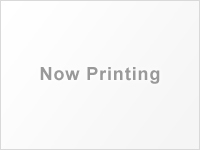 |Length : 24min. |Year : 1996 |
The joyous craft of making people happy is in sad decline in Japan, as circuses have lost much of their former popularity. Veteran clown and trapeze artist Kenichi Yamashita may be one of a dying breed, but he gamely passes his skills on to a new generation.
Come to the Sea
DC039611

新日本探訪 | 海においでよ 鹿児島 佐多岬 [NHK]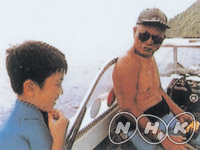 |Length : 24min. |Year : 1996 |
As these programs demonstrate, Japan is changing with the times. The changes are sometimes difficult, but the spirit with which they are met is never less than inspiring. Retired schoolteacher Kazunari Katsumoto, an avid diver in his 60s, establishes a seafront school for children who refuse to go to regular schools. Witness how Katsumoto eventually gets these "problem" children to open up by following his relationship with one particular boy.
Fly, Cranes, Fly
DC039510

新日本探訪 | 翔べタンチョウ 岡山・"鶴のお父さん"の挑戦 [NHK]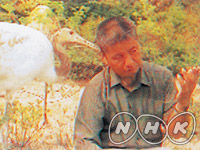 |Length : 24min. |Year : 1995 |
Mr. Inoguchi is working to bring back the great flocks of cranes once so common in Japanese skies - no easy task since these splendid creatures are now an endangered species. Inoguchi not only breeds cranes at the Okayama Prefectural Conservation Center, he must act as a surrogate parent teaching his charges to fly. While aware of the difficulties, Inoguchi is determined that the crane, so important in Japanese culture, will survive for the next generation to marvel at.
Will It Be Sunny Tomorrow, Sir?
DC039509

新日本探訪 | 先生あした晴れっぺ 福島 熱塩加納村 [NHK]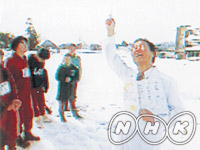 |Length : 24min. |Year : 1995 |
Osamu Nagano is more than just a teacher at a small village school in the mountains of Fukushima - he is a certified weather forecaster too. Since the winter blizzards that strike can endanger his students as they return home, Mr. Nagano has taken it upon himself to study weather forecasting. During the winter he examines the snow at lunch time religiously to make sure it is safe for his charges to go home later.
Again, the Sound of Wings
DC039508

新日本探訪 | 羽音よふたたび 千葉・行徳保護区の25年 [NHK]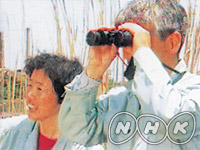 |Length : 24min. |Year : 1995 |
Land reclamation projects have gradually destroyed the vast wetlands around Tokyo Bay that were once a paradise for wild birds. In response to public pressure, however, some reclaimed land next to the Imperial Household's duck farm has been designated as a sanctuary and two environmental activists, Mrs. Sumiko Hasuo and her husband, have been appointed as keepers. The program documents the activities of the Hasuo's as they attempt to revive the birds' natural habitat.
Under the Acacia Flowers – Three Generations of Beekeepers –
DC039407

新日本探訪 | アカシアの花の下で 北海道・養蜂家三代 [NHK]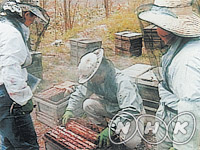 |Length : 24min. |Year : 1994 |
Although most of us - especially those who live in big cities - have to some degree lost touch with the cycles of nature, Junichi Takami is very much an exception. Takami is a beekeeper from the northern island, Hokkaido. He and his bees winter in the Goto Retto Islands in the south and return to the north in May when the acacia blossoms bloom and the fields are covered with fresh clover. The rhythms of this man's life - and that of his family - resonate with the changing seasons.
A Satchelful of Memories
DC039406

新日本探訪 | 思い出ランドセル [NHK]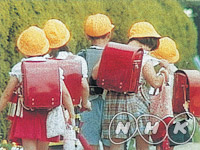 |Length : 24min. |Year : 1994 |
Nostalgic anyone? Most Japanese primary school children carry their books on their backs in satchels. After six years, these satchels get quite worn, but rather than throw them out some people send them to a small shop in Toda City. This shop uses leather from the originals to make miniature satchels as keepsakes. The shop owner has made more than 4000 such momentos in four years and gets more than a hundred letters every month about the memories these satchels evoke.
Himeko's Little Barber Shop
DC039305

新日本探訪 | 姫子さんの小さな床屋 宮崎・椎葉村 [NHK]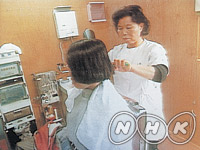 |Length : 24min. |Year : 1993 |
As one can see from the little cluster of temporary structures in one corner of Shiiba in Miyazaki, life in Japan's rural communities requires resilience, perseverance, and even courage. Two years ago, for example, a typhoon destroyed almost everything Himeko owned, including her barber shop. Even so, she is rebuilding her life supported by family and friends. This is a moving portrait of village life in Japan's mountainous west and of one woman's determination.
Together Against the Wind – Wajima – Noto Peninsula –
DC039304

新日本探訪 | 風の絆 奥能登 輪島 [NHK]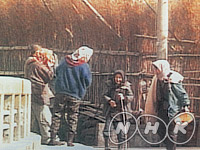 |Length : 24min. |Year : 1993 |
For some people, a fence is not a neighborly thing. The "magaki", or bamboo fences of Osawa-machi on the Japan Sea, however, not only provide protection from the elements and serve as a tourist attraction, they are a symbol of community solidarity. The problem is that there are fewer young people to help maintain them. This interesting program says much about the "graying" of society and the problems faced by communities in preserving their traditional identity.
Ballad of Youth in Uzumasa – Dreams of Becoming an Action Movie Star –
DC039103

新日本探訪 | 京都太秦青春譜 夢はアクション俳優 [NHK]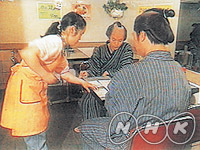 |Length : 24min. |Year : 1991 |
Actor Shinichi Chiba has established an acting school in Kyoto with a difference. This school is dedicated to "action drama". It takes only 20 students and holds auditions every May for new members. Those who make the grade come every day and support themselves through a variety of part-time jobs. Set in the fresh, green month of May, the program presents an interesting look at young people preparing for a future quite unlike that of most their peers.