Production Year 1997
DC079704

若者たちの現場 | 私がアワビを採った夏 [NHK]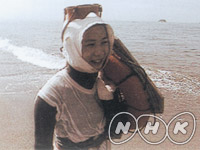 |Length : 29min. |Year : 1997 |
Emi Matsui has left her desk job to dive for abalone off Mie Prefecture. The challenges she encounters during the summer from fellow divers and inclement weather as she builds basic survival skills and acceptance from the tight-knit community of veteran female divers mature Emi, giving her a new appreciation of life.
DC099701

ハローニッポン - われら地球人 - | 日本式オツキアイ教えます [NHK]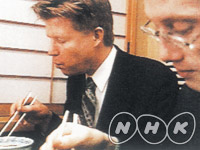 |Length : 20min. |Year : 1997 |
Terry Lloyd discovers ways his consulting firm can break through the traditional Japanese system of business. By sponsoring seminars on Japanese business customs for foreign businesses and designing English language homepages for Japanese firms, Lloyd builds new links between Japanese and foreign corporations.
DC099702

ハローニッポン - われら地球人 - | 笑いに国境はない [NHK]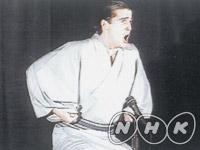 |Length : 20min. |Year : 1997 |
Bill Crowley uses a traditional Japanese art in its modern-day form to bridge the cultural gap between the East and West. After studying English rakugo, humorous storytelling, under the master Shijaku Katsura, Crowley takes his skills back home to San Francisco to perform the time-honored "Time and Udon" classic.
DC099703

ハローニッポン - われら地球人 - | バルーンアートで神戸に夢を [NHK]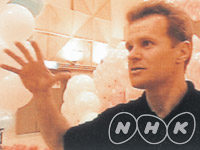 |Length : 20min. |Year : 1997 |
Robert Schmock, the king of ballon art, brings joy to the people of Kobe following the Hanshin Earthquake of 1995. These art form brings together many balloons of different colors that are arranged in wide open spaces. Schmock hopes his Ballon Art School, founded in Kobe in 1997, can transmit encouragement and hope to those who have suffered great loss.
DC099704

ハローニッポン - われら地球人 - | 体験!マイスターの国宝修理 [NHK]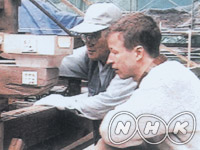 |Length : 20min. |Year : 1997 |
Christoph Henrichsen undertakes restoration work at the 800-year-old Fudodo Temple in Wakayama Prefecture as part of his doctoral thesis program. Henrichsen is a master cabinet maker in Germany, and the blending of his skills and Japanese architectural renovation combine to bring out the best in both.