Production Year 1997
DC099705

ハローニッポン - われら地球人 - | 中国パワーが新素子を生んだ [NHK]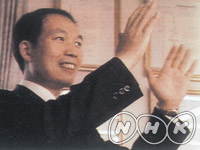 |Length : 20min. |Year : 1997 |
Shou Guolian heads the technical department of a semiconductor development company. His particular speciality is the merchandising of LSI for the next generation cellular phones. Shou considers himself an itinerant traveler on a never-ending journey.
In Pursuit of Deleted Legislation – The Devotion of a Bureaucrat to a Lost Cause –
DC229710

幻のゴミ法案を追う ある厚生官僚の遺言 [CX]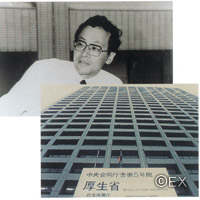 |Length : 48min. |Year : 1997 |
A bureaucrat's struggle with the Kasumigaseki bureaucracy

Research on the revision of a proposed bill to assign responsibility for waste disposal and clean-up takes this show into the bowels of a bureaucracy which is answerable only unto itself. Former Health and Welfare Ministry official Kunio Ogishima sets out to draft a piece of legislation he thinks will benefit Japan, making industry responsible for the waste it generates. But from the beginning, he runs into obstacles at every turn, and the bill is eventually diluted of its original intent. Exhausted after his long battle, Ogishima is stricken by cancer and died one year later.
Once Again, My Blue Ocean – A Skin-Diver's Battle –
DC229711

もう一度青い海が見たい 重油漂着・海女120日の記録 [FTB]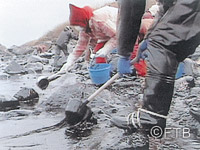 |Length : 58min. |Year : 1997 |
One woman's fight to save the ocean

When the Russian tanker Nakhodka sinks in the Japan Sea in early 1997 spilling tons of oil off the coast of a fishing village in Fukui Prefecture, a 74-year-old "ama-san" (woman skindiver) fought for three months to save the sea, which had become an inseparable part of her life. Ms. Konishi's struggle, documented in this program, begins with only ladles and buckets, and ends when she lost consciousness due to a brain hemorrhage.
The Mountain Where the Tengu Dwells
DC239717

天狗のすむ山 [ITC]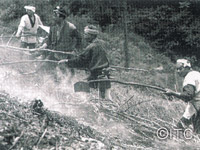 |Length : 60min. |Year : 1997 |
Living in concert with nature

After his village was submerged when the Dainichi River Dam was built in 1969, Tsunejiro Ito refused to leave his old life behind. He recreated the traditional lifestyle of his ancestors and currently lives by burning fields and collecting wild plants, nuts and berries in the mountains of Ohara-machi at the foot of Mt. Hakusan, together with his grandson Shuji. The interconnection between the natural environment, civilization and our daily lives, and Ito's interaction with the tengu mountain god unfold during the course of the show.
Shakespeare in the Valley – An Englishman Brings the Theater Home to Japan –
DC239718

バントック先生と谷間の村の仲間たち [RNB]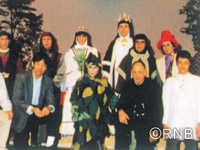 |Length : 26min. |Year : 1997 |
Theater breaks cultural barriers

When a diverse groupe of people from all walks of life join together to perform Shakespeare's "A Midsummer Night's Dream" in English, the results are anyone's guess. But that is exactly what the Hijikawa English Theatre Troupe in Ehime Prefecture, Shikoku, did to rave reviews. Founded in 1994 by English poet and playwright Gavin Bantock and his wife Kyoko, this troupe recently put on its second English-language performance.