Production Year 2003
An Engineer for Life – Novel Laureate in Chemistry, Koichi Tanaka –
DC280329

生涯一エンジニア ノーベル化学賞・田中耕一さん [NHK]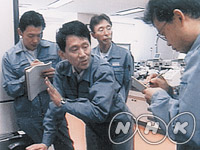 |Length : 43min. |Year : 2003 |
Koichi Tanaka, a researcher in a scientific instruments company, was awarded the Nobel Prize for Chemistry in 2002. The protein analysis method the prize recognizes was the result of Mr. Tanaka's dedicated, and ultimately successful, research in the face of doubts from the academic community at the time. His discovery has valuable applications in the medical field. His determination "to think for himself, to walk on his own and to create things with his own hands" began as a child, growing up in Toyama, Japan.
Challenging the Great Outdoors – Sky High on the Alpine Route –
DC280330

立山・黒部の四季物語 大自然と闘う男たち [NTV]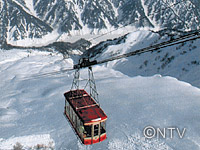 |Length : 46min. |Year : 2003 |
A quiet blanket of snow in the spring, greenery in summer, and beautiful autumn colors, make the Tateyama-Kurobe Alpine region a marvel of nature.
At the Ohtani Snow corridor, a famous sight-seeing spot on the Murodo-daira Plateau, 20-meter-high snow walls allure travelers along the Tateyam-Kurobe Alpine Route. This program explores the magnificent nature of the Tateyama-Kurobe region and introduces the first workers in 33 years to brave the elements and install new cables along the Tateyama ropeway.
Kamaboko Board Art – 30,000 lives on tiny pieces of wood –
DC280331

かまぼこ板の絵 ~3万枚のメッセージ~ [RNB]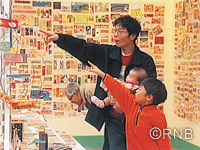 |Length : 25min. |Year : 2003 |
Kamaboko is a Japanese delicacy, which has long been a popular appetizer in Japan. It is type of fish pate, served on a little wooden board which maintains the proper moisture content of the Kamaboko itself. A Kamaboko board is 5 centimeters in length, and 14 centimeters in width. For many, it is just a piece wood which is meant to be thrown away. However, a small municipal museum in a remote mountainous town began asking the public to paint their own art on Kamaboko Boards instead of just wasting them.
A Single Blow
DC280332

ただ一撃にかける [NHK]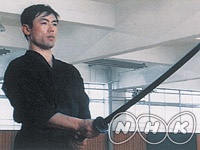 |Length : 43min. |Year : 2003 |
Naoki Eiga isn't as tall or as young as many other kenshi - the men and women devoted to kendo, "the way of the sword". But Eiga is fiercely competitive. As captain of the Japan Men's Team at the World Kendo Championships, he shoulders a heavy responsibility. Japan has never lost the men's team event, and Japan is also expected to show the world that kendo is more than mere victory and defeat. Eiga faces the ultimate challenge: he must demonstrate true nobility of spirit by overcoming his burning desire to win - yet at the same time he simply mustn't lose.
DC290316

技~極める | 千年繊維・泥和紙を漉く 手漉き和紙職人・谷野武信 [NHK]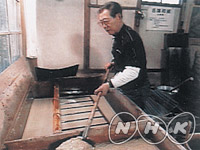 |Length : 24min. |Year : 2003 |
Takenobu Tanino is a papermaker with 50 years' experience, living in Najio Village, Western Japan, Hyogo prefecture. The materials he uses for papermaking are the bark of 'Ganpi tree' and the rock dust. Tanino's paper is used for restoration of 'fusuma' Japanese sliding paper doors in Nijo Castle in Kyoto that is registered as a National Treasure. Today Tanino is the only person who can do all the process of this traditional method properly.