Production Year 2015
Spintop Battle: Small Factories Aiming for the World Championship
DC291533

コマに技あり~町工場から世界を目指せ~ [ABN]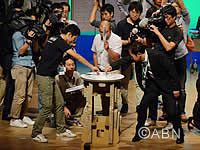 |Length : 25min |Year : 2015 |
This is "Koma Taisen," a competition fought between battle tops no more than two centimeters in diameter; there are no other restrictions. Ever since the inaugural 21-team tournament, contestants from small local companies throughout Japan have been putting every last ounce of their design and manufacturing expertise into producing the best possible battle tops.
The champion of each tournament is allowed to keep every one of the battle tops in the competition, effectively stealing their competitors' technology. The tournaments are serious business as the competitors vie for a spot in the upcoming World Championships.
This story follows the ups and downs of the designers and creators of these innovative battle tops.
Children's Message of the Devastating Earthquake to the Next Millennium
DC371514

女川いのちを守る会~1000年後へのメッセージ~ [KHB]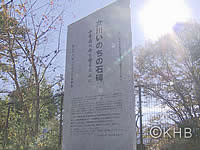 |Length : 24min |Year : 2015 |
When the Great East Japan Earthquake struck, waves as high as 14.8 meters ravaged Onagawa Town. 827 lives, nearly 10 percent of the population, were lost and 70 percent of the town buildings were destroyed.
The seventh graders of Onagawa Middle School decided to do something to pass on the lessons of this tragedy to future generations. With the motto "to protect the lives of 1000 years from now," they continue their work and hope to reach their goal of erecting 21 stone monuments by the time they are 20 years old.
ED271500

おんがくブラボー [NHK]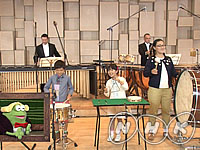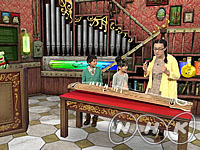 |Length : 10min. x5 |Year : 2015 |
(1.Feel the Music)
Characteristics of instrumental sounds and melody sequences are introduced.

(2.Let's Play the Recorder)
An expert recorder player visits to teach the basics of playing the recorder, such as breathing and tonguing. The pupils learn to improve their playing.

(3.Trying out Musical Instruments)
The pupils learn the sound characteristics and playing methods of various percussion instruments, and attempt ensemble playing.

(4.Rhythms Make Music)
The pupils are urged to create their own rhythms, and then repeat and vary them. They combine their created rhythms to perform a percussion ensemble.

(5.Studying a Traditional Japanese Song)
The traditional Japanese song Sakura Sakura The Cherry Blossom Song is used to introduce the Japanese instrument koto, and highlight the characteristics of traditional Japanese melodies and scales.

1.Feel the Music(ED271501)
2.Let's Play the Recorder(ED271502)
3.Trying out Musical Instruments(ED271503)
4.Rhythms Make Music(ED271504)
5.Studying a Traditional Japanese Song(ED271505)