Documentary : Modern Living

Let's Watch and Hear All in Japan! | Discovering Japan | Jewels of the Seto Sea | Second Life | Japan : On-the-Spot Reports | Find Your Dream Career | Grand jete | 20s Discovering Life | Cute Little Japanese Designs |
To Father – Message from Baby –
DC249409

お父さんへ 赤ちゃんからのメッセージ [NHK]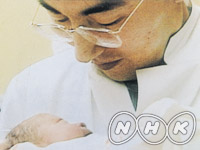 |Length : 49min. |Year : 1994 |
How important are fathers to babies? Maybe a lot. This program follows the relationship between Baby and Father, starting with pre-natal classes right through to birth and beyond. While conventional wisdom sees the mother as the principal player in the nurturance of young children, it is clear that Dads also have a very big role. After all, babies can distinguish between mother and father by one month of age. This program is a fascinating study of love and responsibility.
From the Philippines with Love
DC249308

フィリピーナの贈り物 おおくら村の国際結婚 [TBC]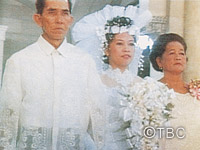 |Length : 30min. |Year : 1993 |
With so many young people going to the cities, life has proven hard for the men of Okura, a village in Yamagata. Mostly farmers and laborers, they have been unable to find Japanese women to marry them. When the local government organized a tour to the Philippines to find wives, a few of the men were able to come back with Filipina brides. However, as this interesting program indicates, international marriages are never easy: they require much hard work and a lot of love.
Department Store for a Day
DC249206

大盛況!ハイスクールデパート [MBC]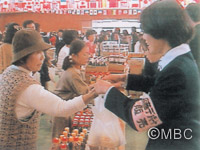 |Length : 12min. |Year : 1992 |
In 1991, the seniors at the Ibusuku High School of Commerce headed a project that would turn their school into a "Department store for a day" This documentary highlights the work that went into the students' project - initial planning, sales training, creation of a budget, buying of stock, advertising, sales. The documentary follows the students through the preparatory stages to the grand opening of the high school department store and its sucessful one day of operation.
A Hotel is Born – The Path to Perfect Service –
DC249205

超一流巨大ホテルの出来るまで [NTV]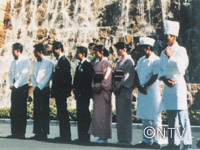 |Length : 27min. |Year : 1992 |
In June, 1989, the Hotel Okura chain opened up a new hotel in the Japanese port city of Kobe. This chain bears the reputation of including some of the finest hotels in the world. This documentary shows how the huge new hotel started business, including a behind-the-scenes look at the strict training of its newly-recruited staff.
Feeling Higher than the Sky – Choosing Night School –
DC249204

空よりも高く 定時制高校を選んだ理由 [RNC]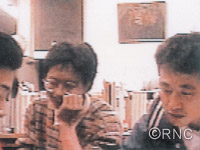 |Length : 27min. |Year : 1992 |
At the Takamatsu Polytechnic Night-Time High School, the 186 students include a variety of young men and women: those who left full-time high schools, those who made a new start here to earn their high school degrees, and students who did not pass the entrance exams for full-time high schools. But almost all of them are cheerful and energetic. This program tries to look into what they really think, while portraying their daily lives inside and outside of school.