Modern Living

20s Discovering Life

人生デザイン U-29 [NHK]
A Dancer Bringing the World in Step
DC241754

ダンサー [NHK]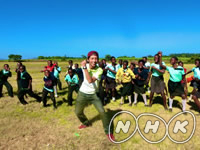 |Length : 24 |Year : 2017 |
Takanori Nakagome arranges dance events in which Japanese children and kids around the world take part together through web cameras.
Nakagome, 29, started dancing in high school. He worked for an education-related company after university, but after 4 years, he quit to realize the dream he had held since his student days – to travel the world teaching dance to children. This decision completely changed his life.
After returning from traveling around the globe, Nakagome started preparing to make teaching dance a full-time career. He began by holding online dance events, connecting with schools he visited on his travels overseas.
As word spread across social media, invitations to hold these events started coming in from all over Japan. He is also considering opening his own dance studio to "use dance to help children expand their potential." What drives Nakagome as he works towards fulfilling his dream?
A Futsal Player Chasing Life Goals
DC241753

フットサル選手 [NHK]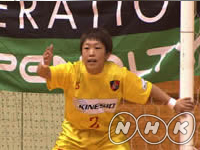 |Length : 24 |Year : 2017 |
Futsal goalkeeper Mari Nagashima has chased the ball on the field since she was 8, and dreams of playing for Japan's national team. Like all of her teammates, she is on an amateur contract. To make ends meet, she works as a non-permanent worker at a temp agency, a job that leaves her evenings and weekends free for futsal.
But as her 29th birthday approaches, Nagashima has started thinking seriously about what she will do after she hangs up her boots. As she ponders her future, her boss offers her a permanent position. It's a tempting offer from a career point of view, but becoming permanent staff would entail extra responsibilities – which could interfere with futsal practice and games. Will Nagashima take up the permanent position to safeguard her future, or continue chasing her sporting dream? At a crucial juncture in her life, this athlete must make a big decision.
Working as a Tunnel Excavation Foreman
DC241650

トンネル工事 現場監督 [NHK]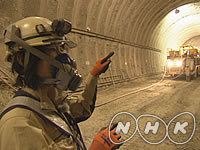 |Length : 24min |Year : 2016 |
26-year-old Chiaki Nagai is living her childhood dream of working on a construction site. A modern girl with a stylish bob and a love of nail art, she lives in an on-site dorm and leads a team of 40 men working on a major tunnel project. And away from the digging, there are always piles of paperwork waiting for her back in the office cabin.
Since becoming forewoman in late 2015, Nagai has worked hard to gain acceptance among her male colleagues, but has faced a unique set of hurdles. She has to direct industry veterans who are old enough to be her father, and in the hazardous construction environment, when her orders put staff in danger, Nagai faces some harsh criticism of her own. We follow Chiaki Nagai, balancing joy and anxiety as she works towards her eventual goal of running an entire site.
Working as a Blacksmith
DC241649

鍛冶職人 [NHK]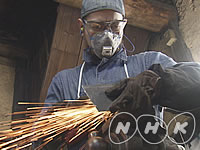 |Length : 24min |Year : 2016 |
Akiotacho is the least populous town in Hiroshima prefecture. Here, in his workshop along the local shopping arcade, 29-year-old Kazuyoshi Akita silently pounds metal. He moved to the town four years ago to open a smithy. Though he attended art college with the dream of becoming an artist, it was in one class that he realized how the most beautiful items must also have practical uses.
Having already decided to craft tools instead of artworks, Akita found an online article about a blacksmith who was looking for a successor before he went out of business. Picking up the mantle, he inherited tools, a workshop, and a client list, setting up his own business without investing any money at all. Every product, mostly consisting of farming equipment like hoes and machetes, is made to order. And despite concerns about his fluctuating income, Akita finds pleasure in working with his beloved metal.
Working as a Public Bath Owner
DC241648

銭湯店長 [NHK]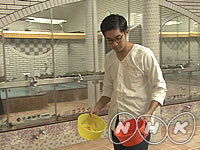 |Length : 24min |Year : 2016 |
25-year-old Yusuke Minato recently took over the management of an 80-year-old bathhouse in Kyoto. A love affair with Japan's public baths that began while he was at college has since seen him visit more than 600 nationwide. After graduation, his interest in fashion initially led to a job with a clothing firm. But he quit to take over the historic bathhouse in a bid to stop such sites from disappearing.
What Minato loves most is the communication between strangers that public baths encourages. But along with a wealth of history the bath he is in charge of has a lot of equipment that needs repairing! The daily cleaning and collection of firewood is a lot tougher than he expected. But Minato's fierce desire to protect these public spaces helps him overcome such problems as he continues in his efforts to revitalize Japan's public baths.
Working at a Local Airline Company
DC241543

地方航空会社 地上職 [NHK]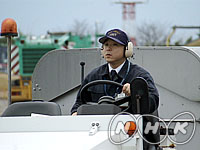 |Length : 24min |Year : 2015 |
In Amakusa, Kumamoto Prefecture, there is "Japan's smallest airline company," whose entire fleet consists on just one plane. The subject of this program is Yuki Kaneko, 24, a member of the ground crew.
Working for such a small company, he wears many hats. Kaneko was born and raised in Amakusa, but actually had no intention of working in his hometown. What sort of life does he see himself leading here?
Working to Support the Great East Japan Earthquake and Recovery
DC241542

復興支援団体 代表 [NHK]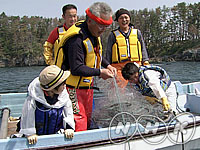 |Length : 24min |Year : 2015 |
Our subject is Takuma Kato, 26, who heads a support organization in Kesennuma, Miyagi Prefecture. Immediately following the Great East Japan Earthquake, he entered the Karakuwa area of Kesennuma as a volunteer.
Kato has worked part time at the city office, while carrying on his activities as head of his support group. His first objective is to get the cooperation of local fishermen in starting up "fisherman-for-a-day" tours for tourists. But with no knowledge of the tourist industry, he encounters problems one after another. Will the tour be a success?
Working as a Meteorologist
DC241541

気象予報士 [NHK]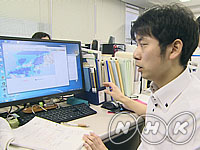 |Length : 24min |Year : 2015 |
Our subject is meteorologist Yuu Sato, 29, who works at a meteorological service company. He is in charge of developing weather predicting systems, which have garnered great reviews.
However, his association with a new apartment mate has caused a little bit of self-doubt to emerge. "Is job satisfaction all that life should be about?" Inspired by his roommate, Sato had started to search for the "satisfaction" that he had not been able to find in his job.