Documentary : Traditional Culture

The Dance of the Lion
DC279306

大獅子が通る [RNC]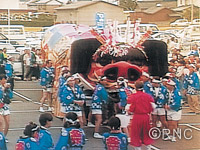 |Length : 28min. |Year : 1993 |
The shrines in Miki in Kagawa Prefecture have all performed the traditional shishi-mai or Lion Dance to drive out evil spirits. The single exception was Hikami Shrine. Then, a local man, Shigeki Kushida, decided to stage a lion dance for the shrine. He made the lion's "head", persuaded a cousin to decorate the fabric "body" of the lion, and drummed up community support. This interesting program shows how people working together can revive an ancient tradition.
Guardians at the Gate – 800 Years Revisited –
DC279407

甦る仁王 – 800年目の解体修理終る [NTV]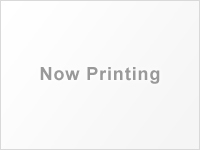 |Length : 30min. |Year : 1994 |
The two huge 800-year-old wood statues that guard the gate of the 1200-year-old Todaiji Temple are among Japan's most cherished national treasures. This program details a five-year restoration project in which master craftsmen restored the statues to their original splendor, painstakingly hand-making replacement nails and making some surprising discoveries including a scroll more than a thousand years old and inscriptions by the original artisans.
The Songmaster's Apprentice – A Lesson in Japanese Folk Songs –
DC279614

いま"こぶし"に賭ける 娘たちの民謡修行 [NHK]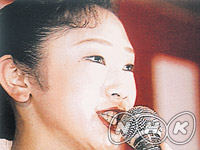 |Length : 44min. |Year : 1996 |
The complex melodies and distinctive trills of traditional Japanese folk songs are not easily mastered. This program provides a delightful introduction to the intricacies of the art while profiling four young girls at different stages of their apprenticeships to 84-year-old Grandmaster Umewaka Asano. As we see and hear firsthand, there are both highs and lows on the road to mastery of this unique song style.
Heads! Bump the Sky! – Nebuta Fires the Passions of Summer –
DC279708

天サ頭ぶっつけろ ねぶたに燃えた一瞬の夏 [RAB]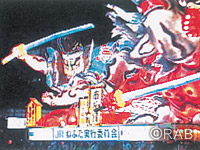 |Length : 43min. |Year : 1997 |
Lit figures atop floats spur dancing in the streets

The Aomori Nebuta "fire festival" is famous the world over, but the men who make it possible are still shrouded in secrecy. This documentary focuses on two nebuta masters, Sakuryu Chiba and Takashi Kitamura as they plan, design and build their floats depicting legendary figures and animals. Work starts in the dead of winter for the festival which takes place over six days, from August 2.
Japanese Great Masters and Ever-Popular Handicrafts
DC279709

職人魂が宿る究極の逸品 [TX]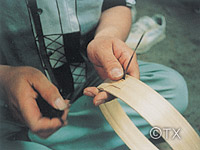 |Length : 45min. |Year : 1997 |
A look at the secrets behind traditional arts & crafts

Japanese handicrafts are renowned world wide for their beauty and intricacy. The summer kimono requires not just an eye for color, but also a keen sense of timing. The essence of the folding fans from Kyoto can be found just as much in the split-bamboo frame as in the beautiful paper.