Documentary : People and History

A Passionate Challenger | Masters of Their Profession |
Sican – The Mysteries of a Vanished Gold Empire –
DC289511

よみがえる黄金都市シカン [TBS]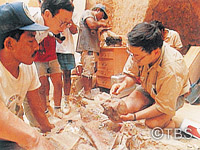 |Length : 59min. |Year : 1995 |
Izumi Shimada, a professor of archaeology, has devoted much of his life to studying a Pre-Incan culture whose secrets hide in an area of Peru known as the Batan Grande. Shimada hit pay dirt - literally - in 1991.- After 1000 days of tedious, painstaking work; he uncovered the largest gold tomb ever found in South America and many priceless artifacts. Shimada calls the religious empire that built the tomb, Sican - "Temple of the Moon" - and believes that other, even more impressive discoveries await.
Bridge between Two Cultures – For my son, Tsuyoshi –
DC289512

ツヨシ君に伝えたい フィリピン花嫁たちは今 [YTS]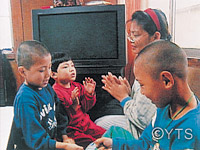 |Length : 26min. |Year : 1995 |
With fewer Japanese women wanting to live on a farm, Japanese farmers are looking overseas for brides. Mathilde, for example, married a man from Ohkura-mura in Yamagata and now has three children. Her oldest child Tsuyoshi has just started to attend school and is beginning to realize the social implications of having a mother from another country. This program raises important questions about the need to reevaluate traditional values in terms of contemporary needs.
The Pencil Which Crossed the Ocean – Modern Romania through the Eyes of Japanese Girls –
DC289513

海を越えた鉛筆 少女たちの見たルーマニアの今 [NHK]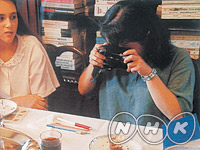 |Length : 44min. |Year : 1995 |
When the 10th graders of Konko Gakuen Senior High School saw a TV report on the difficulties of Romania after its political upheaval in 1990, they decided to do something - so, they collected 3000 used pencils and sent them to a primary school in Bucharest. This act of good will was just the beginning. Five Japanese girls visited Romania the following summer. The program shows the lives of the Romanian children who received the pencils and their warm welcome for their benefactors.
An Angel from a Southern Island
DC289614

南の島からきた天使 [YBC]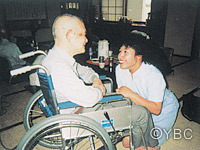 |Length : 41min. |Year : 1996 |
Care of the elderly, a timely issue in this age of rapidly "graying" societies, is the theme of this thought-provoking program. Aloishia Saito, a native Samoan who works at a nursing home in Japan, is regarded as an "angel" by her charges for her cheerful disposition and empathy for the aged. Aloishia's bi-cultural perspective provides valuable insights.
Return to Japanese Soil – The Lives of Two English Women : Miss Hannah Riddell and Miss Ada Wright –
DC289615

日本の土に リデル、ライト両女史の生涯 [TKU]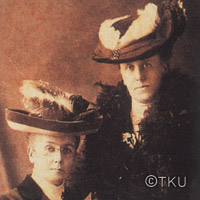 |Length : 50min. |Year : 1996 |
Patients suffering from Hansen's disease (formerly called leprosy) once faced harsh discrimination and forced isolation. Some hundred years ago, Briton Hannah Riddell founded a hospital in Japan for these unfortunates; she was succeeded in her work by her niece. Their stories shed light on the nature of both the disease and Japanese society.