Documentary : Science and Technology

Master Craftsmen in High Technology | Masterly Skills | Beyond the Naked Eye |
"SHIKAKE"~Ideas That Trigger Behavioral Change~
DC291834

つい、人は… [CBC]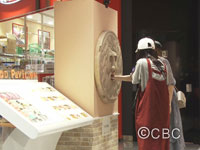 |Length : 48 |Year : 2018 |
You're in the men's bathroom. You see a target in the urinal. What do you do? You aim at it, right?
You see a basketball hoop and net. What do you want to do? You want to toss something through it, right?
If you see a viewing tube, what urge do you feel? You feel compelled to look through it, right?
Welcome to the fascinating world of "shikakeology," the brainchild of a Japanese professor who singlehandedly created an academic discipline that applies psychology to manipulate human behavior without people even realizing that they were influenced. Many of the issues we face in society today are the products of our own behavior. The problem, however, is that if someone tells us to correct our behavior, we tend to be reluctant, and if someone orders us to do it, we might even resist complying at all. But if people can be "triggered" into wanting to do something, changing their behavior is not that difficult at all.
In this program, we will explore the research of a professor who believes "SHIKAKE" is the means to trigger people toward positive changes in behavior.
It really takes much less than you might think.

The Doorway to Dreams+ ~Potato Power Saving Japan~
DC291738

『夢の扉+』イモが新エネルギーに!?"イモ発電"で日本の電力不足を救え! [TBS]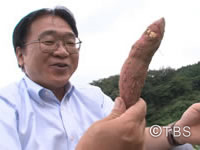 |Length : 24 |Year : 2017 |
Takahiro Suzuki, professor in the Biology and Science department at Kinki University is pursuing his dream of making Japan an energy-independent nation using an alternative to fossil fuels. "To supply 10% of Japan's electricity by generating power using sweet potatoes".
Sweet potatoes are highly combustible, but hardly emit anything harmful when burnt, and they can be cultivated easily anywhere in Japan.
Suzuki was previously a bioenergy researcher with a strong belief that research was meaningless unless it could be put to actual use. This drove him to search for an alternative and practical energy source, eventually coming up with thermal power generation using sweet potatoes.
The first steps toward realizing the dream of spreading potato power generation throughout Japan are being taken in the prefecture where this vegetable was first introduced. A new project in this region will attempt to use potato power to run an electric motorbike. Join us to see the result.
SPIRIT OF JAPAN The Legacy and Beauty of Japanese Umbrella
DC291737

日本のチカラ 地域を照らす和傘工房の挑戦 [OBS]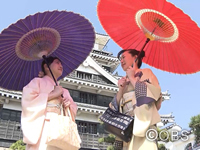 |Length : 29 |Year : 2017 |
The wagasa is a traditional Japanese paper umbrella, and a symbol of the castle town Nakatsu in Oita Prefecture. After 300 years of local production, it nearly went extinct as western-style umbrellas became commonplace, but Jiro Imayoshi, once a real estate agent in Tokyo, came back and gave them a fresh start.
Each wagasa is painstakingly produced by hand over around sixty steps, from building the frame to applying the paper, then sealing it with oil and sun-drying it for ten days. All in all, the artifacts take around two months to complete. However, few people would ever use a wagasa daily. That's why Imayoshi has worked to combine ancient methods with modern, free-spirited design to produce innovative wagasa umbrellas that are fun to look at and fun to use.
Imayoshi's team of volunteers at "Wagasa Workshop Shuka" now receive an overwhelming number of orders, having amassed popularity from throughout the country. With their products being warmly received overseas, the local area is being revitalized. Their success may hold the key to revitalizing local communities across Japan...

SPIRIT OF JAPAN A Local Product~Loved by the World~
DC291736

日本のチカラ 白い鉱物で"美"を発信!~奥三河産セリサイトの魅力~ [NBN]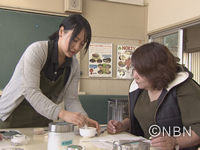 |Length : 24 |Year : 2017 |
SPRIT OF JAPAN is a program produced by the Minkyokyo (Commercial Broadcasting Education Association) featuring documentaries about craftsmanship, life-enriching activities and community revitalization.
All over Japan one can find compelling examples of chikara, or strength, in the technique of master artisans, local industries, and the wisdom, history and culture of local people.
In this episode we will visit the town of Toei, located in the eastern part of Aichi Prefecture. This small town has a population of 3,400 people.
We will learn about a project bringing hope to this community as it faces a shrinking and aging population. A white powder, previously unknown even to many locals, is central to this project.
This white powder is called sericite, and it is a raw material used in foundation used by both Japanese and major global cosmetics companies alike. The Japanese for the mineral sericite is kinu unmo, which translates to "silk mica".
Sericite is also mined outside of Japan in places such as Malaysia and China, but Toei is the only place where it is mined in Japan.
Sanshin Mining is the company that produces Sericite here. In stark contrast with the glamorous scene that comes to mind when one thinks of cosmetics, the mine shaft is narrow and gloomy. Unable to use heavy machinery in this environment, craftsmen mine the sericite seven hours a day by hand using pickaxes. The sericite mined in Toei is known for its color being whiter than foreign-sourced competitors. Its color remains white, even after absorbing moisture from sweat, and that's why companies from around the world covet it so much. The hard work of these craftsman is playing a hidden role in the beauty of women around the world.
Today we are meeting Ms. Chihiro Ooka. While enjoying her hobby of visiting famous festivals around the country, Chihiro was so attracted by the town and its traditional flower festival, Hana Matsuri, that she eventually moved here.
Now she has teamed up with Sanshin Mining President Junichi Misaki to use Toei's world-renowned sericite to help revitalize the town. Setting her sights on female visitors, she is the driving force behind the town's Make-Your-Own Foundation class that is triggering a burst of renewed interest in the town of Toei. Tourists are now coming from all over for the chance to experience making their own cosmetics. And now she will try promoting sericite and Toei for the first time in Tokyo! How will the customers react?
Toei is now confronted by a serious demographic challenge with its shrinking and aging population. Chihiro's efforts are returning smiles to peoples' faces in her community. She is a breath of fresh air, and may just change her town's future with this 'stone of beauty', sericite.

Empathy as Therapy: Bringing New Hope to Dementia Caregiving
DC291635

生きること 認知症の心に寄り添う「バリデーション」 [KTV]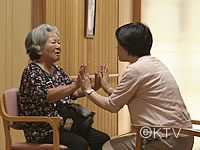 |Length : 47min |Year : 2016 |
It is predicted that by 2025, one in every five Japanese people over the age of 65 will be afflicted with dementia. Care for increasing dementia patients is urgent, but conditions for caregivers are harsh, and shortage of personnel is a serious problem. How can we give our loved ones the care they deserve?Naoko Tsumura, professor at Kansai University of Welfare Sciences, embraces "Validation", a method to empathize and foster better communication with dementia patients. In nursing homes that have introduced Validation, the relationships between caregivers and families, and the patients, have slowly improved, providing new hope for all.