Documentary

Hello Nippon - We Are Cosmopolitans

ハローニッポン - われら地球人 - [NHK]

This serial documentary introduces foreigners who have come to live in Japan for various reasons. Through their lives,we discover different aspects of "Nippon."
One-Man Band – Mastering the Chindon Rhythm
DC090113

ハローニッポン - われら地球人 - | ワンマンバンド ちんどんのリズムに挑戦 [NHK]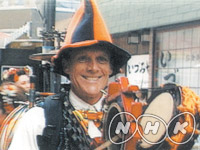 |Length : 20min. |Year : 2001 |
Bruce Smith is a street performer from Australia. While looking for ways to make his show more enjoyable, he discovered the attraction of the traditional Japanese street performance, chindon. Chindon bands can be traced back to an Edo Period candy seller. The dish-shaped bell and large and small drums produced the distinctive "chinchin dondon" rhythm that lent itself to the name chindon. Other instruments in the band included a samisen and clarinet. The bands were a common sight on the streets of Japan until the 1950s.
I Am a Member of My Housing Complex Association
DC090112

ハローニッポン - われら地球人 - | 私は団地の自治会役員 [NHK]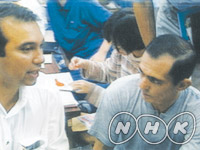 |Length : 20min. |Year : 2001 |
Many Brazilians live in Toyota City, Aichi Prefecture and are employed in the automotive factories. Recently, the number of Brazilians in this housing complex has increased, and they now make up one-third of the resident population, nearly one hundred households. Paulo Galvao works as a member of his housing complex association, while operating a private school for Brazilian children. He has a tough job, having the resident's newsletter translated in Portuguese, organizing a Japanese class and trying to convince the Brazilian residents not to park illegally.
Bringing Kung Fu to Japan
DC090111

ハローニッポン - われら地球人 - | カンフーを日本に広めたい [NHK]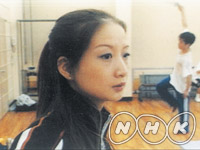 |Length : 20min. |Year : 2001 |
The Chinese martial art of Kung Fu is widely recognized. In Osaka, a Chinese woman who endured grueling training and fierce competitions to reach the top is teaching Kung Fu classes. Her name is Chen Jing. She came to Japan after marrying Toshiya Watanabe, the Taijiquan representative from Japan for the World Championships in Rome where they met. Her students range from children new to the sport, to top athletes aiming for the World Championships, and she teaches them by example.
Supporting the Japanese Poultry Industry
DC090110

ハローニッポン - われら地球人 - | 支えます!日本の養鶏業 [NHK]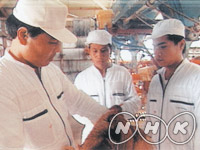 |Length : 20min. |Year : 2001 |
Jerr Quelnat Gerardo, "Gery", of the Philippines is an agricultural intern undergoing on-the-job training at a chicken farm in Chiba Prefecture. The owner of the farm, Suzuki Nobuyoshi, has no successor and is entrusting the future of the farm to Gery. He hopes to have Gery learn advanced Japanese chicken farming technology, so that in the future he can build a chicken farm in the Philippines and have Gery manage it. Gery's dreams for the future are supported by his fiancee, Irene Catura, who works as an intern at another farm.
A Guiding Hand : Childbirth in Japan
DC090109

ハローニッポン - われら地球人 - | サポートします 日本でのお産 [NHK]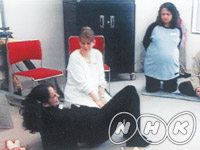 |Length : 20min. |Year : 2001 |
Brett Iimura and Kalli Matsuhashi are birth educators from the United States. Both women had their first baby in Japan. Based on their experiences, they have started a maternity class. In Europe and North America, anesthesia is commonly used for painless delivery, but in Japan natural delivery methods are the norm. As they explain, "We want to respect the women and value their decisions." "We'd like them to think and decide for themselves.
Hurray Pets! Vet Who Heals the Soul
DC099808

ハローニッポン - われら地球人 - | ペット万歳!心も診る獣医さん [NHK]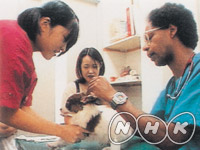 |Length : 20min. |Year : 1998 |
Dr. Welk Tekora is a veterinarian originally from Ethiopia whose children have dual citizenship. He now treats cats, dogs and exotic animals in Japan. Through consulting with and educating pet owners, his high regard for animal life is expressed. In this episode, Dr. Tekora also talks about his views on life and death, and why he thinks Japanese people do not take care of their pets properly.
Passion towards Peking Opera "Momo Taro"
DC099807

ハローニッポン - われら地球人 - | 京劇「桃太郎」にかける [NHK]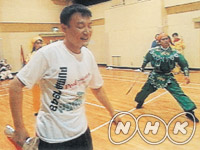 |Length : 20min. |Year : 1998 |
Lu Damin teaches the Peking Opera to students, officer workers and housewives as part of his dream to spread this beautiful art form to everyone in Japan. Lu chose as his script the Japanese folklore "Momo Taro," which is familiar to everyone. The group performed the play once, and received encouragement from people involved in various walks of life during the process.
An American PR Worker in the Village
DC099806

ハローニッポン - われら地球人 - | ボクは山村の広報マン [NHK]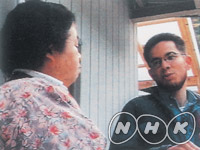 |Length : 20min. |Year : 1998 |
Michael Kahn works for the village of Kagami in Kochi Prefecture in southern Shikoku as a public relations expert. His job includes writing and editing articles, and designing the magazine produced by the city's Public Relations Department. He places great emphasis on increasing cultural exchange programs between Japan and the United States, his home country, and his main goal is to ensure that foreigners living in Japan are seen as human beings and not as "outsiders."
Chinese Power : The Development of a Miracle Semiconductor Chip
DC099705

ハローニッポン - われら地球人 - | 中国パワーが新素子を生んだ [NHK]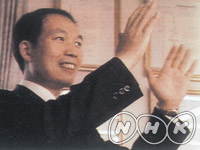 |Length : 20min. |Year : 1997 |
Shou Guolian heads the technical department of a semiconductor development company. His particular speciality is the merchandising of LSI for the next generation cellular phones. Shou considers himself an itinerant traveler on a never-ending journey.
A German Master Helps Rebuild Japanese History
DC099704

ハローニッポン - われら地球人 - | 体験!マイスターの国宝修理 [NHK]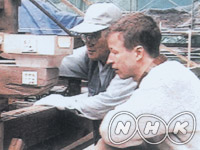 |Length : 20min. |Year : 1997 |
Christoph Henrichsen undertakes restoration work at the 800-year-old Fudodo Temple in Wakayama Prefecture as part of his doctoral thesis program. Henrichsen is a master cabinet maker in Germany, and the blending of his skills and Japanese architectural renovation combine to bring out the best in both.
"Balloon Art" Brings Hope to Kobe City
DC099703

ハローニッポン - われら地球人 - | バルーンアートで神戸に夢を [NHK]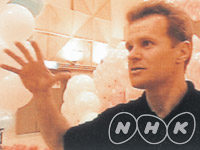 |Length : 20min. |Year : 1997 |
Robert Schmock, the king of ballon art, brings joy to the people of Kobe following the Hanshin Earthquake of 1995. These art form brings together many balloons of different colors that are arranged in wide open spaces. Schmock hopes his Ballon Art School, founded in Kobe in 1997, can transmit encouragement and hope to those who have suffered great loss.
Rakugo ; Crossing the Border of Japanese Culture
DC099702

ハローニッポン - われら地球人 - | 笑いに国境はない [NHK]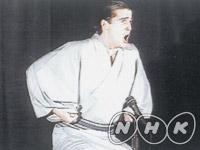 |Length : 20min. |Year : 1997 |
Bill Crowley uses a traditional Japanese art in its modern-day form to bridge the cultural gap between the East and West. After studying English rakugo, humorous storytelling, under the master Shijaku Katsura, Crowley takes his skills back home to San Francisco to perform the time-honored "Time and Udon" classic.
"Otsukiai" – Secret of Succeeding in Japan
DC099701

ハローニッポン - われら地球人 - | 日本式オツキアイ教えます [NHK]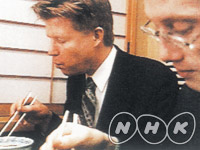 |Length : 20min. |Year : 1997 |
Terry Lloyd discovers ways his consulting firm can break through the traditional Japanese system of business. By sponsoring seminars on Japanese business customs for foreign businesses and designing English language homepages for Japanese firms, Lloyd builds new links between Japanese and foreign corporations.